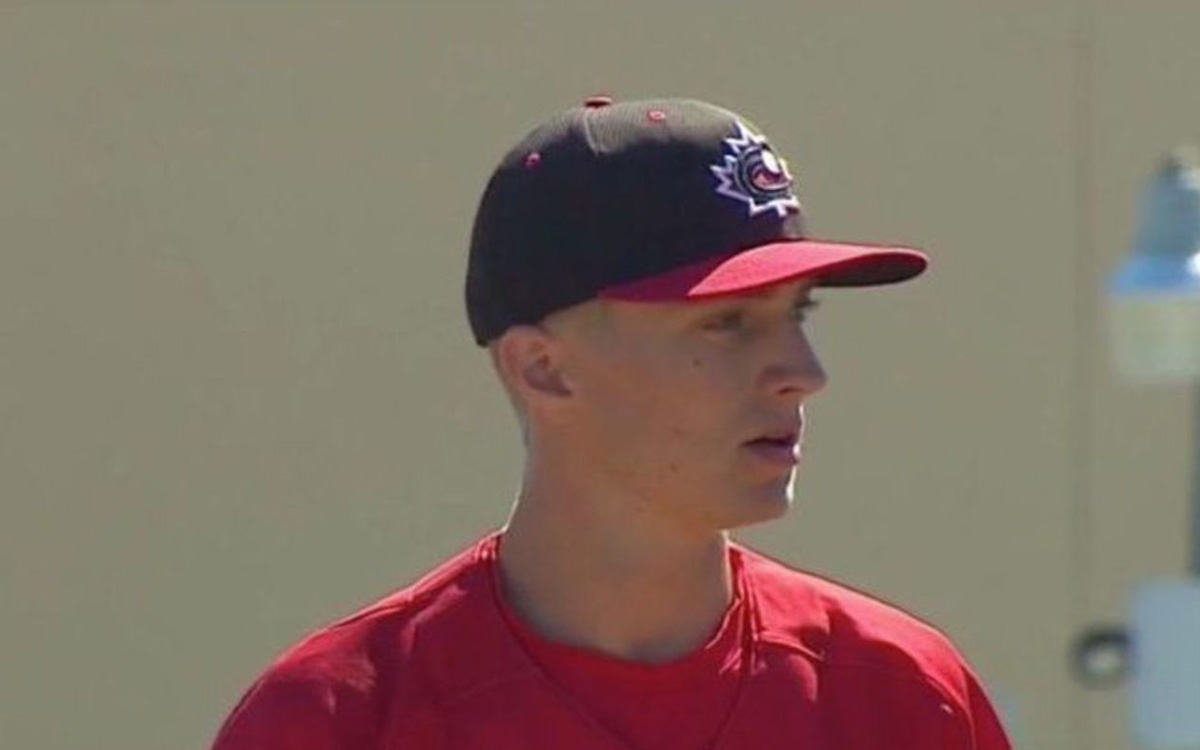 Braden Halladay, Canadian National Junior Team (Credit: Sportsnet)
Saturday in Dunedin, Florida, the Blue Jays held their annual spring training exhibition game against Canada's Junior National Team.  Seventeen-year old Braden Halladay, son of the late Blue Jays pitching legend Roy, 'Doc' Halladay, made an appearance in the eighth inning of the game and provided a wonderful sports moment.
Braden is a 6'2" 165 right handed pitcher.  He was born and raised in Toronto when his Dad was performing brilliantly year after year in a Blue Jays uniform.  The two-time Cy Young Award winner, perhaps the greatest ever Toronto Blue Jay pitcher (a fair debate to be had with Dave Stieb fans), died last year in a plane crash in Florida.
The younger Halladay lives in Florida and attends high school there.  His draft year is 2019 but he has signed to go to Penn State University in the fall.
Early this year, he wrote to the Canadian national program to see if he could get a tryout with his birth country's National team.  He was granted the opportunity and made the team.  At 17 he is not yet the hard thrower that his father was, but he told Sportsnet "My Dad was a great teacher; he really helped me with my mechanics and the mental side of the game".
In the eighth inning of the annual game, with the Jays up 10-3, Halladay came in to start the inning.  The Blue Jays faithful on hand recognized the special moment and gave the young man a sustained standing ovation when he was introduced.
At the end of his warm up tosses, Halladay went down to one knee and wrote "Dad" in the dirt at the back of the mound. and then drew a heart around the word.  He proceeded to throw a three-up, three-down inning – inducing two flyball outs and a ground ball.  The very mature, humble and composed young man smiled and admitted that, as a high school kid pitching against the Blue Jays, it's insanely cool.
He faced a Blue Jays lineup that also included several sons of MLB stars including, Cavan Biggio, Bo Bichette, Vladimir Guerrero Jr., Dwight Smith Jr. and Kacy Clemens. On an afternoon filled with father-son connections, Doc's kid stole the show.
Stu Black is a communications specialist. Following a career in radio and television he served as professor and coordinator of the Broadcasting: Radio, TV, Film program at Niagara College. Former executive director of Crime Stoppers of Niagara, he teaches Oral Communications at Niagara Parks School of Horticulture.