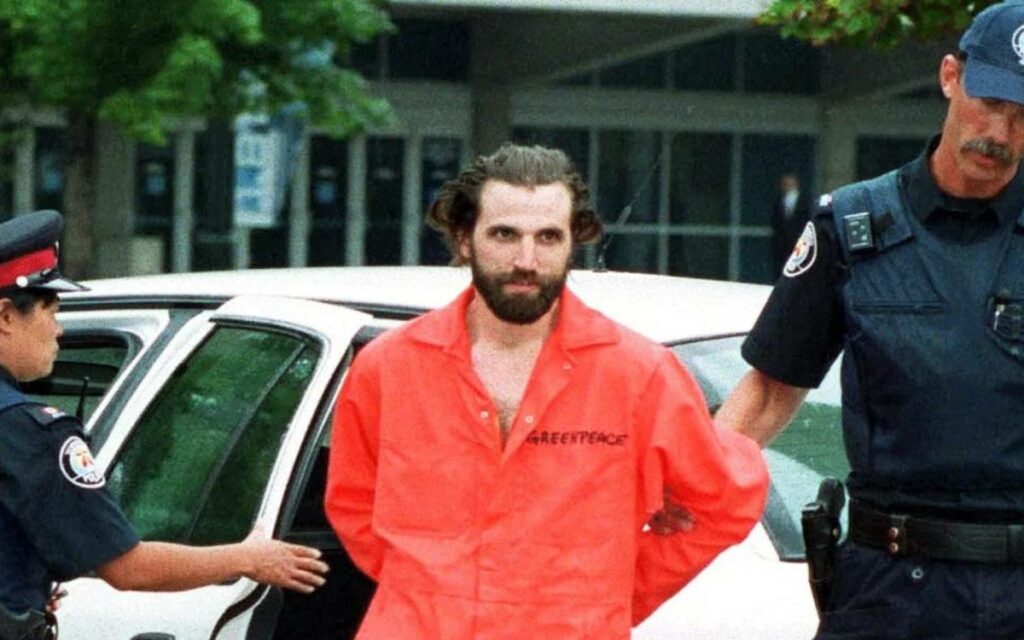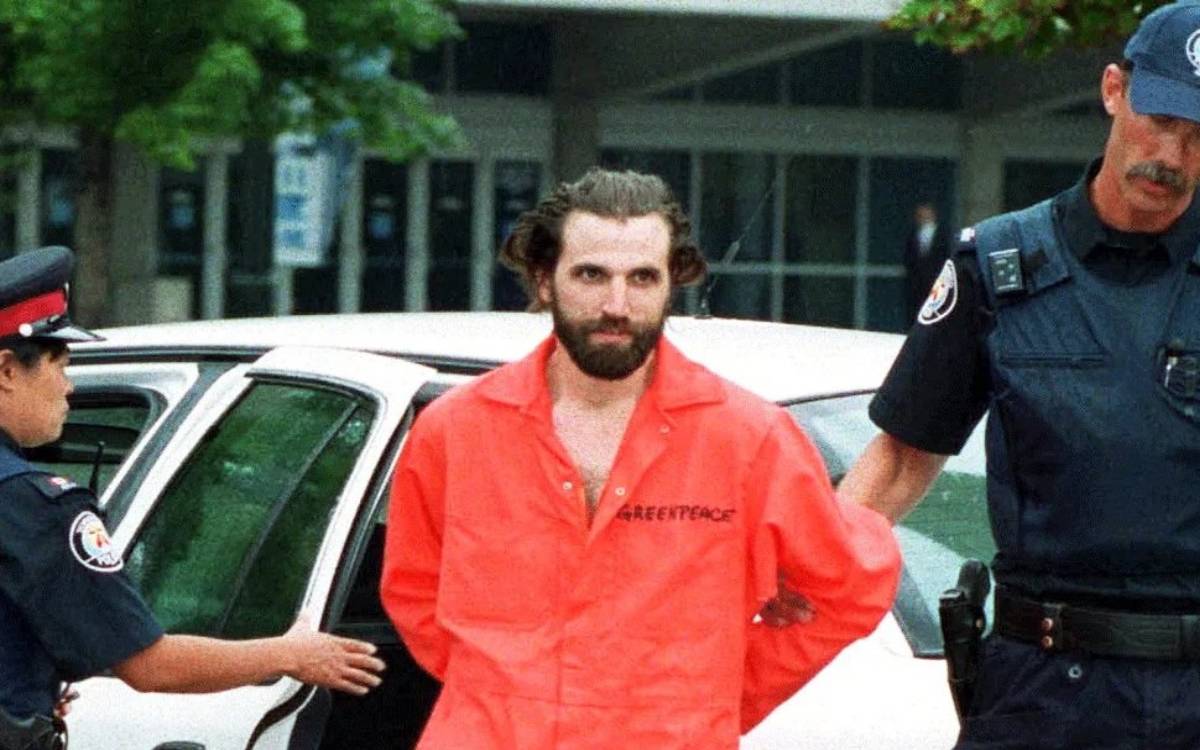 Canada's newly anointed climate czar Steven Guilbeault after his 2001 arrest as a Greenpeace climate activist.
Prime Minister Justin Trudeau's selection of Steven Guilbeault as Minister of Environment and Climate Change has sent a clear signal that his government holds environmental objectives above all else. Guilbeault, the self-proclaimed "climate activist," is now holding all the cards in the high stakes game involving our country's economy. Ottawa's new table rules have the environment trumping the economy and all players have taken notice: the oil and gas sector, Canadian business leaders, as well as the international business community and foreign investors. 
In the first moments as the lead of Trudeau's green agenda, the newly anointed minister leaned into a microphone outside of Rideau Hall to exclaim, "Canadians must go faster." Like someone who was just dealt four aces, Guilbeault is eager to play his hand. 
Being named the country's environment minister is a crowning achievement for a man who has spent his 30-year career rallying opposition against Canadian energy projects. Guilbeault has a storied history of environmental activism. It began in the early 1990's when Guilbeault founded a grassroots environmental group in Montreal and later went on to manage the Quebec chapter of Greenpeace. 
Canadians are familiar with the photo of this proud activist in his orange jumpsuit being led away in handcuffs. In 2001, as a radical Greenpeace stuntman, Guilbeault scaled the CN Tower to hang a banner "Canada and Bush Climate Killers." He is remembered by Calgarians for installing solar panels on then Premier Ralph Klein's home – without his permission. Also, it has been reconfirmed in the report on the Public Inquiry into Anti-Alberta Energy Campaigns that Guilbeault received Tides Foundation grant money to coordinate environmental and Indigenous groups in an anti-oilsands campaign. For this Montrealer, western Canada's oil and gas sector has always been in his crosshairs.  
"I am a climate activist," Guilbeault summarized in a CBC exclusive reporting on his new cabinet post. He downplayed his criminal past and recast his activism as working with industry and government. Guilbeault dismissed his past deeds with a shrug, "For some, I'm a radical. And for others, I'm not radical enough." (The state-subsidized national newsroom wrapped up its interview by giving Guilbeault its editorial thumbs-up.)
In another interview to the Ottawa press corps last week, Guilbeault emphatically stated, "I don't have a secret agenda as environment minister." He took this opportunity to explain his immediate priority would be to introduce legislation (or new federal regulations) that will establish an emissions cap on oil and gas produced in Canada. The first task is for the federal cabinet to set new five-year targets to rachet down oil and gas emissions to meet a net-zero target by 2050.
Guilbeault revealed he has already prompted a review of emissions levels of the oil and gas sector alongside his cabinet colleague Natural Resources Minister Jonathan Wilkinson. The ministers made public a joint letter that they have sent to the federal government's Net-Zero Advisory Board requesting recommendations on the guiding principles to cap emissions. The ministers underlined their request by noting the Liberals recent electoral victory: "Canadians gave us a clear mandate to deliver." 
It was a heady first week for the new minister before he had to jet off to Glasgow and the United Nations COP26 climate summit with 300 bureaucrats and contracted experts from the department of Environment Canada. Minister Guilbeault will be leading the Canadian delegation at the global environmental groupthink after the opening days of ceremonial meals and speeches from the participating countries' leaders. Today through to next weekend, he will be the country's primary spokesperson to promote elements of Canada's climate agenda to his international audiences. 
Back in Canada, reaction to Trudeau's new cabinet and his new environment minister has been one of anxiousness. There has been concern expressed for both Canada's economic prosperity and for its national unity. In a powerful National Post opinion piece entitled "Welcome to Justin Trudeau's no-growth cabinet," John Ivison assessed that "Putting an activist in charge of a government department is always a dangerous thing."
"Who around the cabinet table worries about investment and growth?", and Ivison answers his own question by surmising, "This is not a cabinet that inspires confidence that it will be able to ensure continued prosperity or national unity…Guilbeault and his band of eco-warriors will push for degrowth."
In another damning PostMedia column, Jesse Kline stated "anti-oil crusader Steven Guilbeault hasn't grown up since his radical lawbreaking days" and that this "pick for environment minister is a signal of more hostility to Canada's energy industry. Globe and Mail editorialists echoed this view, suggesting the new minister's anti-oil opinions could spur western alienation, "Well, get ready for NEP 2.0," as "the 51-year-old Montreal MP represents Alberta's worst nightmare."
When the word of Guilbeault's new cabinet responsibilities made it to Edmonton, Premier Jason Kenney observed, "His own personal background and track record on these issues suggest someone who is more an absolutist than pragmatist when it comes to finding solutions." Alberta's NDP Leader Rachel Notley chimed in, "I share some of the concerns about some of the historical positions taken by him in the past, some of his anti-pipeline commentary, that is certainly troubling."
In assessing western Canadians' initial take on Guilbeault, a fellow at the Macdonald-Laurier Institute in Calgary, Heather Exner-Pirot, stated that the PM "couldn't have picked a more perfect villain." She assessed, "This sends a chilling signal to potential investors who might have been interested in investing in Canada."
To that point, in the financial pages of the Washington Post, the paper identified Guilbeault for its American readers by his nickname "the Green Jesus of Montreal." 
Because of Guilbeault's past it is understandable that Canada's resource industries are anxious. According to the Canadian Institute for Climate Choices, as many as 800,000 Canadian jobs are dependent on oil and gas, mining, heavy industry and auto manufacturing industries. These industries account for almost 70 per cent of Canada's exports and generated more than $300 billion in export revenue and investment in 2019.
Much is at stake. How Canadian resource industries rebound from the pandemic – for the future prosperity of Canadians – depends primarily on how Steven Guilbeault chooses to play out the aces in his hand.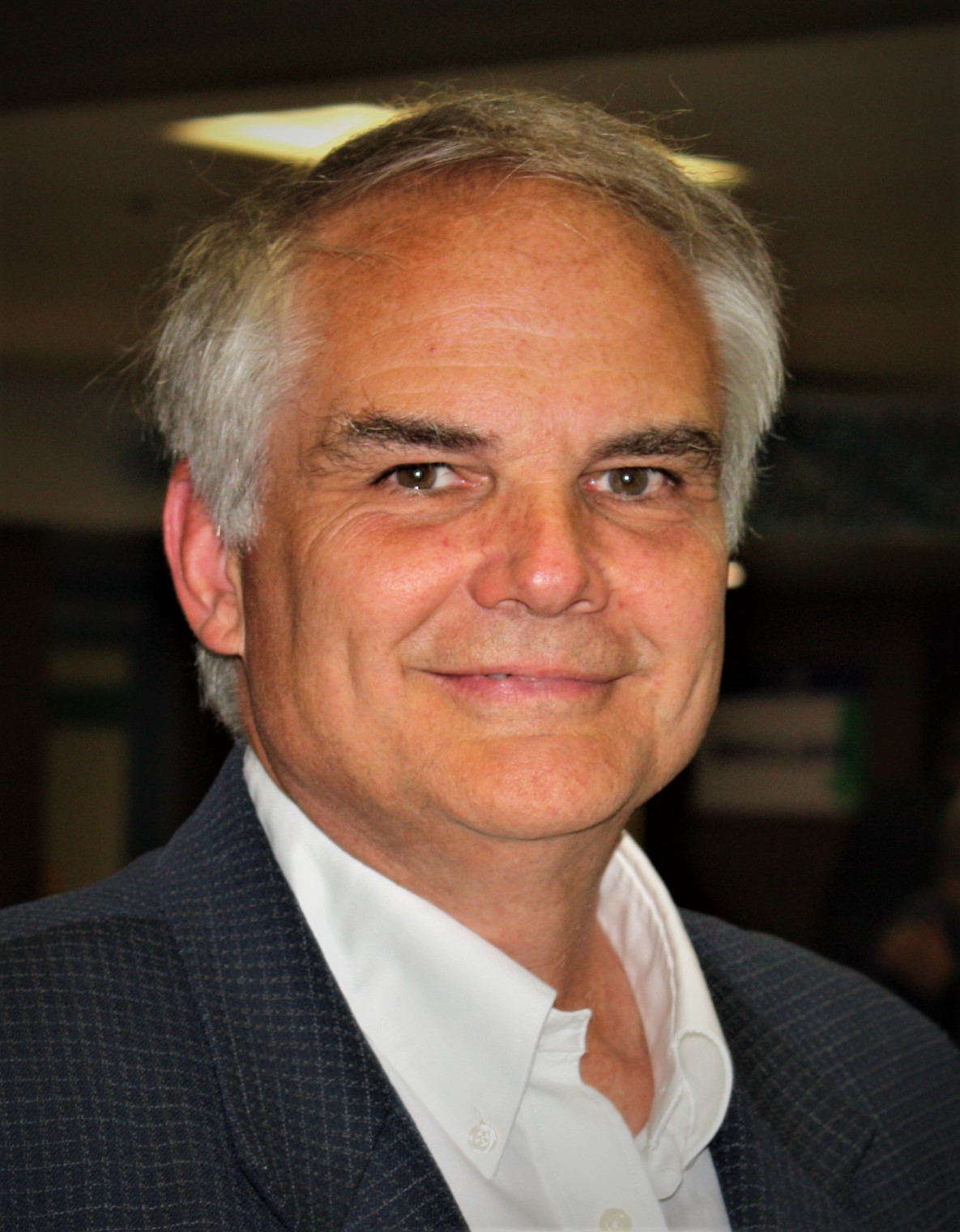 Chris George is an advocate, government relations advisor, and writer/copy editor. As president of a public relations firm established in 1994, Chris provides discreet counsel, tactical advice and management skills to CEOs/Presidents, Boards of Directors and senior executive teams in executing public and government relations campaigns and managing issues. Prior to this PR/GR career, Chris spent seven years on Parliament Hill on staffs of Cabinet Ministers and MPs. He has served in senior campaign positions for electoral and advocacy campaigns at every level of government. Today, Chris resides in Almonte, Ontario where he and his wife manage www.cgacommunications.com. Contact Chris at chrisg.george@gmail.com.