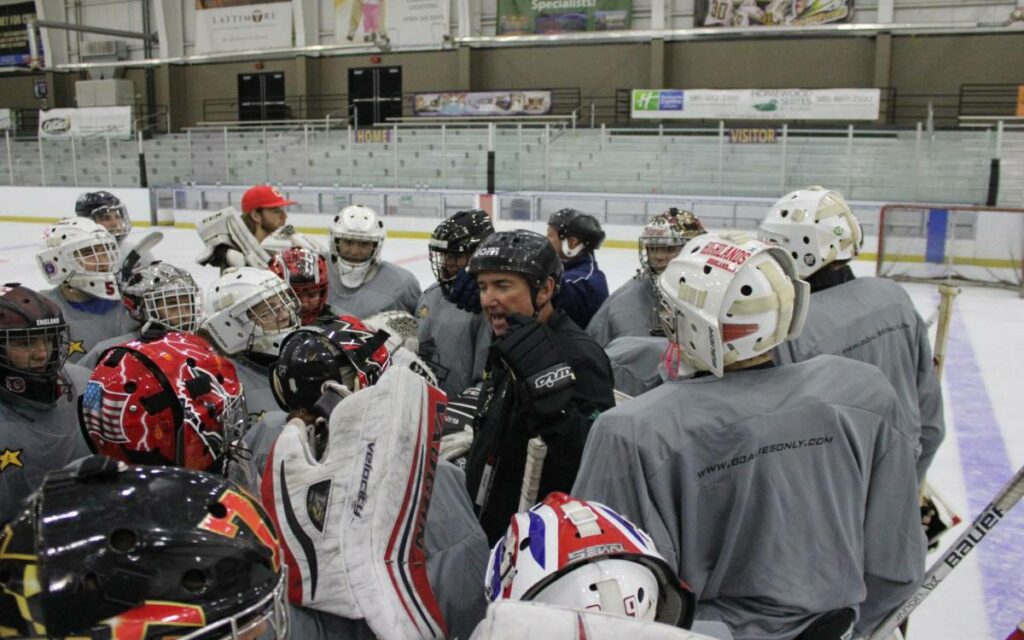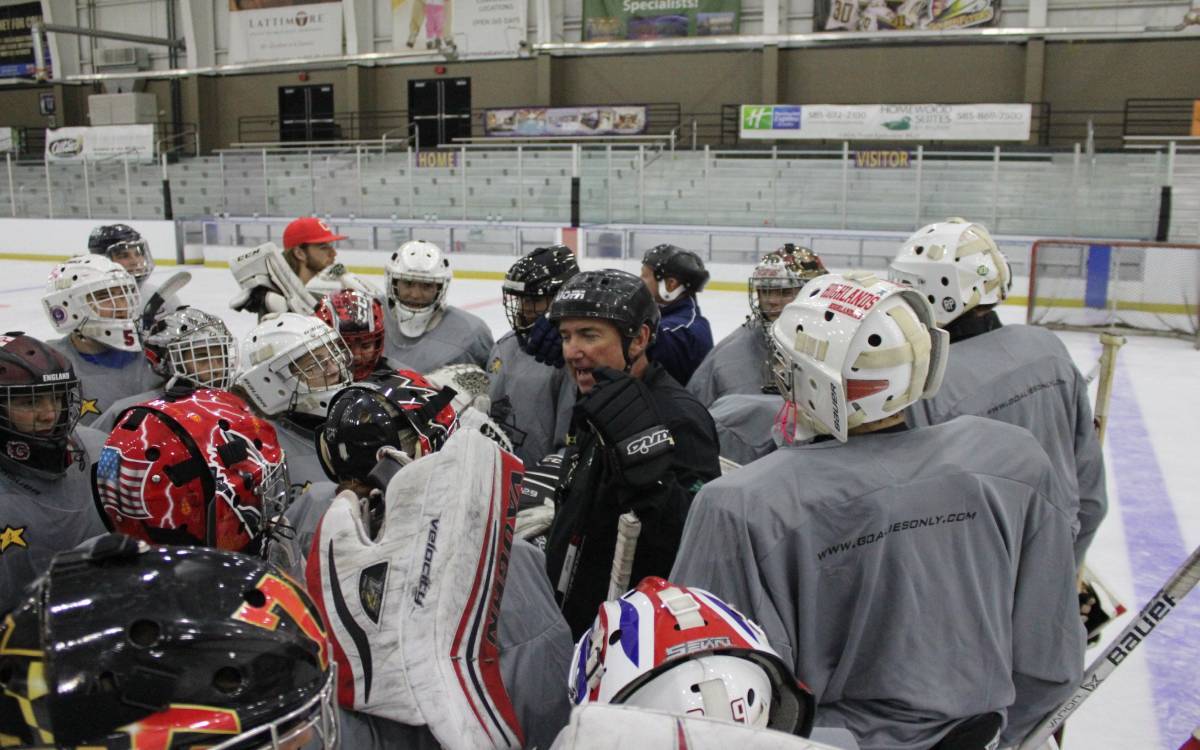 Long-time Detroit Red Wings goalie coach Jim Bedard offering instruction to attendees at a 2018 elite training camp in Rochester, NY. Photo credit: Twitter/Legacy Global Sports 
Talk about full circle.
He began coaching goaltenders in Niagara 27 years ago. Three Stanley Cups later, Jim Bedard is back in the region he calls home doing what he loves best – coaching goalies. 
The now 64-year-old Niagara Falls native began his teachings with the Ontario Hockey League (OHL) Niagara Falls Thunder during the 1994-95 season. 
When the Thunder moved to Erie, Pennsylvania two years later Bedard made the trek south as well. 
That's when he received a call he first thought was a joke from the Detroit Red Wings.  
That call would change Bedard's life forever.
He would go on to win three Stanley Cups with the Red Wings in 1998, 2002 and 2008.
"I think it's the first one (winning the Cup that stood out the most) obviously, because I didn't even know there was a job available. 
My second year with Erie as the goalie coach I got asked to be interviewed by Detroit," explained Bedard on the Niagara Sports Report on Newstalk 610 CKTB.  
"I ended up getting an interview with the team, and about two weeks later – I actually kind of forgot about it, thinking I didn't get it – and Ken Holland gave me a call and said we're starting training camp in Traverse City and want you to be there. We'll do a one year thing, and one year turned into nineteen. So, it was quite a good run."
Bedard would work with dozens of netminders during his almost two decades as Detroit's goaltending coach, but one name always rolls off his tongue first.
"What can you do to coach Dominek Hasek? 
You don't coach any of these guys. 
It's all about preparation and getting them in a groove where they have a routine five days out before a game, three days out, two days, day of the game, so they can be the best that they can be."
Usually when you talk to goalies they said 'what did you think of when you played your best game ever?' 'I didn't think of anything.'
That's the way I try to coach."
After a brief stint working for the Dallas Stars organization, Bedard wanted to come home to Niagara and spend more time with his grandkids.
And that's when long-time family friend and general manager of the St. Catharines Falcons Frank Girhiny reached out. 
"Once you meet the Girhiny's your friends with them forever, and that's exactly the way it was. 
(Frank) asked if I would be interested in coming out to help out.
It's been great. I go every Tuesday for about an hour, hour and 15 minutes. It's worked out good.
It's fun to be back at the grassroots level working with these guys."
And these guys, Andrew MacLean and Josh Johnson, have allowed a total of 15 goals against in 11 games, and posted six shutouts. 
Bedard was originally drafted by the Washington Capitals in the sixth round of the 1976 NHL Entry Draft. He was also selected in the 10th Round of the 1976 World Hockey Association (WHA) Draft by the Edmonton Oilers.
Bedard would go onto play 73 NHL games with the Capitals, followed by 13 seasons of professional hockey in Finland.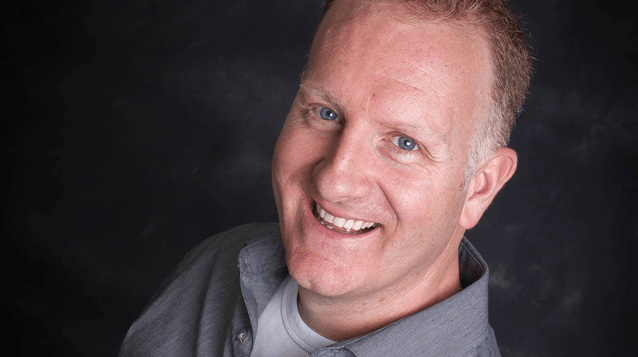 Rod Mawhood is a lifelong Niagara native who has had the pleasure of working in all three mediums – Radio, Print and TV – for over 20 years. His first announcing gig was with the then St. Catharines Stompers. Since then he's worked in radio and TV in Toronto, and currently is the announcer for the Niagara IceDogs and Niagara River Lions.
Rod also covers the Buffalo Bills for FOX Sports and the Buffalo Sabres for NBC Sports.