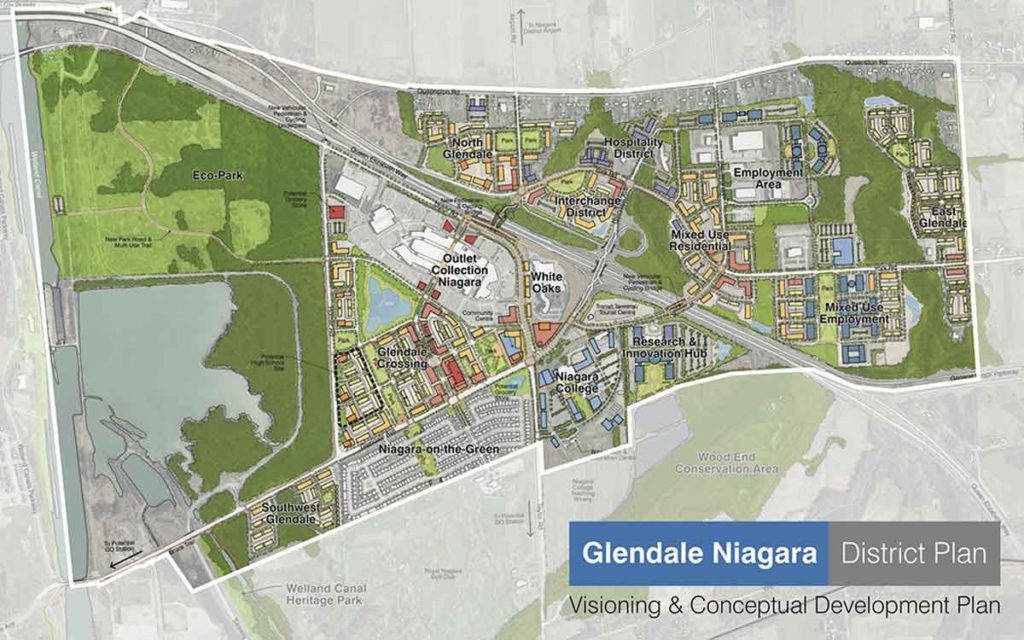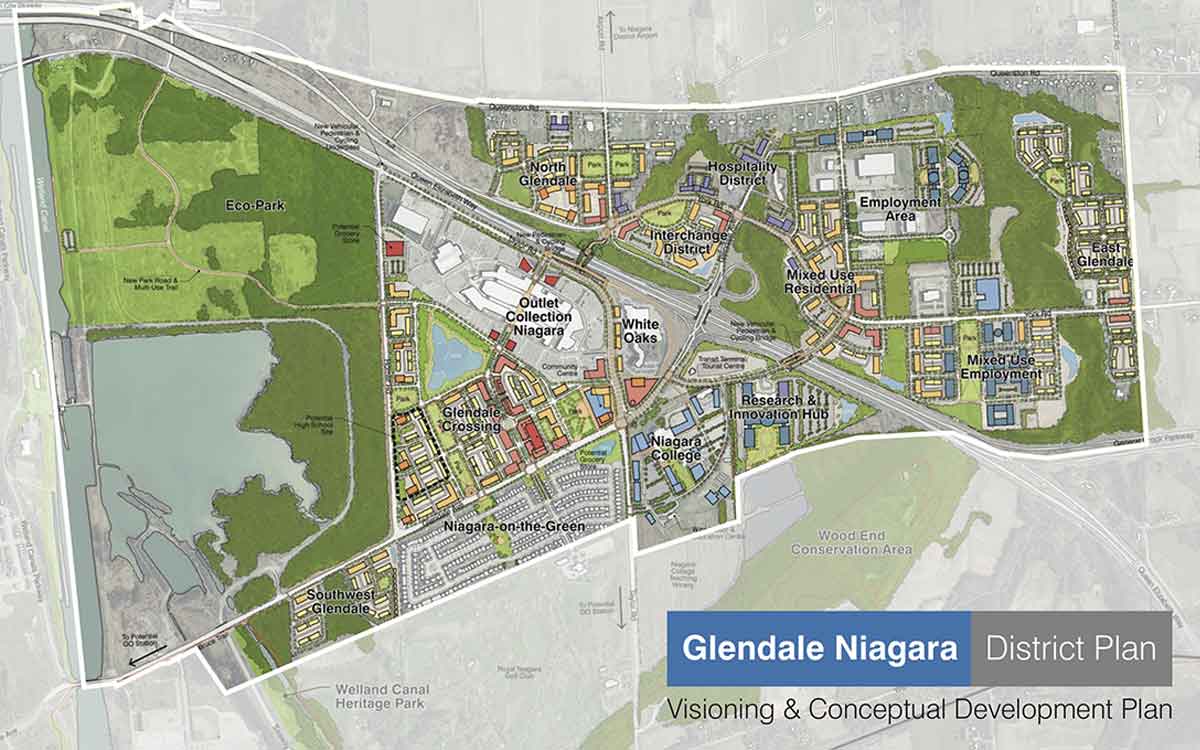 Planning and community consultation continues for the development of the Niagara-on-the-Lake and St. Catharines Glendale District Plan.
Regional Planning Committee unanimously endorsed Phase 1 of the Niagara-on-the-Lake and St. Catharines Glendale District Plan this week.  After several public meetings, workshops, charrettes, a social media campaign and consultations, renowned planning consultants, "The Planning Partnership", presented the results – a visioning and conceptual development plan.
The Glendale Niagara area, is the confluence between the southern boundary of St. Catharines and the west boundary of Niagara on the Lake.  It is the area that currently encompasses Niagara College, the Outlet Collection mall, White Oaks and the Seaway on the west side of the QEW and two hotels, commercial and industrial employment zones, and the QEW roadside rest area.
Part of the impetus for the Plan is the planning and fast approaching reconstruction of exits and bridges by MTO on the QEW in the area.  Planning the next 30 years of land use on either side of the QEW corridor helps the province and the region plan their roadwork to enhance and enable smoother traffic in the area over the long term.
The Plan is a creative and liveable mix of substantial greenspaces and trails; an Eco-Park and Welland Canal Heritage Park along the canal; enhanced commercial possibilities around the outlet mall including opportunities for wineries, craft breweries and farm-to-table restaurants; expansions of the Niagara College campus with the addition of a research and innovation hub; a new Ontario Travel Information Centre; mixed residential uses which will relieve provincially imposed higher density residential demands on existing residential areas in Niagara-on-the-Lake; an enhanced overpass across the QEW which facilitates bike and pedestrians and a transit terminal to tie it all together.
Niagara-on-the-Lake mayor Pat Darte urged continue consultation saying, "everybody's very happy with this whole thing, we just want to make sure it gets done properly and effectively."
One of Niagara Homebuilder Association's representatives Chuck McShane attended some of the public meetings and was impressed by the free flow of ideas.  "It's a vital area for the future of Niagara-on-the-Lake.  One of the downsides of the Places to Grow Act 2 increasing requirements to dramatically increase residential and commercial densities of developing land, is that it puts pressure on areas like Virgil, St. David's and Old Town to force new developments to basically be high rises.  That doesn't fit our community.  Moving some of that required higher density to the Glendale area saves what our citizens have proudly built up in the rest of Niagara-on-the-Lake over its history."
Phase 1 now endorsed, Phase 2 will begin with more public and stakeholder consultation leading to more detail in order to plan this area that is considered a key strategic growth centre for the Region which is expected to accommodate thousands of new residents and jobs over the next 30 years.
The Planning Partnership, the IBI Group, the Region, City of St. Catharines, Town of Niagara-on-the-Lake will lead the process along with their Technical Advisory Committee which includes the NEC, NPCA, Niagara College, MTO, Ontario Travel, Niagara EMS and the St. Lawrence Seaway Authority.  They will continue to be led by Phase 1's final vision statement that in-part read, "Glendale will be a vibrant community for people of all ages, lifestyles, and abilities – a place to live, work, play, learn and grow.  Its urban districts, with a mix of uses, will protect, integrate and celebrate the natural and rural surroundings reflecting the distinct character of the area."