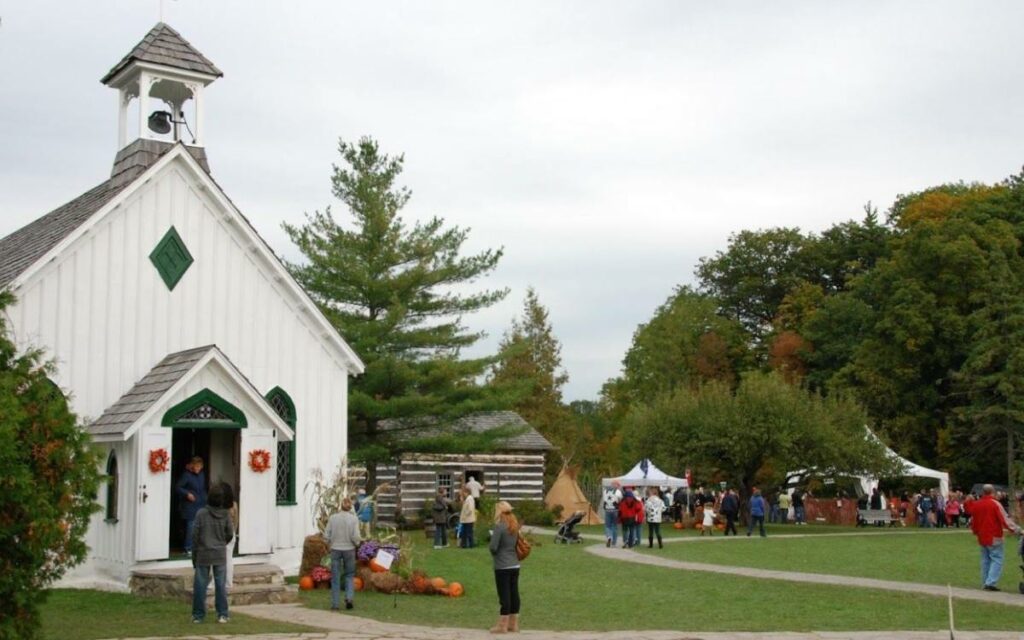 The annual Ball's Falls Thanksgiving Festival takes place from October 6 to 9. Photo credit: Ball's Falls Thanksgiving Festival
Just like that, the fall festival season is here in Niagara. From pumpkins and apple cider, to music and crafts, there are so many options to embrace harvest time and support the local community. 
Here are some upcoming fall festivals throughout the Niagara Region in September and October.
Wainfleet Fall Fair 
The Wainfleet Fall Fair is being held from September 21-23 on the grounds of the Wainfleet arena organized by the Wainfleet Agricultural Society. This year's fair theme is "Generations of Farming." Fair events range from musical performances to traditional fall fair exhibitions. Prizes will be presented to the best in each show category, such as best dairy cow, pies and baked goods, canning, and even babies! There will be a parade to begin the fair on Thursday evening at 6:00pm, which leads into a tractor pull, then opening ceremonies at 7:00pm. 
For more details, visit the Wainfleet Fall Fair website. 
Welland Foodfest
The Welland Foodfest is a two day event that runs Saturday, September 30 to Sunday, October 1. The festival takes place on Merritt Island, featuring musical entertainment and 29 food and wine vendors. There will be a vast selection of multicultural food options including Canadian fare, Italian, Mexican, Indian and more. Musical headliners for Saturday and Sunday, respectively, are Bent City Rollers and Soul 69 Band. 
For additional information on the event, as well as food and parking options, please visit the Welland Foodfest website or social media. 
St. Catharines Downtown Pie Festival 
On Thursday, October 5 the St. Catharines Downtown Association and Niagara Folk Arts Multicultural Centre, in partnership with the City of St. Catharines, will be hosting a pie festival in Market Square. There will be tasting competitions, games, and pies available for purchase. 
Large 9-inch family-sized pies will be available for $25 and handheld 4-inch pies for $15. From each purchase, a $5 donation will be made to local charities. In addition to the pie festival, visitors can also explore the market vendors for local produce, crafts and treats.
Ball's Falls Thanksgiving Festival 
The 49th Annual Ball's Falls Thanksgiving Festival will be taking place on Thanksgiving weekend from October 6 to October 9. A Niagara tradition since 1974, the festival brings together artisans, food vendors, and farmers alongside musical entertainers, historical demonstrations and children's activities. In addition to the many vendors and activities, there will also be guided nature tours along trail routes. The proceeds from this event are used to raise money for nature conservation and environmental programs — particularly for the Niagara Escarpment— on which the festival takes place. 
Tickets can be purchased upon arrival, but advance purchase is recommended. Visit the Ball's Falls Thanksgiving Festival website for information on admission and event details.