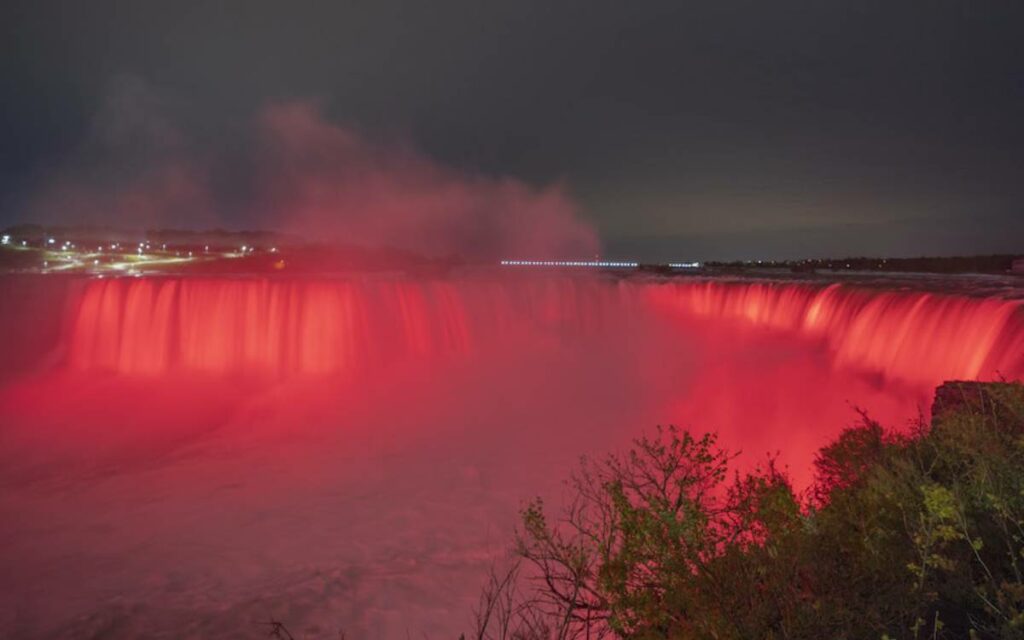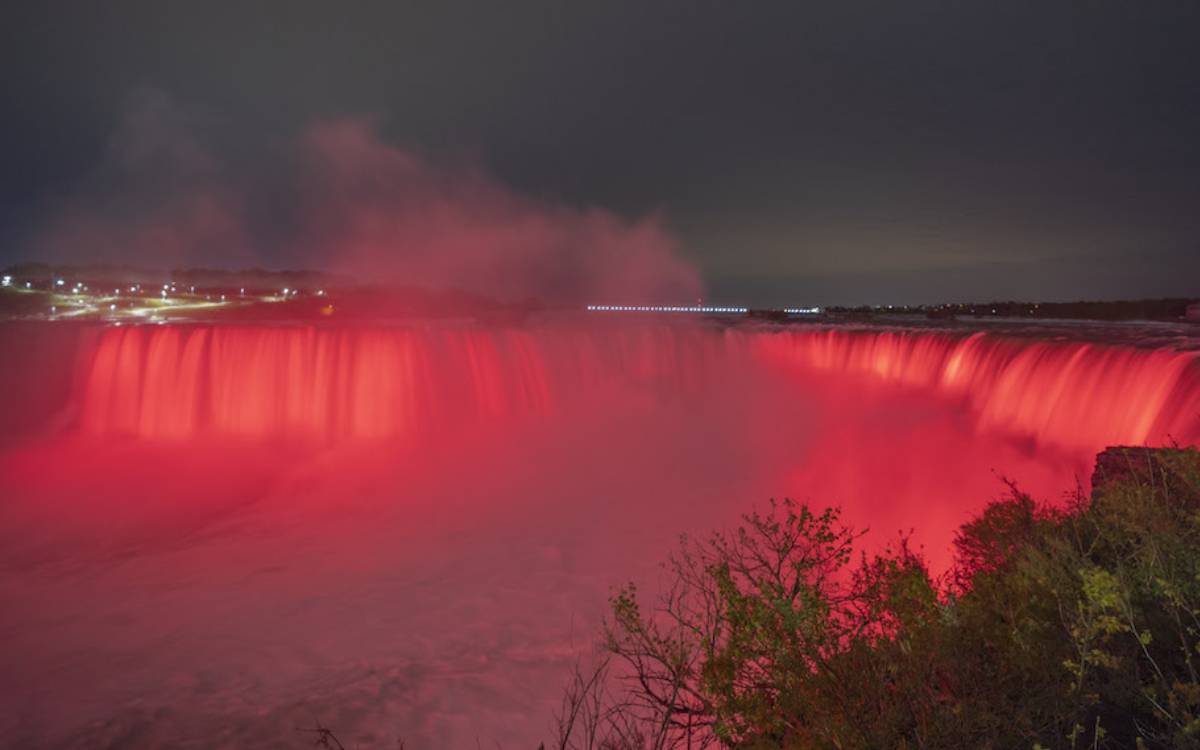 Photo credit: Daily Hive/Niagara Parks Commission
On Tuesday, Niagara's famous Falls and Toronto's CN Tower will be illuminated red in honour of all the firefighters worldwide who have lost their lives in the line of duty.
Both the Canadian Horseshoe and American Falls will resemble the red of fire-engines and fire-houses the world over from 10:00pm to 10:15pm.
"All Canadians are deeply grateful to the brave women and men who put their lives on the line every day for the protection of life and property," said David Sheen, president of the Canadian Fallen Firefighters Foundation.
"An illuminated Niagara Falls, a wonder of the world shared by Americans and Canadians alike, will serve to recognize our brothers and sisters on both sides of the border who dedicate their service, whether they are full-time, volunteer, military, wild land, or industrial firefighters. In all cases, these individuals risk the ultimate sacrifice of a firefighter's life."
Observed annually on May 4, International Firefighter's Day honours the sacrifice of frontline heroes from Australia, Canada, the United States, and many places in between.
"On this date, we call on citizens in North America to remember all firefighters who paid the ultimate price to protect their communities," said Troy Markel, Chair of the Board of Directors of the National Fallen Firefighters Foundation in the United States.
"They served with great honour, and their bravery will not be forgotten. I hope we can all show our support and appreciation to the firefighters worldwide who continue to protect us so well throughout the year."
According to the Canadian Fallen Firefighters Foundation (CFFF), since 1848 1,610 firefighters from across Canada have lost their lives in the line of duty.
Per CFFF records, Niagara has lost a total of eight firefighters in the past five years alone.
"It's important to have a day like this because we have the kind of job where we go to work and expect wholeheartedly to come home, but sometimes that doesn't happen," Justin Canestraro, president of Niagara Falls Professional Firefighters Association, recently told the Niagara Falls Review.
"We honour the one's we've lost every day. We may not say their names every day, but we carry on traditions and respect what they did before us, and for us."
Though stay-at-home orders may prevent many from experiencing the event in person, those interested in seeing the Falls turn red can do virtually by going to: https://www.earthcam.com/canada/niagarafalls/thefalls/?cam=niagarafalls2