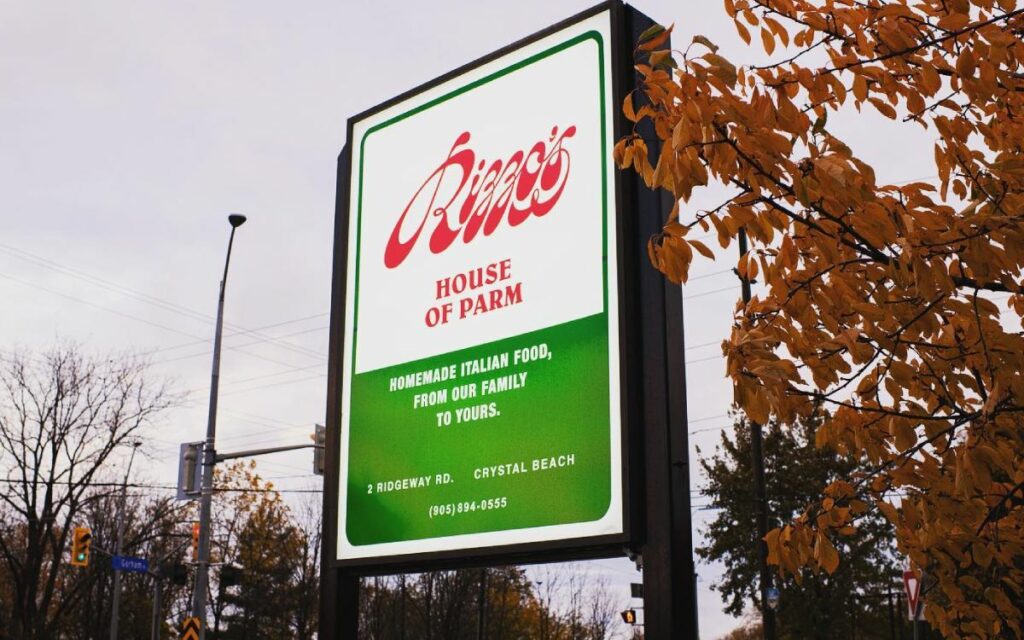 Matty Matheson opened Rizzo's House of Parm one year ago. Photo credit: Facebook/Rizzo's House of Parm
Earlier this month, Air Canada's enRoute magazine released its 2023 Best New Restaurants ranking, with one Niagara eatery making the top 10. 
Coming in at number four on the list was famed Fort Erie chef Matty Matheson's hometown creation: Rizzo's House of Parm. 
Located at the corner of Ridgeway Rd. and Farr Ave. in Crystal Beach, Rizzo's opened last November.
From its namesake parms to hefty mozzarella sticks, wedding soup, and tiramisu, the restaurant offers sumptuous Italian classics at reasonable prices. 
The celebrity chef from Fort Erie opened Rizzo's after his local pop-up shop, Matty's Meats + Three, proved wildly successful throughout the pandemic. 
In a media release, Air Canada's Vice President of Brand Andy Shibata said the company was "incredibly proud" of the yearly ranking, which provides "a platform to spotlight emerging culinary excellence across the country."
"Dining and travelling are important economic contributors within our communities," said Shibata, "and part of our objectives every year is to help new businesses flourish and for our travellers to see the possibilities of where culinary experiences can take them."
Touted as the "longest running and most respected Canadian restaurant ranking" in the country, Air Canada's annual list has been rating new restaurants for 22 years. 
The 2023 list highlights the top restaurants that opened around Canada between late spring 2022 and May 31, 2023.
The top 10 were selected by food critic and author of Canada's Best New Cookbook, Amy Rosen. Over the course of a secret month-long cross-Canada journey, Rosen dined anonymously at more than 30 establishments that were nominated by a panel of food industry experts.
Rizzo's was one of only three Ontario restaurants to make this year's ranking. 
Number one on the list was Toronto's Kappo Sato. Number two and three were Wild Blue, located in Whistler, BC, and Marilena Café and Raw Bar, located in Victoria, BC, respectively. 
Other Niagara establishments to make the annual ranking in the past include St. Catharines' Dispatch (2019) and the Restaurant Pearl Morissette in Jordan, which topped the list in 2018.
For the full 2023 ranking, click here.