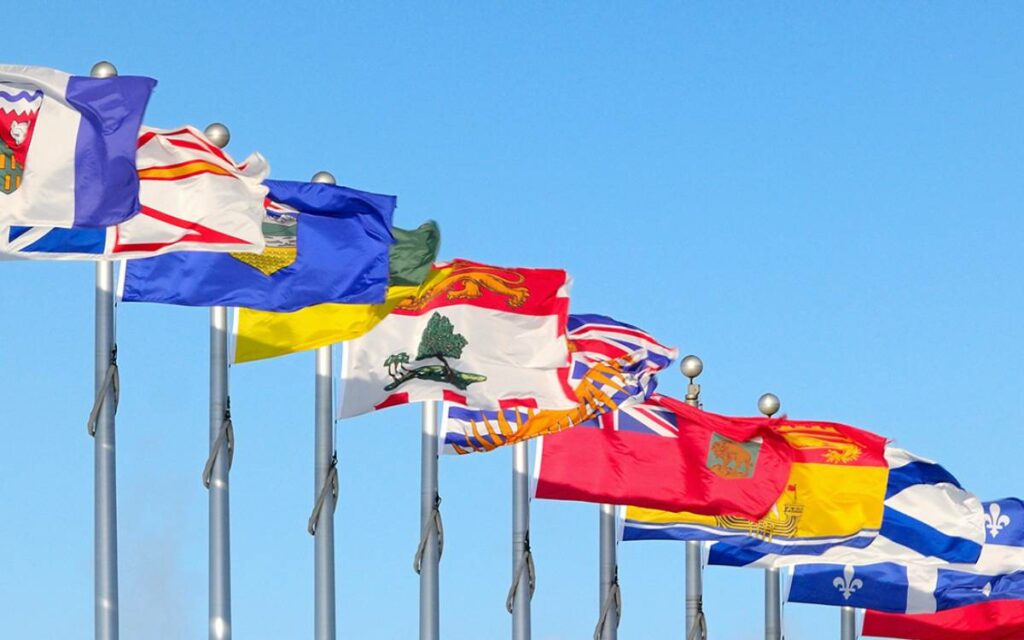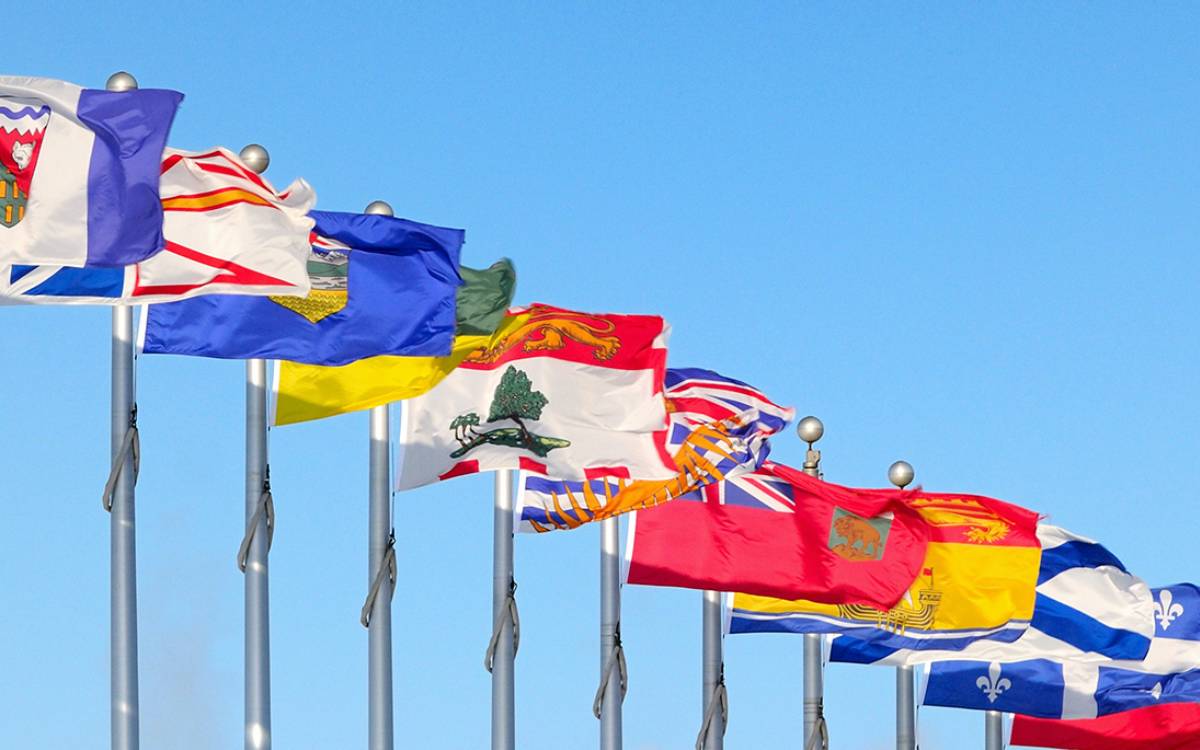 Flags of Canada's various provinces and territories. Photo credit: Shutterstock/Andre St. Louis
Earlier this week, the Trudeau government introduced the biggest spending budget in Canadian history – by a long shot – encompassing a doubling of Canada's federal debt to $1.4 trillion by 2025-26, with a very "liberal" spreading of large quantities of taxpayer dollars to almost every constituency possible.  One interesting and potentially troublesome aspect of the budget was that it contained measures in several areas that are in provincial government jurisdiction, which could cause difficulties down the road for federal-provincial relations.
Child care is one of the signature items in the federal budget, with fully $30 billion allocated over the next five years, and about $8 billion annually after that. The stated goal of the budget is to reduce current child care fees by 50 per cent by the end of 2022, with fees of $10 per day by 2026. This is not unlike the Quebec model, which has turned out to be much more costly than originally budgeted.    Although this policy is supposedly intended to help middle to low-income women participate in the workforce, studies on the Quebec model have shown that the biggest beneficiaries have been two-income, well-off professional couples who did not need the taxpayer-financed assistance in the first place.
This type of policy also assumes that all families would like their children to be in subsidized daycare and not cared for in other settings, which is simply not true. A recent Angus Reid poll showed that Canadians were evenly split between the government directly funding daycare facilities versus providing funds or tax breaks to families so they could choose how they wanted to care for their children. Given its track record, it is not surprising that this Liberal government prefers the big-government option, instead of giving parents the choice as to how their children are cared for.
Anyone who remembers the Paul Martin era will recall that in 2004, Martin made a child care announcement very similar to Finance Minister Freeland's, although less money was involved. And as we know now, very little came of Martin's national child care strategy. There is no reason to believe Freeland's plan will have any more success. As with pretty much everything the Trudeau government does, the child care announcement is grandiose and full of promises, but bereft of details as to exactly how it is supposed to come to pass. What the federal announcement actually does is leave the heavy lifting to the provinces, who will undoubtedly be blamed if this child care plan does not materialize, just as previous Liberal governments efforts in this area have failed to do.
Another area of provincial jurisdiction the federal government included in the budget was minimum wage. The federal budget vows to raise the minimum wage in federally regulated industries to $15 hourly. This is a fairly meaningless measure for federally regulated industries such as financial services, telecommunications, transportation, ports etc., as few companies in these industries pay minimum wage. Labour groups commented that the point of including this in the budget was to put pressure on the provinces to increase their minimum wages to the $15 level.
Most provinces in Canada currently have minimum wages at or close to $15 per hour, with the exception of the Atlantic provinces. As such, it is difficult to believe that the inclusion of this measure in the federal budget had much purpose other than virtue signalling and as a sop to labour unions.  Furthermore, since the industries that typically do pay minimum wage – hospitality, retail, and tourism – were some of the hardest-hit during the pandemic, forcing decimated companies to offer a higher minimum wage at this time is hardly a recipe for post-pandemic economic success.
Other spending areas where the provinces were actually asking for some federal support, such as an ongoing commitment to increase the federal government's share of health care expenditures and some infrastructure contributions, were absent from the budget. As many have commented, the federal budget was very much a pre-election document with measures intended to make the Liberals look good – if only for a few months or so – until they can win their much-coveted majority government.
Unlike many of its predecessors, this federal Liberal government clearly believes that all government spending is good and that fiscal prudence is unnecessary, despite all history lessons to the contrary.  Government spending can be a positive for the economy if it is actually invested in productivity-enhancing infrastructure or programs that have lasting benefits, such as helping businesses upgrade technology and employees improve skills. However, most of the spending in this budget was geared toward directing more money into current consumption, which will give a short-lived economic bump but not an enduring boost to economic growth, all while creating huge debt.
The budget also assumes interest rates will remain at record lows pretty much in perpetuity, and that economic growth will recover strongly from the pandemic – both assumptions that are highly unrealistic. This federal government also has no qualms about encroaching on provincial jurisdiction, of which previous federal governments had been much more respectful.
The next few years will see several high stakes negotiations between the federal and provincial governments to hammer out details on shared programs. How that process takes place will determine what type of government services will be available to Canadians in the future, and at what cost. If, of course, we can afford these services at all, in light of our serious indebtedness as a nation.
Overall, the federal budget was consistent with everything this federal government has done to date – grandiose, big-ticket announcements with no detail or plans as to how the lofty goals will be achieved, and lots of virtue-signalling on favoured issues. Much of the real work in key areas has been left to the provinces. What is perhaps most worrisome in the budget is the massive spending of tax dollars without any plan to promote a return to economic stability post-pandemic and get back to some kind of fiscal sanity, which should concern all Canadians.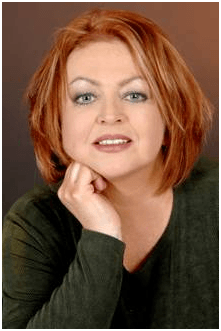 Catherine Swift is President of the Coalition of Concerned Manufacturers & Businesses of Canada (CCMBC). She was previously President of Working Canadians from 2015-2021 & President & CEO of the Canadian Federation of Independent Business (CFIB) from 1995-2014. She was Chief Economist of the CFIB from 1987-1995, Senior Economist with TD Bank from 1983-1987 & held several positions with the federal government from 1976-1983.
She has published numerous articles in journals, magazines & other media on issues such as free trade, finance, entrepreneurship & women business owners. Ms. Swift is a past President of the Empire Club of Canada, a former Director of the CD Howe Institute, the Canadian Youth Business Foundation, SOS Children's Villages, past President of the International Small Business Congress and current Director of the Fraser Institute. She was cited in 2003 & 2012 as one of the most powerful women in Canada by the Women's Executive Network & is a recipient of the Queen's Silver & Gold Jubilee medals.
She has an Honours BA and MA in Economics.