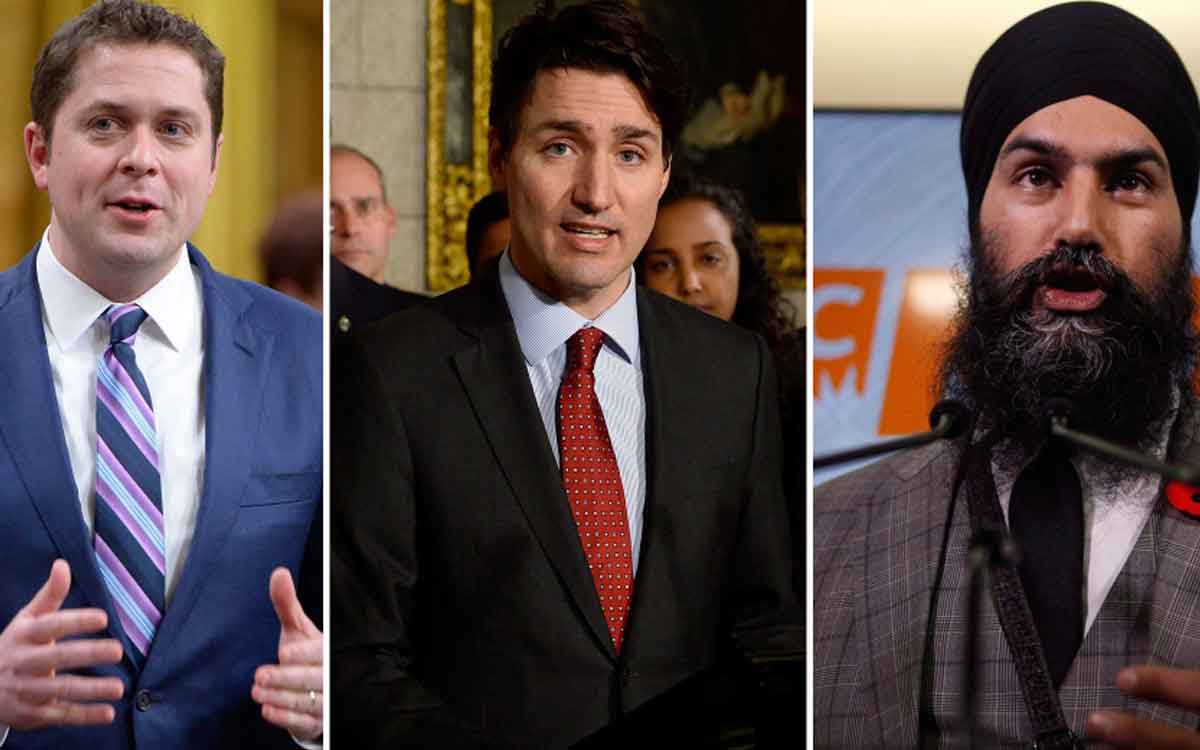 From left: Conservative Leader Andrew Scheer, Prime Minister Justin Trudeau, and NDP Leader Jagmeet Singh.
We may have just hit the halfway point of summer but Canada's political parties are already revving up their campaign engines. As we enter the last full month before the writ drops H+K's political strategists, Anne McGrath, Melissa Lantsman and Omar Khan share what you need to know about each of their party's paths to victory.
Liberal Party of Canada (Liberal)
With growing support for conservative populist leaders around the world, Prime Minister Justin Trudeau has been the international poster boy for the progressive movement. In effect, he is the anti-Trump on the international stage. A big part of Liberal strategy in the upcoming election will be to leverage this international image to unite centrist and progressive voters under their banner.
You can already see this playing out.
In a move that made international headlines this week, Trudeau became the first Canadian Prime Minister to visit a gay bar. The photo-op at Vancouver's Fountainhead Pub was designed to demonstrate to the 60 per cent of Canadians who identify with "progressive" values that this election is a binary choice between a Conservative leader who has social conservative values, opposes carbon pricing and favours tax cuts for the wealthy, versus a Liberal Prime Minister who has been a champion for LGBTQ+ rights, wants Canada to lead the world in the fight against the climate crisis and has no problem asking the rich to pay a little bit more tax so that everyone else can pay less.
The unpopularity of Ontario Premier Doug Ford also gives the Liberals a useful foil in the campaign. The Liberal narrative will be that while right-wing politicians like Premier Ford and federal Conservative Leader Andrew Scheer speak about pocketbook issues while they seek power, once they have it, their agenda tends to favour tax cuts for the wealthy at the expense of the services that most families rely on. This will be positioned in stark contrast to their policy platform which will focus on strengthening and growing the middle class.
Ford's unpopularity has made him a liability for Andrew Scheer (note that the usually chummy twosome has not been spotted together this summer so far). This gives Liberals an opportunity to aggressively tie Scheer to Ford's record. So far, it's working.  Publicly available data suggests that there has been up to a 20-point swing from the Conservatives to the Liberals in the vote-rich "905" suburbs in the Greater Toronto Area over the past two months. If the Conservatives have any hope of defeating Trudeau, they need big pickups in this region. This is partially because Trudeau seems poised to make gains in Quebec. NDP support in the province has virtually collapsed and Liberals are positioned to pick up as many at 20 seats.
Regardless of whatever the polls may currently suggest, the old adage remains true: campaigns do indeed matter. Lest we forget that NDP Thomas Mulcair was poised to become Prime Minister until well into the 2015 campaign. The Liberals cannot afford to be overly confident.  Yes, they can point to the fact that the unemployment rate is at a 40-year low and 825,000 Canadians have been lifted out of poverty since the last election, but inequality persists.
The Prime Minister has admitted that he isn't perfect and has made mistakes. It remains to be seen if most progressive voters will look the other way. In order to do so, they will need to be convinced that the Liberals, are best suited to protect Canada against a rising global, right-wing, populist tide.
Omar Khan is a Vice President for Public Affairs at Hill+Knowlton Strategies Canada. He spent over a decade working at the most senior levels of Liberal politics and government at Queen's Park and Ottawa.
Conservative Party of Canada (Conservative)
"Stephen Harper with a smile" is the name by which Mr. Scheer was dubbed as he took the reigns of the party just two years ago. So far, Mr. Scheer has not strayed very far from the direction or policy positions of his predecessor, mostly because he doesn't have to. Amongst Conservatives and their accessible voters – the former brand of conservatism is still appealing.
Conservative voters aren't looking for large scale promises, grandiose vision statements or perfunctory platitudes – they simply want to see leadership that is competent and restores confidence after four years of a Trudeau-led Liberal government.
Conservative leader Andrew Scheer is not looking to drastically reimagine the nation. In fact, the Conservative campaign is not likely to be about Andrew Scheer at all. The Conservative campaign will endeavour to make this election a referendum on Prime Minister Trudeau's leadership over the last four years. They will focus on presenting a likable and competent manager of the economy in Mr. Scheer: a leader who stands to make progress on resource development, jobs and growth. The campaign's challenge will largely be about Mr. Scheer's lacking notoriety, visibility and reassuring voters that some of the more controversial issues do not dominate the conversation.
While Mr. Scheer has largely laid out his vision in five speeches covering a moderate approach on the economy, the environment, foreign affairs, immigration and confederation – a conservative campaign will focus on pocketbook issues. These speeches largely chart a course of responsible, reasonable measures that differentiate the Conservatives from all three of the other parties vying to form government – but their battleground will be on affordability, specifically helping families and businesses get ahead.
And while in this campaign the ballot question is not clear – the Conservatives will work hard to fight the economic data that is largely positive with an emotional appeal to many across the country who are working harder and not getting ahead. The notion of economic uncertainty for families in every region of Canada will be the central focus –lower taxes, breaks on home heating, better jobs and affordability will be the central focus of messages designed to raise doubts about the last four years of Liberal economic management.
Scheer's conservatives come into this election in a position of relative strength, with the opportunity to expand their voter base in key regions in the GTA/905, British Columbia's lower mainland, Atlantic Canada and parts of Quebec. It will be important to hold the seats they currently have and aggressively expand into regions that saw them shut out in the last election.
Melissa Lantsman is a Vice President for Public Affairs at Hill+Knowlton Strategies Canada. Melissa has more than ten years of senior public affairs and strategic communications experience, including running the Progressive Conservative war room during the 2018 Ontario provincial election.
New Democratic Party (NDP)
NDP Leader Jagmeet Singh enters the fall election campaign with less than two years as leader. He was elected by New Democrats in October, 2017. As with any new federal party leader the main challenge is recognition. The party will focus on introducing him to Canadians and highlighting his history, background, motivations, and priorities. For New Democrats the key challenges are visibility and relevance.  Introducing Mr. Singh to Canadians and providing insight into his character will be key to the fall campaign. This is a golden opportunity to talk to Canadians when they are more open and receptive to federal political issues and what those issues mean to them in their everyday lives. As the country's first permanent visible minority federal leader he presents a different view from more mainstream politicians and his history and background contribute to his compelling candidacy. Although he has largely been overlooked or dismissed by the pundits, mainstream media, and political elites, this election campaign is an important opportunity to look past the naysayers and challenge the dominant narrative and expectations.
In a break with the contemporary tradition of releasing election platforms in a series of announceables during the first weeks of the writ and then releasing the full offer immediately preceding the first national debate, the NDP has released it's full platform ahead of the campaign.  The 109-page document, titled "A New Deal for People," was released in June and outlines the priorities and commitments the party will focus on now and during the campaign period. There is a strong focus on health care with a drive to expand it to include pharmacare, mental health care, dental care, eye care and hearing care. Building on the unquestioned historic commitment of New Democrats to a public and comprehensive health care system and the pride Canadians have in it the party believes that the time is right to expand it to include other aspects of need. As the first step, the party proposes to implement national pharmacare in 2020.
Other key initiatives and policy proposals will be for affordable housing, a rebalancing of the fiscal framework to raise corporate tax rates, eliminate fossil fuel subsidies and end tax loopholes. Concrete steps to realizing reconciliation with Indigenous, First Nations people will mean commitments to provide safe housing, equal education, equal health care and safe drinking water.
So, expect expanded health care, with a strong focus on pharmacare to be front and centre. In addition, there will be proposals for concrete actions to combat climate change and support workers in the transition to a fossil-free economy and the rebuilding of a housing program that creates jobs and housing. The NDP will be making the case for a government that focuses on all Canadians, rather than the few well connected and privileged elites.
Federal campaigns are usually covered through the lens of the Leader's Tour, which highlights the key areas for holding and growing seats.  Currently, the NDP have a significant number of seats in both British Columbia and Quebec. It will be important to hold those seats so we can expect that the Leader's Tour will focus there. However, there are opportunities to pick up seats in Ontario in the GTA and Peel Region as well as northern Ontario.
This campaign is shaping up to be a bitter and heated struggle between the two traditional main parties. Many Canadians are disillusioned and unhappy with this style of politics and that offers an opportunity to the NDP as a well known and established party in the federal landscape that has nonetheless often been perceived as an honest, hard-working and principled party with a progressive and practical history.
Anne McGrath is an Associate with Hill+Knowlton Strategies and is amongst the most respected NDP strategists in Canada. She recently served as Chief of Staff to Alberta Premier Rachel Notley and has also served as NDP National Director and Chief of Staff to the late Jack Layton.