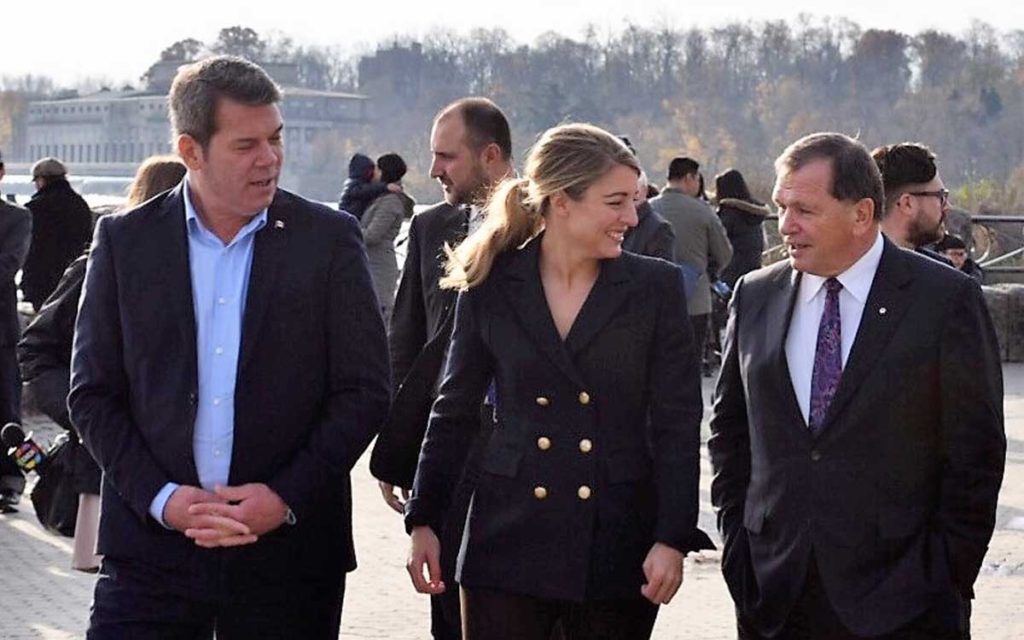 The Honourable Mélanie Joly, Minister of Tourism, Official Languages and La Francophonie (centre), is joined by Niagara Centre MP Vance Badaway (left) and chair of the newly formed tourism advisory council, Frank McKenna, in Niagara Falls Monday morning.
What better place to kick-off a cross-Canada tour to discuss ways to bolster the nation's tourism sector than in one of the most famous tourist spots in the world: Niagara Falls.
Canada's visitor economy is a fast-growing sector that provides economic benefits and good middle-class jobs in every region of the country. That was the message delivered yesterday morning by the Honourable Mélanie Joly, Minister of Tourism, Official Languages and La Francophonie, standing in front of the famous falls, as she began her tour to speak with tourism and travel experts.
The main announcement by the minister was the creation of the Advisory Council on Jobs and the Visitor Economy. The Council is composed of business owners, entrepreneurs, and tourism operators and professionals who recognize the economic importance of the tourism sector. Former Premier of New Brunswick Frank McKenna, who was also in attendance yesterday morning, will chair the committee.
Niagara Centre MP, Vance Badaway, says there are a number of things the strategy will look at to take tourism in Niagara and across the nation to the next level. "We need to be able to move people from Niagara to Toronto and back much more efficiently and from that perspective, GO transit is huge." He also said government ministries will have to work closely together when it comes to improving the tourism sector in Niagara but across the country. "Not only do different levels of government have to communicate better but we have to communicate well within a government too. Projects could touch a number of different Ministries including, Tourism, Infrastructure, Immigration and Finance," Badaway said. Badaway said when people go on vacation they don't care who the politicians are in the cities and towns; "They are there for the attractions and the experience".
Joining McKenna on the council will be industry experts, local politicians, former hotel CEOs, and tourism business owners.
Anthony Annunziata, President of the Tourism Partnership Niagara, said he was pleased the government chose Niagara to launch its consultation process and that they will be looking at improving infrastructure. While Annunziata said developing a tourism strategy from a national perspective is a good thing, it's what's needed in Niagara that is the focus of the local industry. "We need infrastructure to get people to Niagara and move them around once they are here," he said. "That's our biggest challenge right now. In order to grow our tourism market we need infrastructure supports in terms of rail, roads, and airports."
The council will identify important issues facing the tourism sector in Canada. It will also recommend new ways to increase Canadian tourism opportunities and competitiveness globally. The core objective of the council is to create new opportunities and jobs for the middle-class in the tourism sector across Canada.
In 2017, the tourism industry accounted for 2.06 per cent of the country's GDP.
The head of Niagara-on-the-Lake's Chamber of Commerce, Janice Thomson, said it's always good to see decision makers talking tourism, especially as it relates to jobs. The minister met with local tourism leaders for a roundtable discussion following her announcement. Thomson said it was a good open discussion. "We talked about what would help us optimize the growth of tourism and that growing the tourism sector doesn't necessarily just mean more people, but perhaps a different focus on different sectors."
Tourism is still a "people business" all about customer service and is one of the few fast-growing sectors where jobs are not being wiped out by technology. Tourism is a prime candidate for job growth.
"We have the products and the tools and the people," said Thomson. "We have to keep delivering a great experience."
Canada used to be a top 10 destination for international tourists, but since 2000 has slipped to 17th place. However, last year being the country's 150th birthday, Canada saw a record 20.8 million visitors. In just the first eight months of 2018, 14.8 million international tourists came to Canada.
Tourism is expected to play a key role in the upcoming federal election, as it is a sector that impacts the vast majority of ridings across the county to varying degrees. The national strategy is expected to be ready by spring 2019, just months before the next election.
UPDATED: November 14, 2018, 7:56am