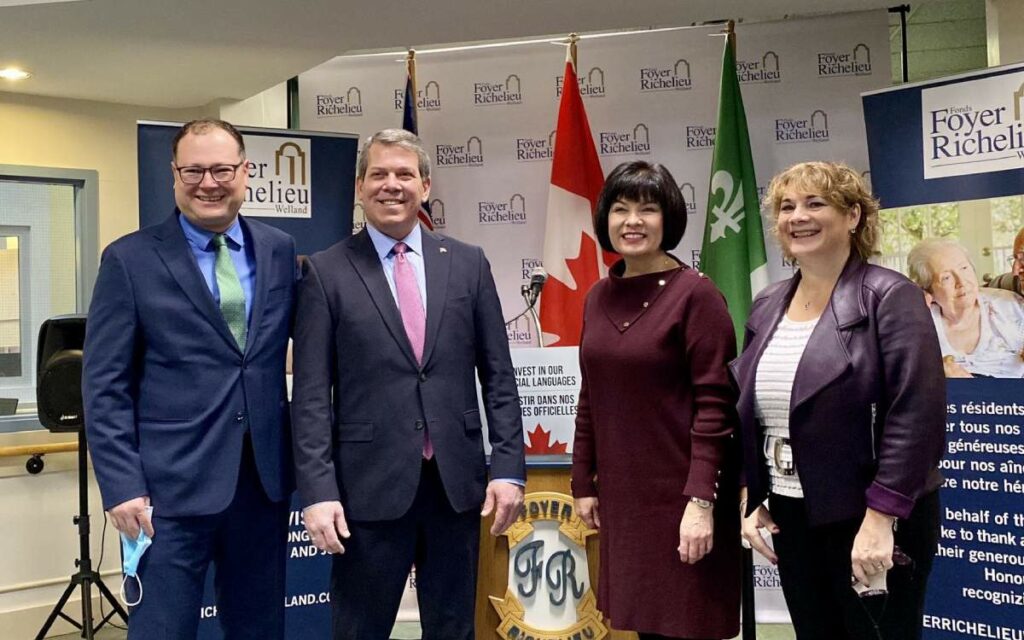 Niagara Centre MP Vance Badawey (centre-left) and Minister of Official Languages Ginette Petitpas Taylor (centre-right) were in Welland on Tuesday, January 10 to announce the funding. Photo credit: Twitter/Ginette Petitpas Taylor
The Government of Canada is providing Foyer Richelieu Welland, a Francophone long-term care facility in central Niagara, an additional $2.7 million in support to build a new community and cultural centre. 
The funding will enable the development and construction of a facility that can accommodate at least 500 people every day.
According to a press release from the federal government, the new centre will be designed to improve services to local Francophones by offering things such as:
various training courses in French in fully equipped meeting and training spaces;

support and respite services in French for caregivers;

a cultural program, including community shows; and

a social program, including cooking classes and community barbecues to bring people together in the new space.
These programs and services will be available to all users, including residents, day hospice and day centre participants, and their families.
Minister of Official Languages Ginette Petitpas Taylor was on hand last Tuesday for the funding announcement. 
"The Foyer Richelieu Welland is an anchor in the Francophone community," said Minister Taylor. 
"Today's investment will allow the centre to expand its services to Francophone seniors and their loved ones. These new services will help prevent isolation by giving them the opportunity to meet and interact in their own language while providing a healthy and pleasant living environment."
In 2021, the federal government previously announced $2 million in funding to help double the number of long-term care beds at Foyer Richelieu to 128. 
With the future community centre, expanded LTC facility, and Francophone elementary and secondary across the road, Tanguay Avenue in Welland is being pegged as a holistic hub for the area's French-speaking community. 
"The construction of this new community centre will give our Francophone community in Niagara Centre new momentum," said Niagara Centre MP Vance Badawey, who was also present for the announcement. 
"Foyer Richelieu Welland continues to be a strong anchor for the community. I'm thrilled to announce this added investment of $2.7 million, totaling $4.7 million for this project, which will contribute to its growth, strengthening health and well-being, as well as our community's French culture and heritage."
The community centre is expected to open in March 2025.