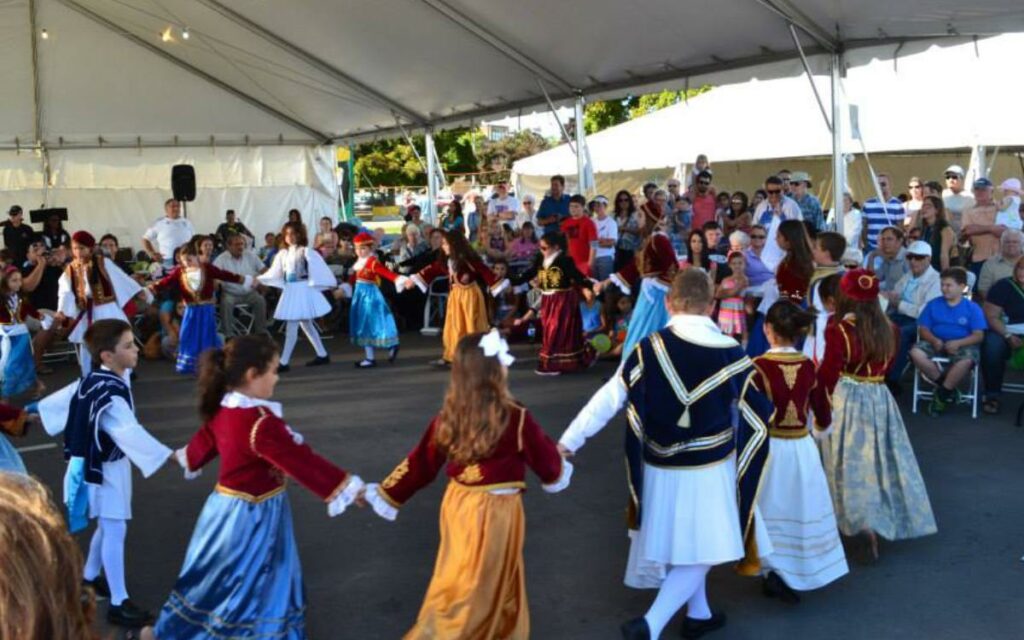 This Labour Day weekend be transported to Greece with the sights, sounds, and food of Hellas at the Niagara Greek Festival in St. Catharines. Photo credit: Niagara Greek Festival
The upcoming long weekend is a final chance for families to get out and enjoy the summer before school resumes and warm weather turns to cold.
Thankfully, there are plenty of festivals and activities to choose from across Niagara.
The Niagara Greek Festival is a four-day event at St. Katharine Greek Orthodox Church in St. Catharines beginning this Friday, September 1 and ending on Monday, September 4. There will be food, drinks, and entertainment for all ages. The menu includes gyros, souvlaki dinners, moussaka, spanakopita, and traditional Greek desserts. There will be a bar tent offering alcoholic and non-alcoholic beverages. 
The Mediterranean atmosphere will be set each evening by musical and dance performances by the Olympic Entertainment Greek Band and Greek Community of Niagara Dancers featuring Niagara Hellenic Dance Troupe. There will also be a kids zone which offers inflatables, face painting and crafts, as well as an Agora Marketplace with local community vendors. Admission and parking are free, with additional parking and complimentary shuttle at Holy Cross Catholic High School. More information on the event can be found at their website.
The Marshville Heritage Festival is also taking place this Labour Day weekend in Wainfleet from Saturday to Monday. Explore the township's historic buildings, with demonstrations from volunteers at the blacksmith shop, sawmill, cabinetmaker's shop, and printery. 
There will be live musical entertainment and activities for children such as face painting, puppets, magicians, apple cider tasting and miniature train rides on the Marshville Express. There will also be artisan vendors and an automotive and farm equipment show. Admission is cash only — children under 10 years old enter free. For a full schedule of events visit the Marshville Heritage Society website.
Sunflower season is also at its peak and can be enjoyed at the Sunflower Festival at Howells Farm in Fonthill. The fields at Howells are filled with over 100,000 blooms, perfect for a photo session. During your visit guests can enjoy select attractions as well as food and drinks at the Beer and Wine Garden and Farm Kitchen. 
Tickets must be purchased from their website in advance for $17 each for ages 3 years and up. Three fresh cut sunflowers are included with each purchased ticket. The final weekend for Sunflower Festival bookings is this Labour Day weekend.