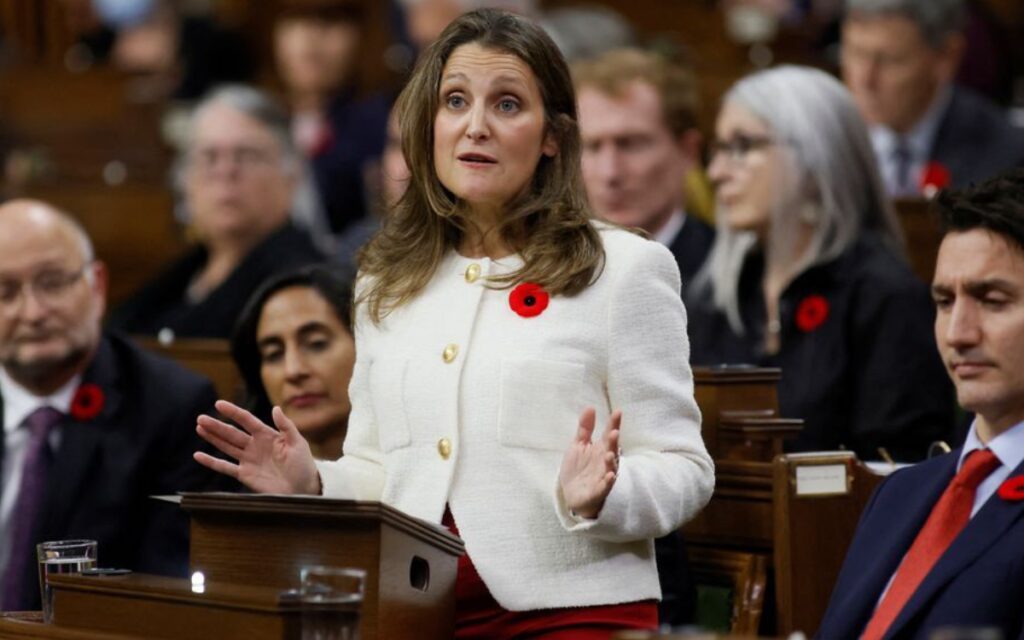 Minister of Finance and Deputy Prime Minister Chrystia Freeland (pictured) presented the Liberal government's 2022 fall economic statement Thursday afternoon in Ottawa. Photo credit: Reuters/Blair Gable
It wouldn't be "mini-budget" day without some Liberal back-patting for a job well done. While yesterday's fall economic statement brought dire warnings of a world about to shift in ways not seen since the 2008 global recession, it also reiterated a laundry list of ways the Liberal government has prepared Canada for the impending downturn in the economy. 
Whether you choose to believe the spin is a personal choice.  
In an ironic twist of fate, the same inflationary pressures that are crippling Canadians by leaving them with less money to make ends meet each month has left the government with higher tax revenues. In layman's terms, this means the federal books are in better shape than they would have been in the event inflation wasn't sky-high.
This is good news for a government that has passed up every opportunity to put forward a plan to balance the books, so expect to hear much ado from the government over the next few weeks about how Canada has fared compared to allied nations, ranking number one in the G7 thanks in part to the massive spending programs that propped up the economy during the COVID-19 pandemic. And while this talking point may win them some approval points in the short term, it is unlikely to comfort Canadians who are already feeling the pain brought about by higher interest rates.
One surprise from yesterday's announcement was the appearance of a level of fiscal restraint not seen since the Liberal government took power in 2015. The economic work plan clocked in at just 82 pages cover to cover, and new, more modest spending to the tune of $30.6 billions dollars was couched in language about sustaining growth as we head into an economic downturn.
So, what's the takeaway here? Will the Conservatives be happy that the government is finally taking a more responsible approach when it comes to doling out coins from the public purse? Will they see efforts to help students and low-income workers as a step in the right direction?
Absolutely not. 
Minister Freeland delivered her speech, only to be ridiculed by the Conservative opposition benches. To them, the fall economic statement failed to address the elephant in the room: taxes, taxes, taxes. 
Middle class Canadians looking for relief in the form of tax breaks or federal relief won't get it anytime soon. According to the Liberal government, they did their part earlier this fall through dental, rental and GST rebates, and are doing it again for students and low-income workers. For everyone else, you're going to have to weather the storm on your own. 
Instead of coming up with a narrative that spoke to the concerns of Canadians, the Liberal government crafted talking points fit for an international conference. Conservatives will be sure to point this out as they continue to advocate for broad-based tax relief that stands to impact every Canadian from coast to coast. If they can keep their message focused on the economy while making the point that Liberal overspending has gotten us into this mess, they will continue to win in the court of public opinion. 
Josie Sabatino is a Senior Consultant at Summa Strategies, focused on providing strategic insight and helping clients meet their objectives in an ever changing and complex political and regulatory environment. Prior to joining Summa, Josie spent nearly a decade in political communications and most recently served as the Director of Communications to the Hon. Erin O'Toole, former Leader of the Official Opposition.