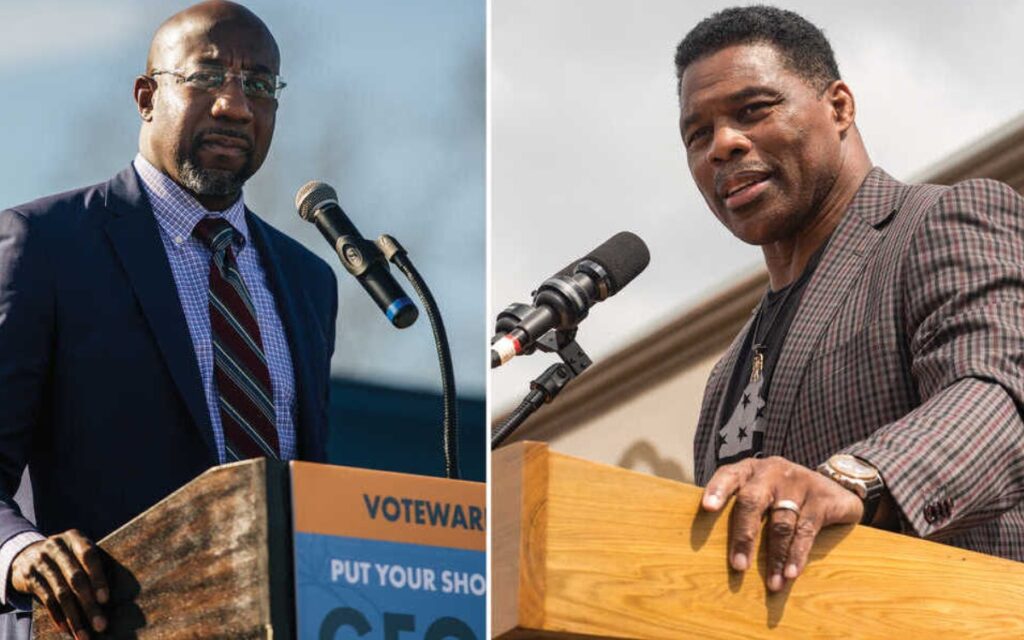 Midterm elections south of the border take place next Tuesday, November 8. Several contests remain a dead heat heading into the home stretch, including the Georgia Senate race between Democrat incumbent Raphael Warnock (left) and Republican challenger Herschel Walker (right). The outcome of the tight race in Georgia, which may well require a run-off, could determine the balance of power in the Senate. Photo credit: AP/NPR
Throughout 2022 this column has, with interest, been tracking the races in the United States Congressional and Gubernatorial elections. Making final projections remains the final action.
Earlier in the year the Republican Party appeared to be heading for a large victory, but in the summer, some events arose which placed that result very much in doubt. As the election closes, however, the original dynamic looks to be coming into focus once again. The House of Representatives likely falls into Republican control. Needing only five seats to take over, the GOP seem to be headed for a 25 to 30 seat pick up, making them the majority party, ending Nancy Pelosi's second reign as Speaker and ensuring that President Biden will face vigorous opposition to his agenda during the last two years of his term in office. 
In the governors' races, the Republicans now appear headed for victories they thought were out of reach a few weeks ago, and could produce more Republican presidential candidates. The Senate remains the greatest point of contention and the true test of Democratic hopes in 2024. As will be documented, the closing days of this campaign show a Republican surge and an increasing likelihood of a divided government returning to Washington in January 2023. Let's examine the battleground Senate and governor races one more time. 
GEORGIA
This Senate race possesses more twists than a barrel of pretzels. At this point, despite some embarrassing revelations about both candidates, the two men, Senator Raphael Warnock (D) and GOP challenger Herschel Walker remain in a dead heat. If neither one breaks the 50 per cent threshold, a run-off is slated for January, with the possibility of the outcome deciding control of the Senate. Governor Brian Kemp (R) maintains a solid lead over Stacey Abrams (D) and may push Walker over the top. I would project a run-off here and as mentioned, control of the Senate in the balance. +1 GOP (in a run-off).
ARIZONA
Kari Lake, the Republican nominee for governor, seemed a bad fit when first nominated, but her performance in debates and when handling the media now causes many in the upper echelons of the GOP to consider her a rising star. Her lead is growing, and it may be enough to pull Blake Masters to victory, something which until the last few days seemed unlikely. Senator Mark Kelly (D) and his supporters still believe they hold the upper hand, but these last couple of weeks prove why Arizona is a swing state. With momentum flowing in his direction, Masters cannot be considered a long shot. I believe Lake's consistent appeal will bring him in with the tide and likely mean the GOP will take control of the Senate. The Democrats supported Lake's candidacy believing she would be easier to beat as a proponent of the stolen election theory. When they complain about her victory afterwards, the shameless efforts to whine about threats to democracy will ring hollow. +1 GOP.
PENNSYLVANIA
George Fetterman looked to be on the safe road to victory, but the race has tightened to a dead heat. With the governor's race still favouring Democratic nominee Josh Shapiro, that should provide Fetterman with a bit of a boost. Nonetheless, indicators in this battle have been falling for the GOP candidate, Dr. Oz's side of late and his improved campaign tactics are paying dividends. I suspect Fetterman may hold on, but this one will be as tight as a tick. The President sees Pennsylvania as a home state, so extra funding and resources will go into moving it over to the Dem column. I suspect Fetterman holds on, thanks to Shapiro's strong showing. +1 Dems.
WISCONSIN
Both the governor and Senate contests reflect why this state sits at ground-zero in the battleground theatre. Governor Tony Evers (D) and his opponent Tim Michels (R) remain deadlocked, and Senator Ron Johnson (R) enjoys a sliver of a lead over his opponent Mandela Barnes (D). The Republicans must win the Senate race or face minority status again. I give the edge to Johnson who usually pulls out the victory in the end. Crime and inflation, as issues, are beginning to define this election and if they do, the Republicans should hold the Senate seat and gain a governor's mansion.
NEVADA
Adam Laxalt holds a slim lead, but a consistent one and I expect him to win, giving the GOP another gain. Opening up a lead of six points has put GOP gubernatorial candidate Joe Lombardo in control of his race. GOP +1.
NEW HAMPSHIRE
The Democrats cannot lose this seat without losing control of the Senate. Senator Maggie Hassan appears headed for victory, but her competitor Don Bolduc has gained momentum of late and cannot be completely counted out. I would expect Hassan to hold on. 
NORTH CAROLINA
While no gubernatorial race exists, the Senate race, once red-hot, now seems headed in GOP nominee Ted Budd's direction. His opponent Cheri Beasley gradually lost ground over the fall and this looks to be a Republican hold. 
OHIO
Mike Dewine, the sitting Republican governor, leads the polls by anywhere from 13 to 24 points. His solid victory will ensure J. D. Vance succeeds fellow GOP senator Rob Portman. This may be the easiest call of the night regardless of how close polls suggest Congressman Tim Ryan (D) runs against Vance. Recent results prove Ohio has become reliably Red. Hold for Republicans. 
This assessment gives the GOP a net gain of two seats, making Mitch McConnell Senate Majority leader. Other factors, including the rising concerns of inflation, crime, and cultural issues could intrude to create a punishing wave against the Democrats. If that were to happen, races closing at this point, but seemingly out of the GOP's grasp, could flip. Keep an eye on the contests for governor of New York and Michigan and the Senate races in Colorado and Washington. Otherwise, I expect a good night for Republicans, but not a great night, unless the tide becomes a wave or tsunami.   
Dave is a retired elementary resource teacher who now works part-time at the St. Catharines Courthouse as a Registrar. He has worked on political campaigns since high school and attended university in South Carolina for five years, where he earned a Master's in American History with a specialization in Civil Rights. Dave loves reading biographies.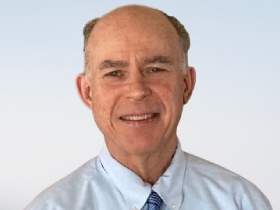 Dave Redekop is a retired elementary resource teacher who now works part-time at the St. Catharines Courthouse as a Registrar. He has worked on political campaigns since high school and attended university in South Carolina for five years, where he earned a Master's in American History with a specialization in Civil Rights. Dave loves reading biographies.