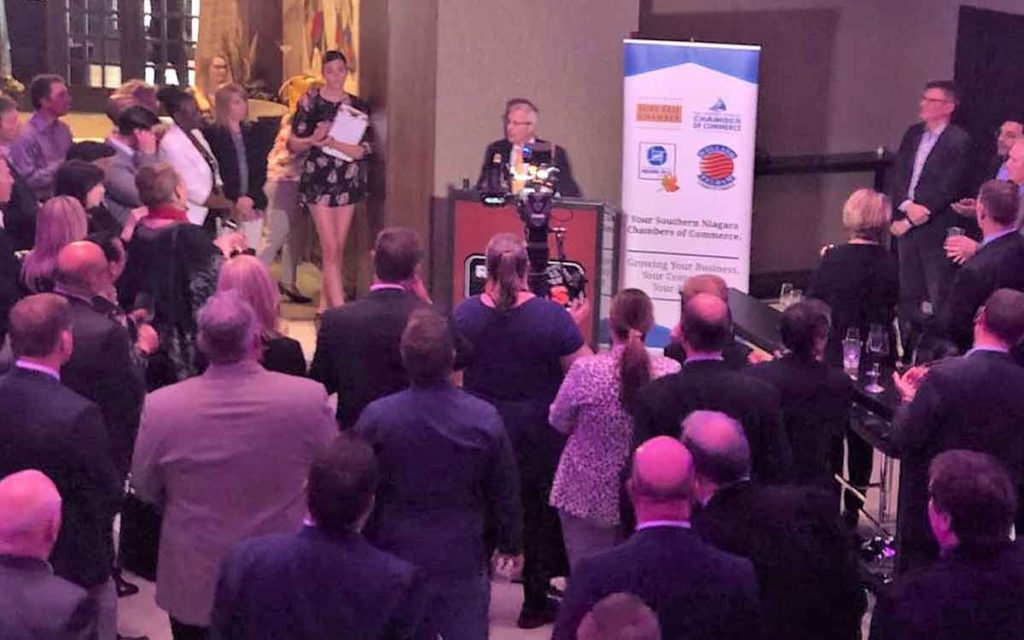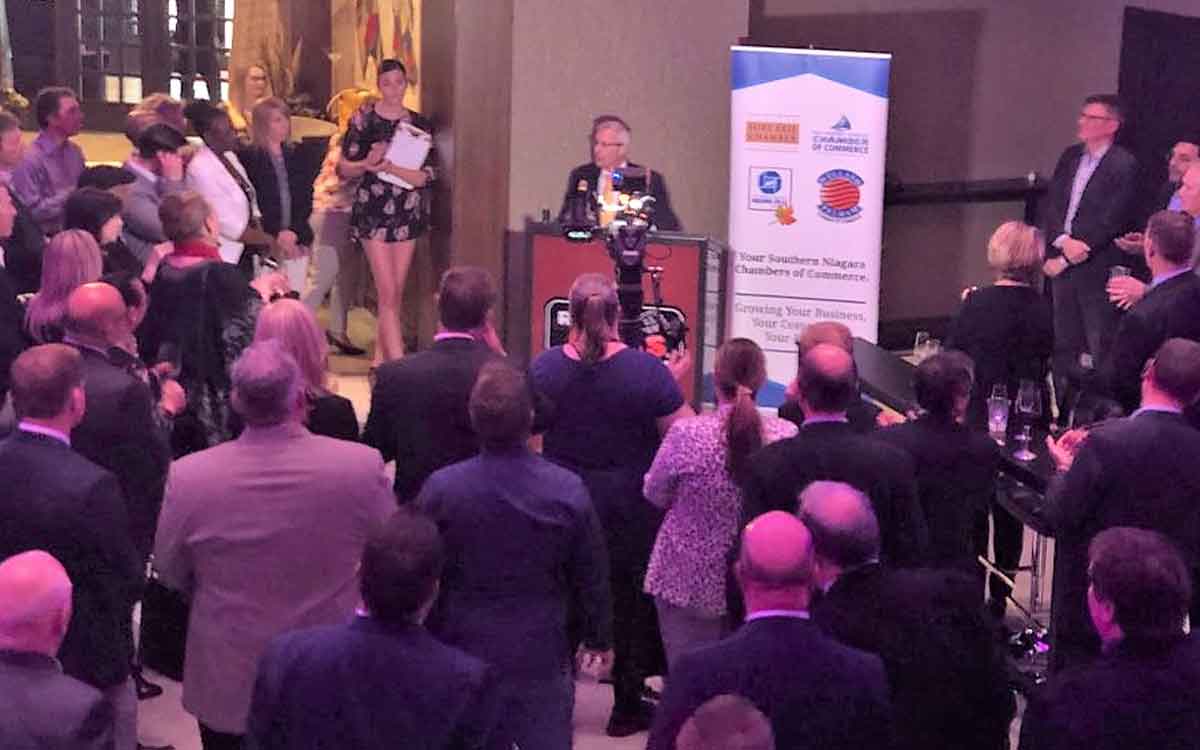 Finance Minister Vic Fedeli speaks to business leaders of south Niagara Thursday night.
It was a packed house at Ruth's Chris Steakhouse last night as many of Niagara's business leaders and elected officials were on hand to hear provincial Minister of Finance Vic Fedeli discuss the province's recent budget.
The event, organized by the South Niagara Chambers of Commerce, was, not surprisingly, very well attended as it's not often business owners get to hear directly from the person in charge of the province's finances.
South Niagara Chambers of Commerce Executive Director Dolores Fabiano said her members certainly like to have the opportunity to meet with key decision makers in Toronto or Ottawa. "We are pleased that Minister Fedeli has taken the time to visit us in South Niagara and provide our membership with highlights of the recently announced budget.  It is through opportunities like these that communication and engagement are strengthened."
Niagara Falls Mayor Jim Diodati introduced Minister Fedeli who, before beginning his formal remarks recognized former PC MPP Bart Maves and long-time Liberal MPP now regional chair Jim Bradley.
Throughout his remarks Fedeli used words like "balanced", "responsible" and "prudent" when describing his government's approach to tackling the massive debt Ontario is currently saddled with. "We have created a comprehensive and sustainable plan that will take us to balance in five years, with no new tax increases, not a single one," said Fedeli.
The finance minister told the large crowd that the previous Liberal government was spending an astonishing $40 million a day more than they took in through revenues. While the PCs have a long way to go in knocking the current deficit down to a manageable amount, let alone eliminate it completely, they have reduced it by $3.3 billion in nine months according to the Minister. "We are not just balancing the budget, we are taking a balanced approached," said Fedeli.
The finance minister told the audience that Premier Ford campaigned on saving four cents on the dollar if elected. "To date our government has nearly doubled that and found about eight cents on every dollar spent."
Despite some fear mongering from opposition parties about massive cuts to health care and education, Fedeli said in fact money is being added in those areas. He talked about reducing the bureaucracy and putting money into frontline services and hospital capital projects like the new hospital being planned in West Lincoln.
One comment that seemed to really resonate with the local business leaders in the audience was the idea that the provincial government has never had competition from a business perspective. "…it's time we started serving our customer, the taxpayer better…," explained the minister. He highlighted the work the government is doing to expand sales of wine, spirits and beer beyond just the LCBO monopoly.
The biggest applause came when Fedeli announced that as part of the conservative government's expansion in GO rail service, they are delivreing two-way weekday GO Train service to Niagara Falls and St. Catharines on the Lakeshore West Line four years ahead of the committed date.
The minister's comments on reducing red tape also drew applause from the business community. "We're introducing high-impact legislation twice a year to cut red tape, and we are looking to everyone in this room to help us identify and remove these unnecessary regulations," Fedeli explained.
"We are making measured, thoughtful, but difficult decisions in order to improve the quality of life here in Ontario."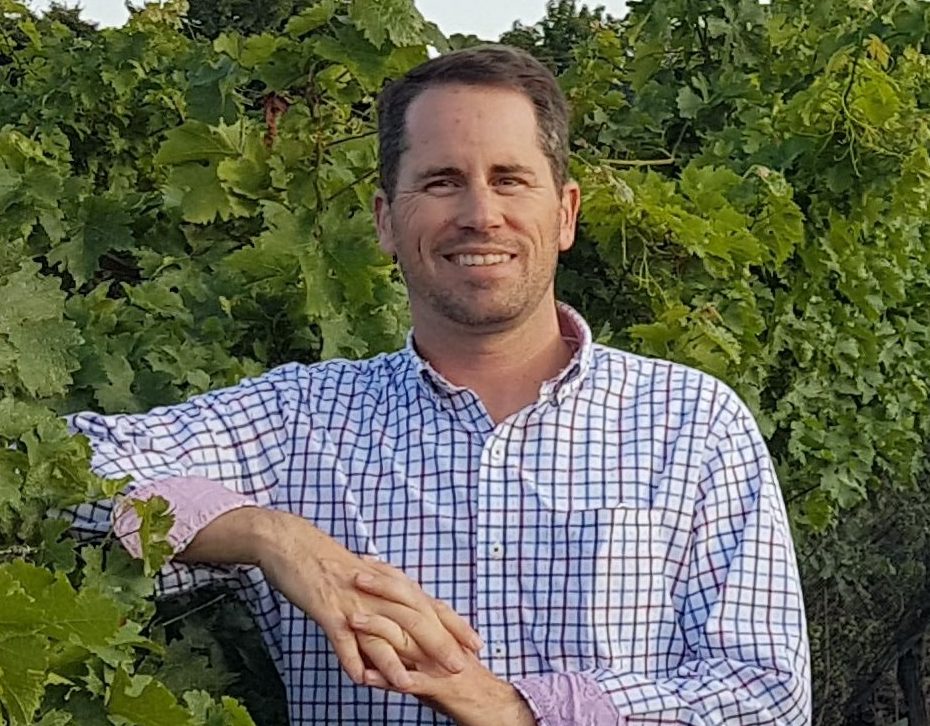 Kevin has spent over two decades as a public relations professional in a variety of sectors including professional sports, the arts, industry and healthcare.  After tiring of the daily commute to Toronto he returned to Niagara and launched The Niagara Independent, an online news source published twice weekly.
He is a graduate of Brock University, Niagara College and the Richard Ivey School of Business. He was named one of Niagara's 40 Under Forty in 2005.
Kevin is most proud of his twin daughters. He is also a triathlete and four-time Ironman finisher.