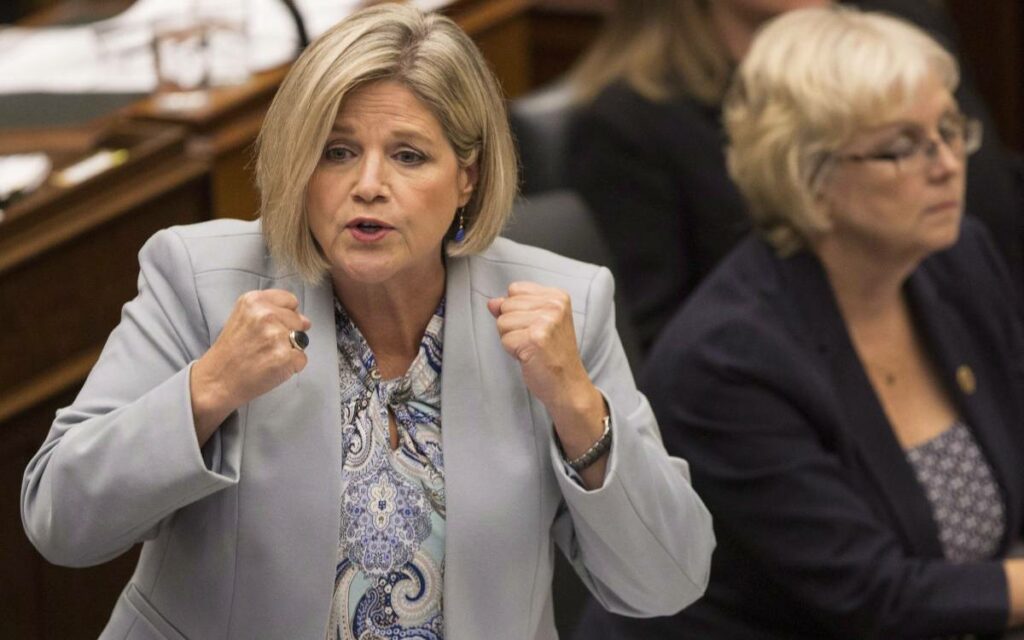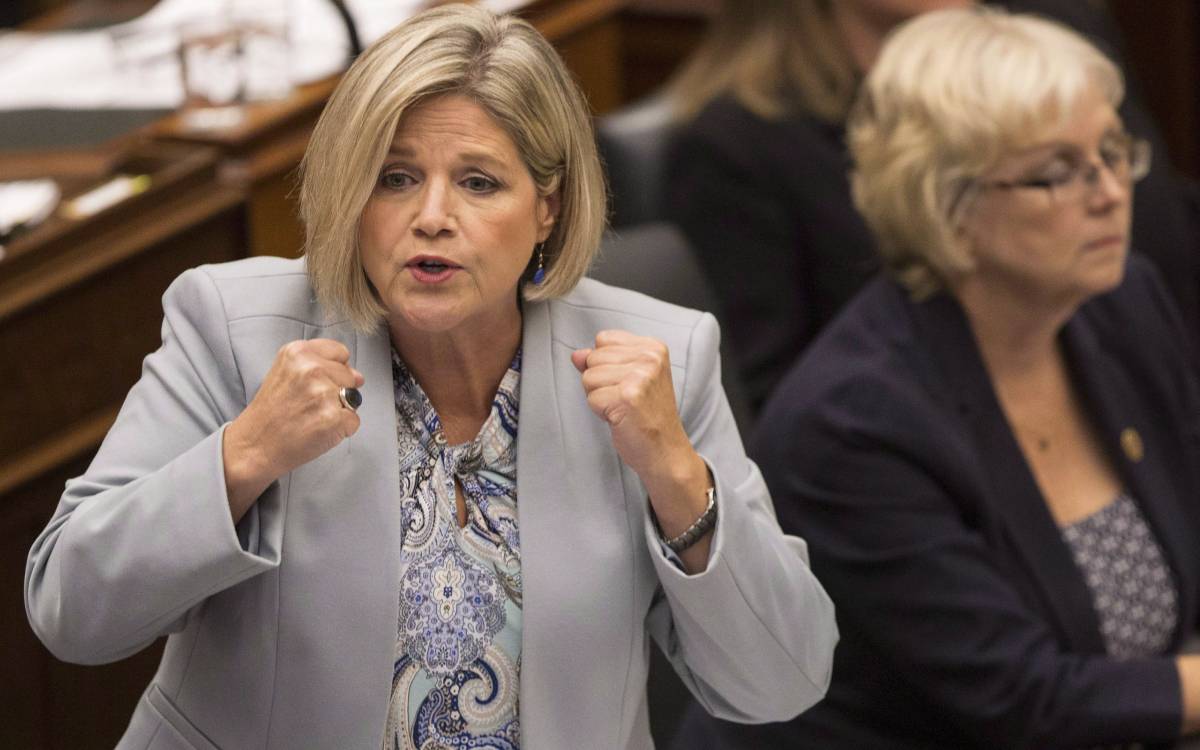 Provincial NDP leader Andrea Horwath speaking in the Ontario legislature. Photo credit: The Canadian Press/Chris Young
NDP leader and head of Ontario's Official Opposition Andrea Horwath got into some hot water last week because of a tweet she sent commenting on the case of Regis Korchinski-Paquet, the woman who died in Toronto after falling from her balcony a year ago. Horwath blamed police for the death, ignoring all available information about the tragic case and the results of the ensuing police investigation.
"One year after her killing…her family is still seeking justice," Horwath's tweet said, clearly implying that the police were responsible for her death.
Controversy around the incident led to an extensive police investigation, which ended up exonerating the six police officers involved.  The investigation concluded that Korchinski-Paquet fell off the balcony as she lost her footing while in the process of trying to climb onto a neighbouring balcony, and that although police were in her apartment in response to a 911 call from her home, they were not implicated in the accident.
The Korchinski-Paquet family has refused to accept the findings of the police investigation, has filed a complaint with the Office of the Independent Police Review Director, and has said they would like the investigation of her death reopened.
Horwath's tweet attracted a swift rebuke from Toronto Police Chief James Ramer, who commented that as independent reviews had exonerated the officers involved, any suggestions to the contrary were "divisive and irresponsible".  The President of the Toronto Police Association, Jon Reid, also weighed in, noting that Korchinski-Paquet "was not killed" and that building a false story of lies villainizing police is not how justice is achieved.
When faced with a barrage of critical comments on Twitter and the negative reaction of various police spokespersons asking for an apology, Horwath did not apologize. Instead, she doubled down on her original comments, claiming that Korchinski-Paquet did not get the mental health support or the de-escalation intervention that was needed at the time.
Why Horwath chose to weigh in on this particular case is not clear, but it is possible that she was in fact pleased with the media attention, however controversial. Opposition parties in general have been fairly low profile during the pandemic as the party in government has understandably received the lion's share of media attention, both positive and negative, throughout the crisis. With the next provincial election a year away, all political parties are moving into pre-election mode, and Horwath might have found it an opportune time to highlight her leftist bona fides. Leftist political parties and groups across North America have been promoting an anti-police sentiment of late, with calls to defund the police in the US and Canada. Interestingly, some US cities that have cut back on police resources and in response have found themselves awash with crime, having to reverse their earlier decisions and increase resources devoted to law enforcement once again.
Horwath has also been facing some challenges to her leadership within the NDP of late. It is the usual practice that any party leader is given two elections to prove their competence, after which a leadership convention is called and they are replaced. Former federal Conservative leader Andrew Scheer was not even given that much rope and was turfed after only one election outing. Horwath has lost three consecutive elections, and some are claiming that it is now time to choose a new leader. In the 2018 Ontario election, the fact that the NDP achieved Official Opposition status while the Liberals were decimated gave Horwath new life for a while, but recent polls suggest that status will not be maintained in the next election and the NDP will be eclipsed by a recovering Ontario Liberal Party once again. All the more reason for Horwath to seek more attention leading up to the next election with actions like her recent tweet.
It is tragic when anyone dies accidentally, and especially when issues of mental health are involved, as seems to be the case in the Korchinski-Paquet situation. But playing politics with such an event, seemingly to latch on to the leftist anti-police narrative that is unfortunately trendy in some circles right now, should be beneath someone in a responsible position like Opposition Leader.
Perhaps Horwath is past her best-before date after all.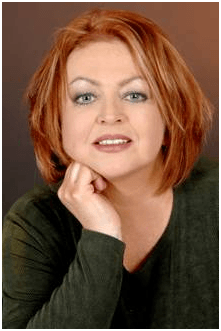 Catherine Swift is currently President and CEO of Working Canadians (www.workingcanadians.ca.  Prior to that, Catherine Swift had been with the Canadian Federation of Independent Business since September 1987, initially as Chief Economist. She became Chair in June 1999 after being named Chief Executive Officer in July 1997 and President in May of 1995.  Her various responsibilities included coordinating policy issues at federal, provincial and municipal levels of government, representing CFIB with politicians, government, business, media and other groups.
Ms. Swift has worked with the federal government in Ottawa holding several positions with the Departments of Consumer and Corporate Affairs, Industry and Communications. Her areas of specialization included corporate and industrial analysis and international trade. Catherine Swift has a MA in Economics.
She has published numerous articles in journals, magazines and other media on such small business issues as free trade, finance, entrepreneurship and women small business owners. Ms. Swift is a Past President of the Empire Club of Canada, a former Director of the C.D. Howe Institute and past President of the International Small Business Congress. She was cited in 2003 and again in 2012 as one of the top 100 most powerful women in Canada by the Women's Executive Network.