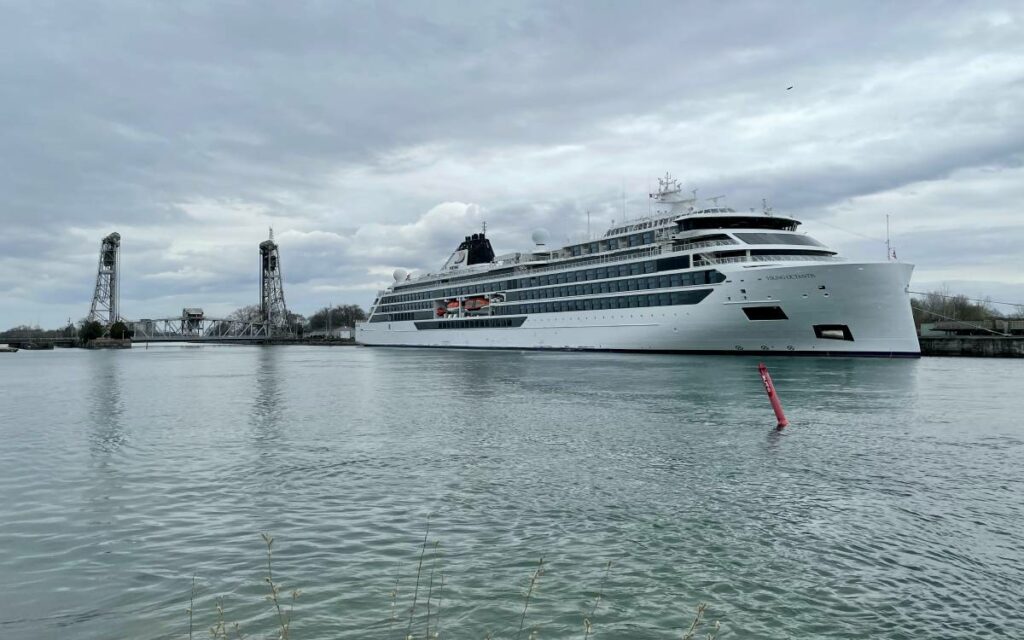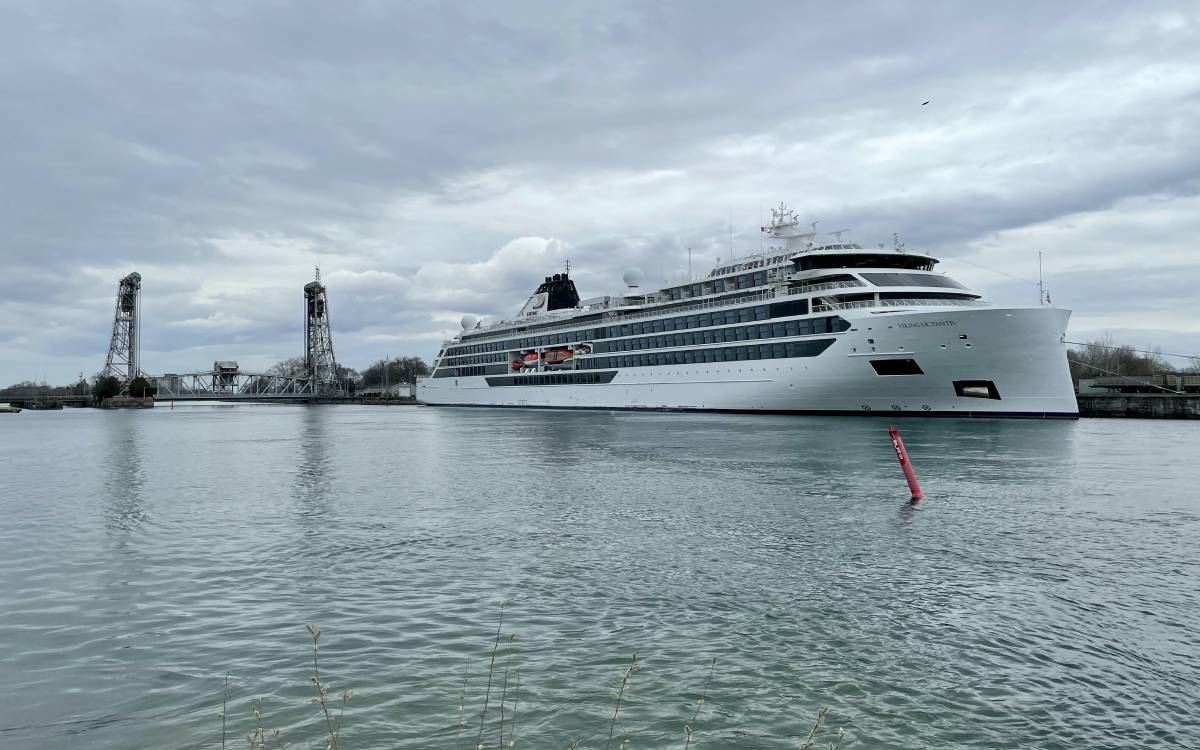 The Viking Octantis sat moored for around seven hours at the city's Snider Dock across from West Street on Sunday, May 1. Photo credit: The Niagara Independent/Nicholas Tibollo
With a loud, low bellow of its deep-pitched foghorn, the first cruise ship of the 2022 sailing season entered Lock 8 at the south end of the Welland Canal just after noon on Sunday. 
Arriving from Toronto on route to Milwaukee, the brand new 665-foot Viking Octantis awed a steady stream of local onlookers as it moored at Port Colborne's Snider Dock for the day while a number of the vessel's 378 passengers disembarked for an excursion to Niagara Falls.
The layover represented the first of 66 total cruise ship stops scheduled for the local port of call between May 1 and mid to late-October this year.
According to the city, Viking Cruises and American Queen Voyages (formerly Victory Cruise Lines) have Port Colborne on their itinerary list, with Vantage Travel, Pearl Seas Cruises, PONANT Cruises, and Plantour Cruises also scheduled to pass through the Welland Canal in 2022. 
"We are excited to welcome guests to Port Colborne and showcase all our city has to offer," Mayor Bill Steele said in a previously released statement. "We are working with experts in Great Lakes cruising and the St. Lawrence Seaway to prepare for this increase in activity and utilize the opportunity it provides to bring tourists closer to local businesses and the community."
The Viking Octantis departed the canal at around 8pm Sunday evening for Point Peele.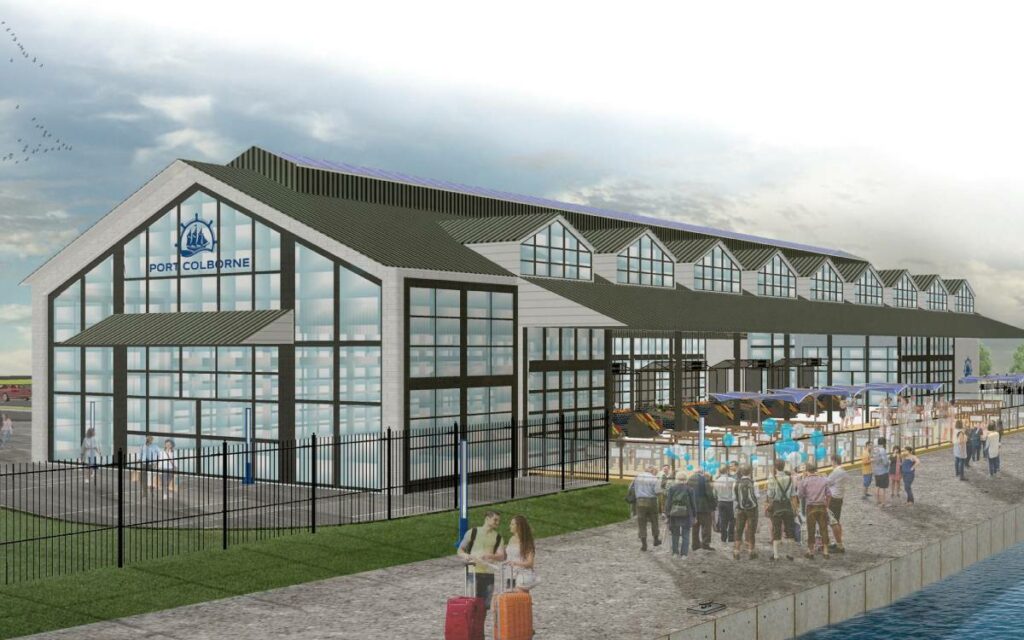 A rendering of Port Colborne's proposed waterfront centre. Photo credit: City of Port Colborne
Over the last year, Port Colborne has made a concerted effort to attract Great Lakes cruise providers (and their passengers' tourism dollars) to the city. 
Part of that effort has involved planning for a new waterfront centre to welcome guests to the region and serve as a "catalyst" for further redevelopment of the area around Sugarloaf Marina. 
The approximately 8,000 square foot proposed facility will be located south of Sugarloaf Street between King and West. 
Last week, Windsor-based J.P. Thomson Architects was hired to design the new waterfront centre, which is currently budgeted to cost an estimated $5.6 million.
"We are thrilled to be selected for something that will play a pivotal role in revitalizing Port Colborne's unique waterfront experience," said Colin McDonald, president of J.P. Thomson Architects. "The similarities between this community asset and the ones we designed for the Town of LaSalle give us an intimate understanding of how to guide the process from concept to occupancy."
The waterfront centre is expected to be complete by 2024, with an exact timeframe and more thorough and accurate cost estimates to be announced in the coming months.  
The centre itself, as well as the city's ongoing effort to entice cruise ship tourism, are part of a broader revitalization strategy for the entire 'Marina District' waterfront area. 
To learn more about the strategy, including the waterfront centre and the city's effort to make Port Colborne a hub for cruise ships, go to the municipality's website here.