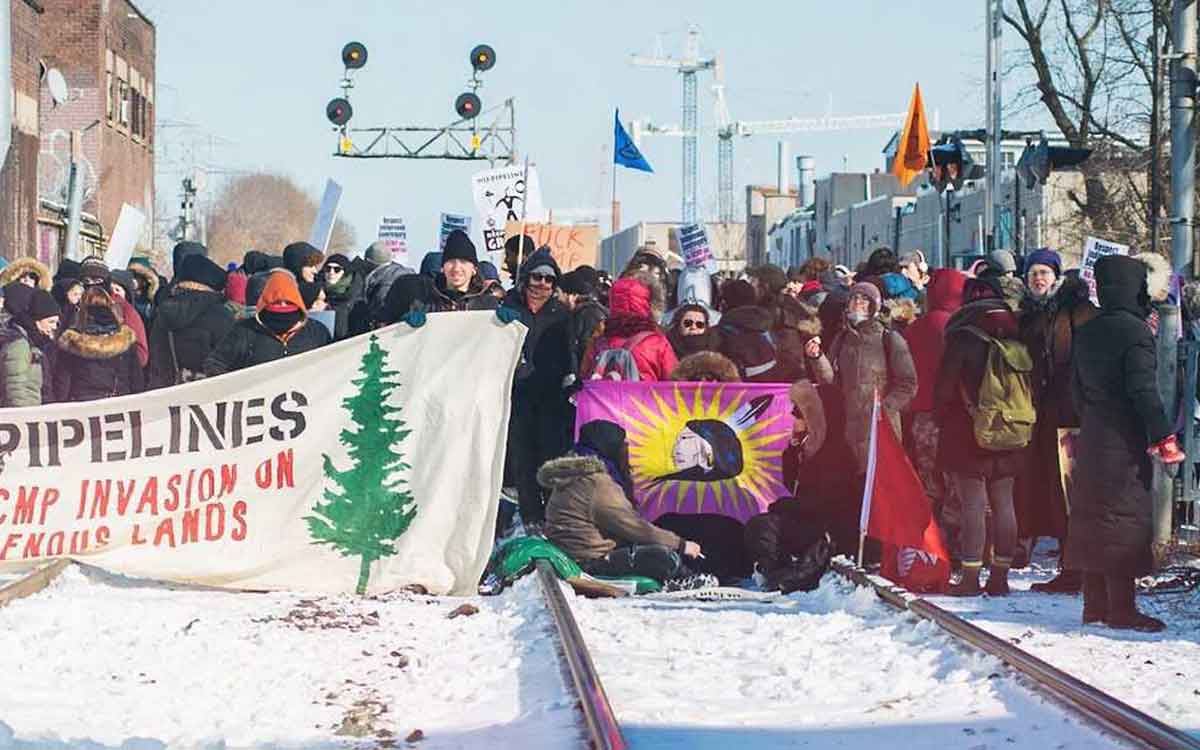 Protestors block a VIA Rail line in Montreal.
Former British Columbia Premier Gordon Campbell believed strongly that to create economic prosperity in Canada's more westerly province the government first needed to resolve long-standing disputes with First Nations.
As a communications officer assigned to the Attorney General and Minister Responsible for Treaty Negotiations in 2004 I saw the potential first hand. My position was issues management and press secretary and as such I dealt with the good news – agreements and negotiations – and the bad news, blockades and protests.
The thing about British Columbia First Nations negotiations is they are vastly different than the rest of Canada. Treaties, for the most part, moved from East to West and stopped at the Rocky Mountains.
There are some treaties – namely the Douglas Treaties on Vancouver Island – that deal with B.C. Crown Land, but very few. Most of B.C. first nations land and people are still governed under principles derived from the Indian Act, 1876.
At one point in my time with the minister responsible's office I was told somewhere around 110 to 115 per cent of B.C. Crown Land was under treaty claim. Some areas, like that of the ground the contested Coastal GasLink project plans to run through is somewhat remote – 1,100 km north of Vancouver.
Other areas, like that of the University Golf Club in Vancouver and the Legislature grounds in Victoria are a little closer to the seat of power. In the absence of treaties and defined ownership of land, there are claims, the law, consultation, negotiation and often accommodation.
The trouble is not everyone in the first nations are always on the same side – even if they are the same band. There are two basic leadership groups. There is the elected chief and council – established by the Indian Act – and then there is or are hereditary chiefs.
The elected chiefs take care of economic issues and day-to-day issues of the band. The hereditary chiefs are – as the name implies – those whose title has been passed down generation to generation. Their role is more care for the land base and culture.
The Wet'suwet'en First Nation is made up of five clans – Gilseyhu (Big Frog), Laksilyu (Small Frog), Gitdumden (Wolf/Deer), Laksamshu (Fireweed), and Tsayo (Beaver Clan). Each of these has hereditary chiefs. There are then houses, I do not know all of them in this particular first nation, but one of them is House of the Top of the Flat Rock – for example.
So the elected chief and council have negotiated for the pipeline to be constructed across land presently under claim. What does that mean? Simple put this is Crown land that a particular First Nation – of two or three – claim was for example "traditional hunting territory." As such this is land they hope to have included in final treaties negotiated with the province and Canada.
Because the land has no clear ownership it is governed by the same rules as any other piece of land. However, the Government has a duty – actually the "Duty of the Crown" – to negotiate and when necessary accommodate first nations that have a valid claim to the land to allow use the land base. Valid claim means likelihood they can establish the land is traditional territory. This was upheld November 18, 2004 in the Taku River Tinglet First Nations vs. British Columbia Supreme Court of Canada ruling.
The ruling basically said the Crown in order to uphold its honour must consult and when necessary accommodate First Nations on use of land under claim. This does not equate to a veto and unlimited consultation acts as a veto.
In this case the pipeline approval process went through all of this yet the hereditary chiefs still disagree – stringently. There are several reasons, environment being key amongst them. However, another is the fact the issue around missing women along the "Highway of Tears" from Prince George in North Central B.C. and Prince Rupert on the Northwest coast has never been resolved.
Why is that an issue you may ask? According to the hereditary chiefs, "findings of the Inquiry on Missing and Murdered Indigenous Women and Girls. The inquiry found direct links between extractive industries, "man camps" and increased violence against Indigenous women."
As someone who has marched on the Highway of Tears in solidarity with the missing and murdered women and their families that issue struck home with me. What is just as impactful is the fact that British Columbia and Canada have been derelict in their duties to establish and negotiate rights and title with British Columbia First Nations.
The result is the protests we have been seeing across the country. I generally disagree with the need for protest, I emphatically disagree with the methods, the messages and the terror these particular protests have caused.
Yes terror, imagine being janitorial staff in the B.C. legislature – let's be fair likely new Canadians – and being accosted by protestors running wild in the people's house shouting seditious chants of "take Canada down." If you don't think terror wouldn't coarse through your veins you are kidding yourself. Terrorism – as defined by the Oxford Dictionary, "the unlawful use of violence and intimidation, especially against civilians, in the pursuit of political aims."
While I do not agree with the methods I do believe the governments of British Columbia and Canada have not done enough to settle issues of rights and title. Reconciliation is incredibly important, but reconciliation without agreements on the core issues – control of the land base – tends to be useless.
All of this is to say I guarantee if you read this you know more about the issues in British Columbia than most if not all of the protestors blocking the Via Rail lines.
Also, the responsibility for conducting and concluding negotiations with B.C. based first nations needs to be a priority if B.C. and the western provinces are ever going to realize their economic potential. Failure to do so is a direct dereliction of duty and we can expect more consternation, protests and the black mark they are leaving on Canada if our governments continue to fail to act.
Kelly Harris served in the British Columbia Premiers Office assigned as a Communications Officer to the Attorney General and Minister Responsible for Treaty Negotiations from 2003 to 2006 and the Northern B.C. Communications Office in Prince George from 2006 to 2008.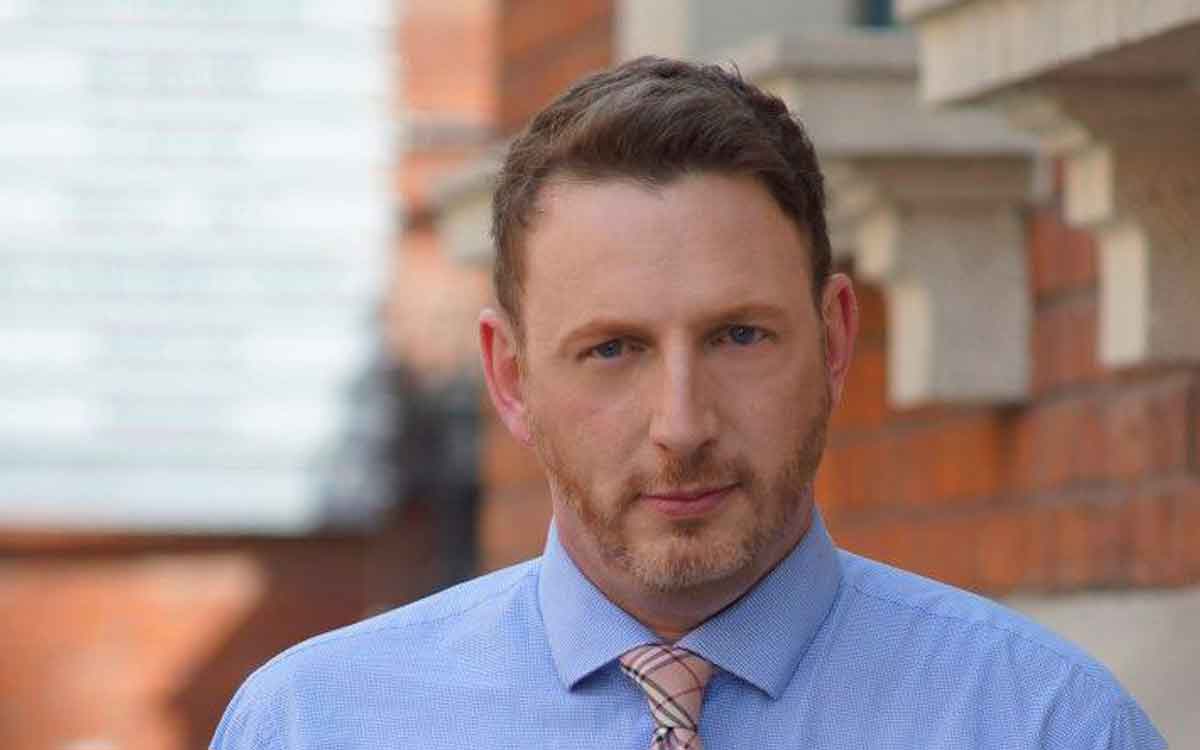 Kelly Harris is Principal of Harris Public Affairs and former Membership Chair of the Public Affairs Association of Canada (Ontario Chapter). He is a regular commentator on Global News Radio 640 and columnist for Queen's Park Briefing. He has spent the last decade working with Canada's credit unions and served as Director on the Board of the Canadian Credit Union Association. An internationally published journalist, he has held senior positions in the Gordon Campbell Government in British Columbia and Tim Hudak's opposition at Queen's Park. An avid traveller, cyclist and father to Busher, an orange tabby, named after Toronto Maple Leaf Great Harvey "Busher" Jackson.