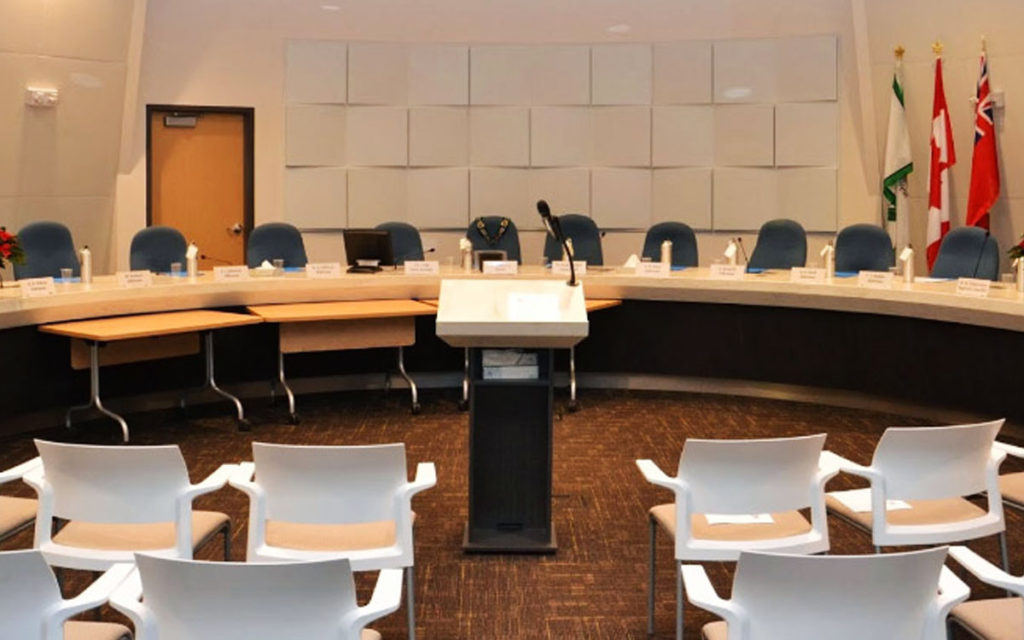 Grimsby Council Chambers
This is the first installment in a series of articles exploring each of the Region's five mayoral races devoid of an incumbent candidate. Over the next few weeks, The Niagara Independent will work its way west to east across the region, going from Grimsby to Thorold.

After serving his community for nearly a quarter-century, Bob Bentley has decided to step down as Mayor of Grimsby.
"Mayor Bob", as he is affectionately known, began his political career back in 1994 as a town alderman, before moving on to be regional councillor in 1997, and then finally mayor in 2003.
In 2014, Bentley handedly defeated current Regional Council candidate Wayne Fertich and two others to secure his fourth term at the helm of Grimsby's government.
The election before that he was acclaimed.
The mayor's decision to forgo an almost guaranteed fifth term in office opens the door for two familiar faces, each well-acquainted with municipal politics.
Vying for Bentley's empty seat are Steve Berry, who has been on Grimsby's town council since 2000, and Jeff Jordan, who served three terms as alderman between 1997 and 2006.
"Mayor Bentley has directed our town into an enviable position, not only in our region but in Ontario", lauded longtime colleague, Berry. "Our infrastructure is second to none and our financial situation is a template for other municipalities to follow".
After serving five consecutive terms on town council, Berry plans to build off of his experience working alongside the retiring mayor in order to keep Grimsby on the successful path it has ambled along for years.
"Grimsby is in great shape", said Berry. "I believe we need to make some changes, but the [present] general direction is why most citizens love to live here. I do not want to see some of the radical changes that have been discussed by some of the people who could be considered my political opponents."
"I have sat on council with my [mayoral] opponent in this election. I do not believe [Jordan] is suited for this position. I only ask that people do their homework, compare our commitment and integrity, and make the right choice."
Berry's only adversary for mayor, Jeff Jordan, has had a somewhat contentious relationship with the Town over the last decade.
In 2010, Grimsby began sewer work on Main St. West where Jordan operated his family's garden centre. The construction allegedly impacted Jordan's business to such an extent that he had to sell and move to a different location.
In 2015, Jordan successfully sued the Town of Grimsby for $115,000 after it was determined that his business was "injuriously affected by the construction activity carried out…under the auspices of the Town".
In the last municipal election, Berry and Jordan both ran for council. Berry easily held onto his Ward One seat. Jordan, a three-time former alderman, finished third out of four competitors in his respective electoral district.
The Niagara Independent reached out to Jordan for comment but did not receive a response by time of publication.