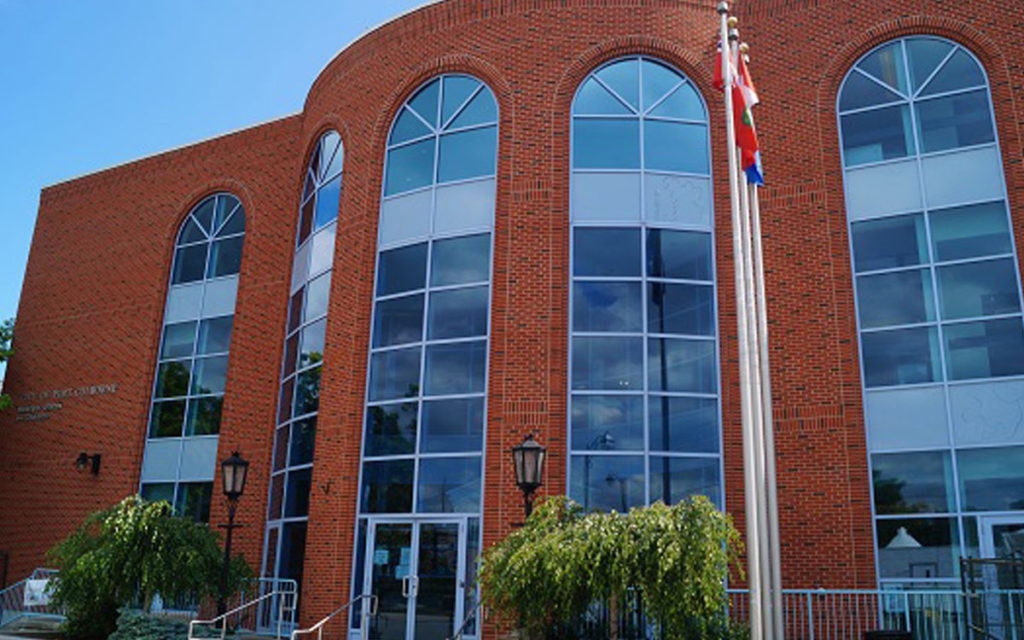 Port Colborne's City Hall
This is the third installment in a series of articles exploring each of the Region's five mayoral races devoid of an incumbent candidate. Over the next few weeks, The Niagara Independent will work its way west to east across the region, going from Grimsby to Thorold. 
Back in March, John Maloney announced that he would not seek a second term as mayor of Port Colborne.
The 73-year old attorney assured his constituents that his decision was not due to health concerns, but did not cite any particular reason for his retirement.
Before becoming mayor, the veteran politician served 15 years as a Liberal MP for the ridings of Erie, Erie-Lincoln, and Welland between 1993-2008. After consultation with his family, it seems Maloney simply determined that his time in public office had arrived at its natural end.
In the intervening time since (and even prior to) the mayor's announcement, myriad mayoral candidates have stepped forward.
Betty Konc, a two-term Wainfleet alderman who served as the township's mayor when April Jeffs ran for MPP in the last provincial election, made the decision to run for Port Colborne's top spot months before Maloney's promulgation.
Konc, a local business owner, certainly brings some political experience to the table. Though, she also brings a bit of baggage.
Just one month ago, Konc was formally reprimanded by Wainfleet's integrity commissioner for contravening the municipality's code of conduct. According to the commissioner's report, Konc sent the township's planner, Sarah Ivins, a series of intimidating emails which questioned her professional competence and accused Ivins of nefarious dealings.
Konc was irate over what appears to have been a misunderstanding in relation to the availability of permits for a local development project.
In the commissioner's report, Ivins claimed Konc had "a history of harassing communications" and allegedly attempted to "undermine [her] professional reputation", after the former failed to provide the latter with documentation that Ivins understood to be confidential.
In the end, it was determined that Konc contravened sections 5 (a) and 12 of Wainfleet's code of conduct. The two sections, in part, read as follows:
Section 5 (a)
"…no Member shall maliciously or falsely injure the professional or ethical reputation, or the prospects or practice of Staff, and all Members shall show respect for the professional capacities of Staff."
Section 12
"Members shall treat members of the public, one another, and Staff appropriately and without abuse, bullying or intimidation and ensure that their work environment is free from discrimination and harassment."
Although Konc complied with the integrity commissioner's directive that she issue an apology to Ivins, the Wainfleet council member maintains her innocence.
Challenging Konc for mayor of Port Colborne is another local business owner who also decided to run for the position prior to Maloney's announcement in March.
Bill Steele, who for decades has been at the helm of his family's over 100 year-old insurance company, will look to exploit his extensive experience in the financial world and as a former councillor to attract investment to the city.
Steele served on Port Colborne's city council for 17 years, starting in 1996. He made the decision to take a break from municipal politics in 2014 in order to focus on his business.
During his time in office, Steele was consistently praised for being a man of rectitude, unafraid to speak his mind.
Apart from Konc and Steele, two less familiar faces are also vying for Port Colborne's chief position: Ron St. Jean and Wayne Elliott.
Ron St. Jean is an ASW Steel Inc. employee and is campaigning to be "a voice for the people".
According to his platform, if elected St. Jean will, amongst other things: "create industry", stop "unnecessary spending", and work on "fixing infrastructure".
Wayne Elliott is the founder and director of business development for Port Colborne's Marine Recycling Corporation. MRC salvages obsolete ships and recycles them in an environmentally friendly way.
In the past, Elliott's company has dismantled three Royal Canadian Navy vessels.
Port Colborne residents hit the polls on October 22 to decide between Konc, Steele, St. Jean, and Elliott.