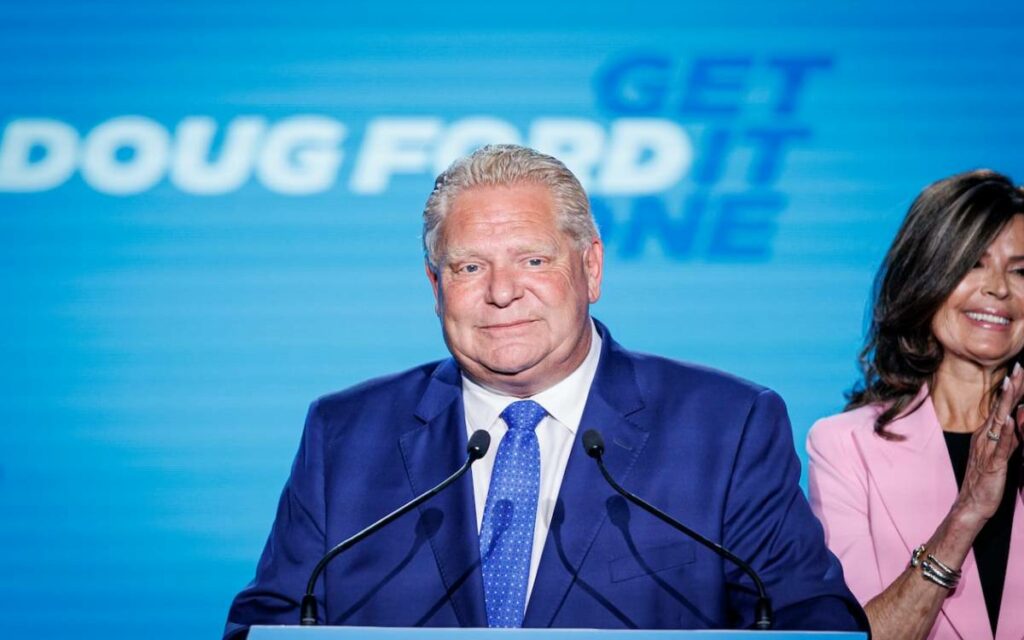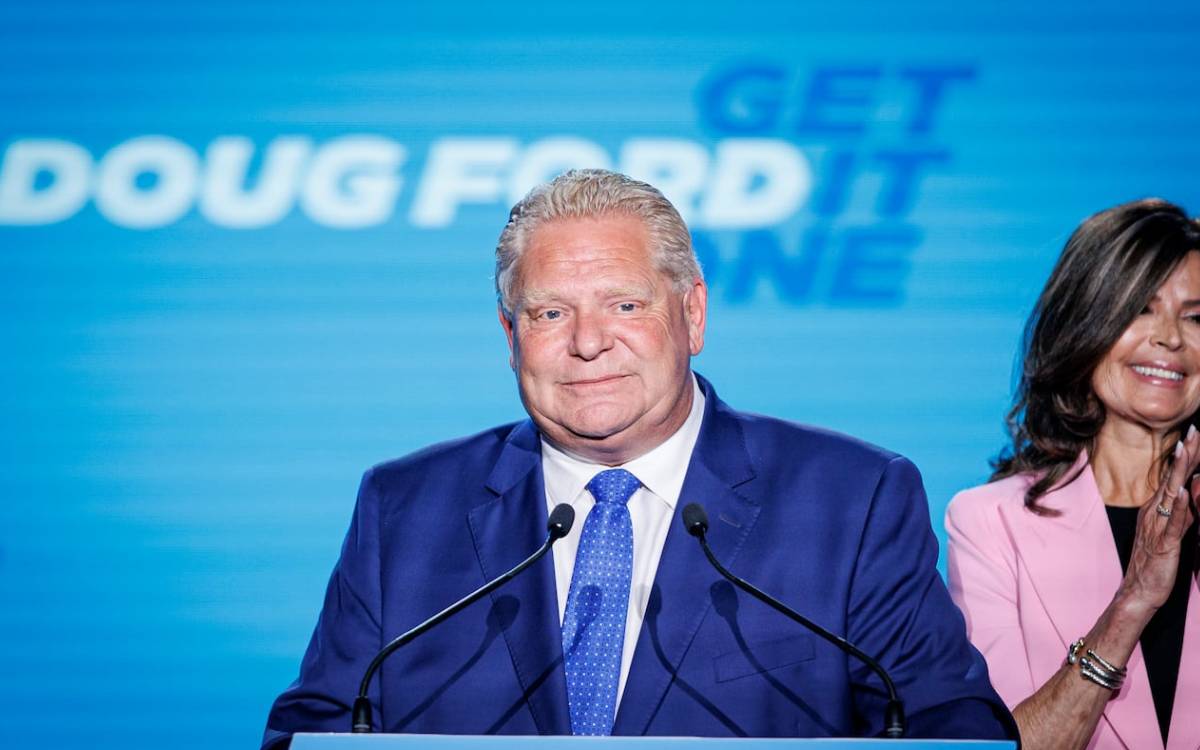 Both PC leader Doug Ford (pictured with wife Karla) and Liberal leader Steven Del Duca handled the provincial election results with professionalism and tact. NDP leader Andrea Horwath, on the other hand, used her farewell speech on election night to be petty and spiteful. Photo credit: CBC/Evan Mitsui 
How one deals with victory or defeat says a lot about his or her character. So, it was interesting to compare the election night performances of the three major party leaders after Conservative Premier Doug Ford's stunning majority re-election win last week. 
Liberal leader Steven Del Duca was justifiably crushed by the results. Not only did his party fail to win government, it did not win enough seats to beat the NDP to become the new Official Opposition or even meet the seat threshold to achieve official party status in the provincial legislature.  
To deepen the agony, he did not even win back his old riding of Vaughan-Woodbridge, losing decisively to junior Tory cabinet minister, Michael Tibollo.
So, he must have been hurting when he stood up election night to concede defeat and resign the party leadership. Despite his best efforts, he had failed to meet expectations and to make matters worse, he lost to a man he does not think is up to the job.  
But his concession speech was professional and gracious. He congratulated Ford on his win and his other two main opponents for their performances; he thanked his volunteers and his candidates and he gave his party the room it needed to regroup and potentially rebuild by announcing his resignation. 
For Premier Ford, his big win must have felt like vindication that his first victory was not a lucky fluke. Because this victory is legitimately his. Yes, his team ran an excellent campaign that was strategic and focused with remarkably few missteps. But it was Ford's own personal journey from a bombastic, bullying, disruptive and at times aggressive leader to the empathetic premier who topped the polls in the voters' choice for best leader. 
It must have been particularly gratifying to stand at that podium in front of the cheering crowd and remember all the naysayers predicting his demise. But he did not give in to any temptation to gloat. Instead, he too extended the appropriate courtesies to his former opponents, his own volunteers, supporters and candidates.  
He also reached out to those voters who did not vote for him, recognizing that as large as his majority now is, it was achieved with only 40 per cent of the vote in an election that attracted the lowest voter turnout ever, at 43 per cent of eligible voters. In these days of growing political division, he chose to emphasize unity and to pledge that he would govern on behalf of all Ontarians, a very "premierial" thing to do.  
Compare the performance of Ford and Del Duca to that of NDP leader Andrea Horwath. She too was soundly defeated. She too failed to meet expectations and after four attempts to become premier, she barely survived as the Official Opposition, losing many former NDP seats to the Conservatives.  
She spent a great deal of her lengthy time at the podium lecturing Ford about how he hadn't really won a legitimate mandate, given the low voter turnout and that 60 per cent of those who turned up to vote, had chosen other parties. So therefore, he had no right to do the things he had promised voters he would do if elected.  
It sounded mean spirited and unprofessional. Perhaps someone should have reminded her that 75 per cent of those voters who came out had rejected her own platform. Or that former NDP premier Bob Rae's 1990 majority win was accomplished with only 37 per cent of the vote. No one questioned his right to govern at the time. 
Ontario is blessed with a strong multi-party, first-past-the-post electoral system that has given the province relatively stable governments representing all three major political parties. When a previous Liberal government held a referendum proposing to change it to a much more complicated proportional representation model, it was roundly defeated by voters. 
The low voter turnout is worrisome. But to assume that they all stayed home because they are opposed to the Ford agenda is not valid either. It could be argued just as easily that with polls predicting a Tory win for months, voters stayed home because they were content to see the current administration continue.    
So stop the post-game lecturing and sit back and see if the re-elected Premier puts his new mandate to good use, implementing his promises and fixing the issues that are on the minds of most Ontarians.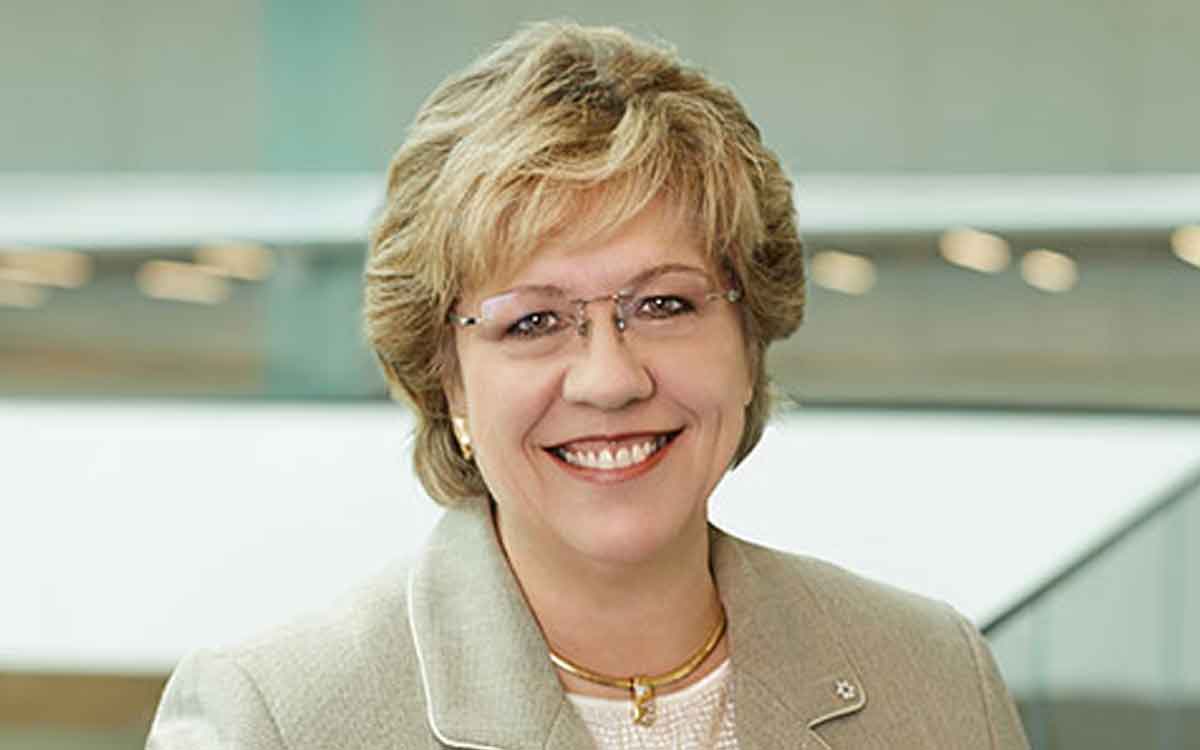 Janet Ecker is a former Ontario Finance Minister, Minister of Education, Minister of Community and Social Services and Government House Leader in the governments of Premier Mike Harris and Premier Ernie Eves. After her political career, she served as the founding CEO of the Toronto Financial Services Alliance, a public-private partnership dedicated to building Toronto region into an international financial centre. She currently sits on a number of corporate and non-profit boards, agencies and advisory committees.
Ms. Ecker received the Order of Canada for her public service contributions and was recognized as one of the "Most Influential People in the World's Financial Centres" by Financial Centres International.  She also received a "Canada's Most Powerful Women: Top 100 Award" from the Women's Executive Network and the Richard Ivey School of Business, among other awards. She is also one of the founders of Equal Voice, a national, multi-partisan organization working to elect more women.