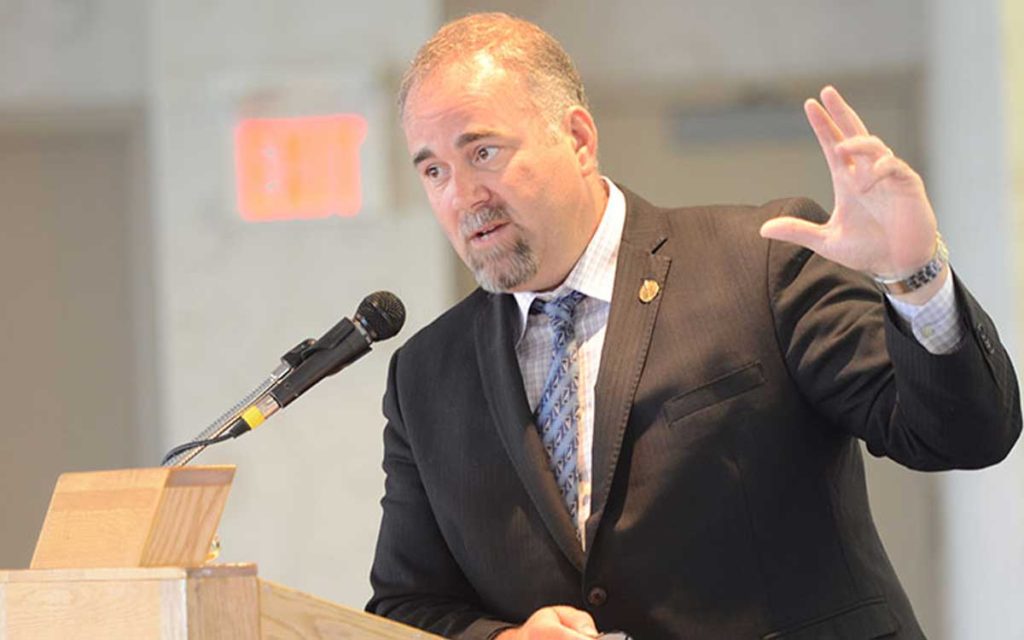 Todd Smith, Minister of Economic Development, Job Creation and Trade.
Yesterday, Ontario's Minister of Economic Development, Job Creation and Trade, Todd Smith, tabled new legislation that would see further reduction of red tape and regulatory burden across the province.
Bill 66, Restoring Ontario's Competitiveness Act, outlines over 30 actions aimed at making life easier for local job creators.
"The Restoring Ontario's Competitiveness Act is the second in a series of bills targeted at getting government out of the way of the job creators," said Smith in a media release. "We're going to lower business costs to make Ontario more competitive. And we're going to continue to work hard every day to create and keep good jobs right here in Ontario."
The act, if passed, will affect numerous industries (agriculture, auto, construction, manufacturing, etc.) and about a dozen ministeries, from Finance to Transportation.
Some of the provisions laid out in the bill include:
Introduce a new economic development tool and remove planning barriers to expedite major business investments and speed up approvals so they would be completed within one year.
Amend Workplace Hazardous Materials Information System (WHMIS) regulation under the Occupational Health and Safety Act to allow updated labels to be placed on existing chemical containers.
Amend the Labour Relations Act, 1995 to explicitly deem public bodies, including municipalities, school boards, hospitals, colleges and universities, as "non-construction employers".
The sweeping legislation comes after months of research and deliberation, according to Minister Smith's office.
"The Restoring Ontario's Competitiveness Act is a result of months of consultation with job creators. Since June, our government has been working non-stop to cut red tape and lower business costs, and this Act does just that", said the Ministry of Economic Development, Job Creation and Trade.
"The proposed legislative and regulatory changes announced [yesterday] reduce unnecessary, outdated and duplicative regulations across a number of ministries, and will save job creators an estimated $23.5 million in annual cost savings each year, once fully implemented. These are real savings that will help businesses invest, grow, and create good jobs in Ontario."
Bill 66's introduction comes on the heels of the passing of Bill 47, the Making Ontario Open for Business Act. The package is part of the PC Party's broader multi-year plan to restore the province's financial confidence, eliminate debt, and grow Ontario's economy.
In their praise of Ford's latest efforts, economic experts were virtually unanimous.
"The Ontario government continues to walk the talk on cutting red tape," said Julie Kwiecinski, Director of Provincial Affairs (Ontario) at the Canadian Federation of Independent Business. "Even though legislation to eliminate onerous scheduling requirements — Bill 47 — was just passed, the government isn't letting up on taking concrete actions — both big and small — to make running a small business easier."
Rocco Rossi, President and CEO of the Ontario Chamber of Commerce, echoed Kwiecinski's satisfaction: "Today's proposed legislation is a fundamental step toward easing the strain on businesses and creating a more efficient, flexible, and easy to navigate regulatory regime. As the voice of our 60,000 members in 135 communities across Ontario, we applaud the government for holding to its commitment to cut unproductive red tape", said Rossi.
"With over 380,000 regulations, Ontario is currently the most regulated province in Canada  — a burden which continues to limit Ontario's competitiveness and economic prosperity every single day. As our economy evolves, so too must the regulatory environment."
All of Bill 66's proposed changes can be viewed here.