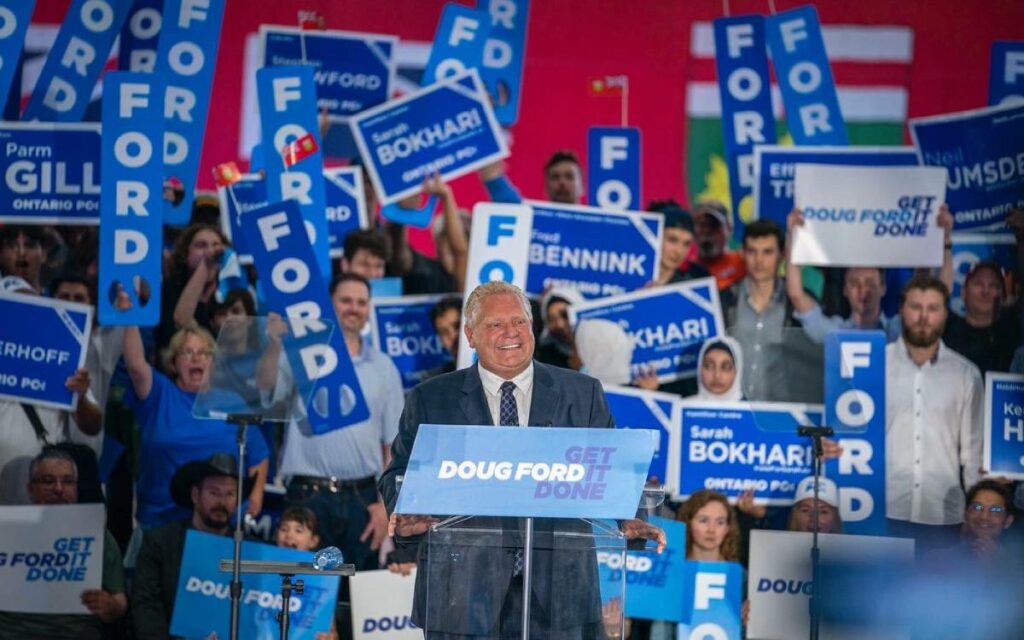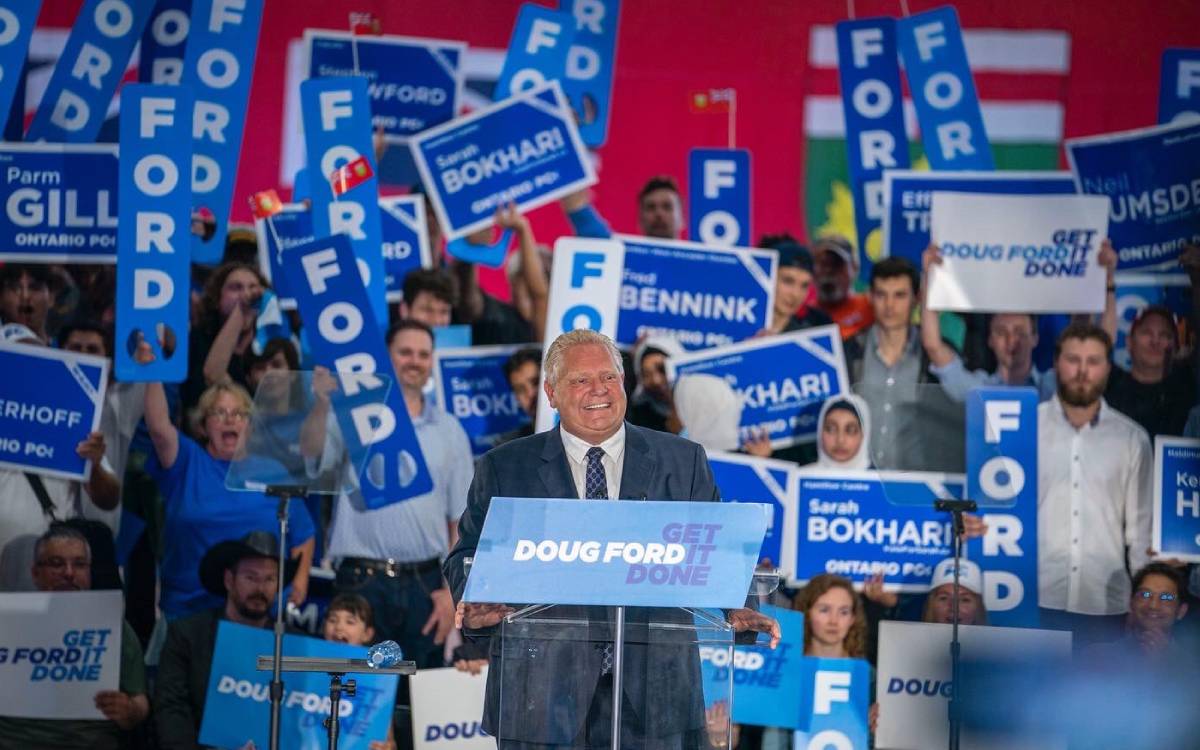 Candidates from across Hamilton, Niagara, and Halton region were in attendance. Typically seen as an NDP stronghold at the provincial level, polling shows PCs in position to win three of Hamilton's five ridings. Photo credit: Twitter/Doug Ford
Ontario PC Party leader Doug Ford held a rally in Hamilton on Thursday, May 26 at the Hamilton International Airport in Mount Hope. The rally was in the Cargojet Maintenance Hangar. Local candidates from the Hamilton, Niagara, and Halton regions attended the event.
But before the rally even started, it was events that took place outside the Cargojet facility that made headlines. A group of a couple dozen anti-Ford protestors stood in the middle of the entrance road for a period of time, blocking rally attendees from parking. The group was largely made up of environmental activists from the "Stop the Sprawl" campaign.
Hamilton Police were called when the protestors refused to leave the property. Police later reported that one woman was arrested after she was told multiple times to leave. The woman, who later identified herself online as Caryma Sa'd, was charged with trespassing.
A video of her arrest was later shared widely on Twitter, including by Liberal leader Steven Del Duca. The arrest was framed by left-wing media and political pundits as the arrest of an "independent journalist," although a quick glance at Sa'd's social media indicates that she is anything but.
Sa'd's personal website is "GetTheFordOut.com" where she sells lawn signs portraying someone kicking a caricature of Ford.
Despite the protestor situation, the rally commenced as scheduled. Ford was introduced by CargoJet CEO Ajay Virmani. CargoJet is one of the core tenants of Hamilton Airport, with multiple flights a day delivering goods across Canada and internationally.
Ford spoke for about ten minutes before working the crowd, shaking hands and taking selfies. 
During his speech, Ford commented that the momentum that the PCs have in Hamilton and across Ontario is "absolutely incredible."
"Our message is getting out there and people are excited. I can feel it," said Ford.
"We're the only party saying yes and the only party with a positive plan to build Ontario."
Ford mentioned his government's green steel initiative, development of the Ring of Fire, electronic car initiatives, building Highway 413 and Bradford Bypass and widening Hamilton's Highway 6 to four lanes. He also mentioned the expansion of three-year college degrees and the recruitment of workers in the skilled trades industry.
But it was Ford's line about cutting the gas tax that drew some of the loudest cheers of the evening. Ford said their plan is to keep Ontario's economy "open now and in the future."
He also spoke about building PPE in Ontario.
"If you want more reports, more committees, more empty talk, well, you have got a lot of options in this election. But if you want real action, if you want to get it done, you have one choice and that's the Ontario PCs."
Based in Hamilton, Ontario, Kevin Geenen reaches hundreds of thousands of people monthly on Facebook, Instagram, TikTok, and Twitter. He is a regular contributor with The Hamilton Independent and has also been published in The Hamilton Spectator, Stoney Creek News, Niagara Independent, and Bay Observer. He has also been a segment host with Cable 14 Hamilton. He is known for Hamilton crime updates and social media news graphics. In 2017, he received the Chancellor Full Tuition Scholarship from the University of Ottawa (BA, 2022). He has also received the Governor General's Academic Medal from Governor General David Johnston. He formerly worked in a non-partisan role on Parliament Hill in Ottawa. In March 2022, Kevin started working as an Office Administrator at RE/MAX. Kevin's journalism work continues to be independent of his other jobs.