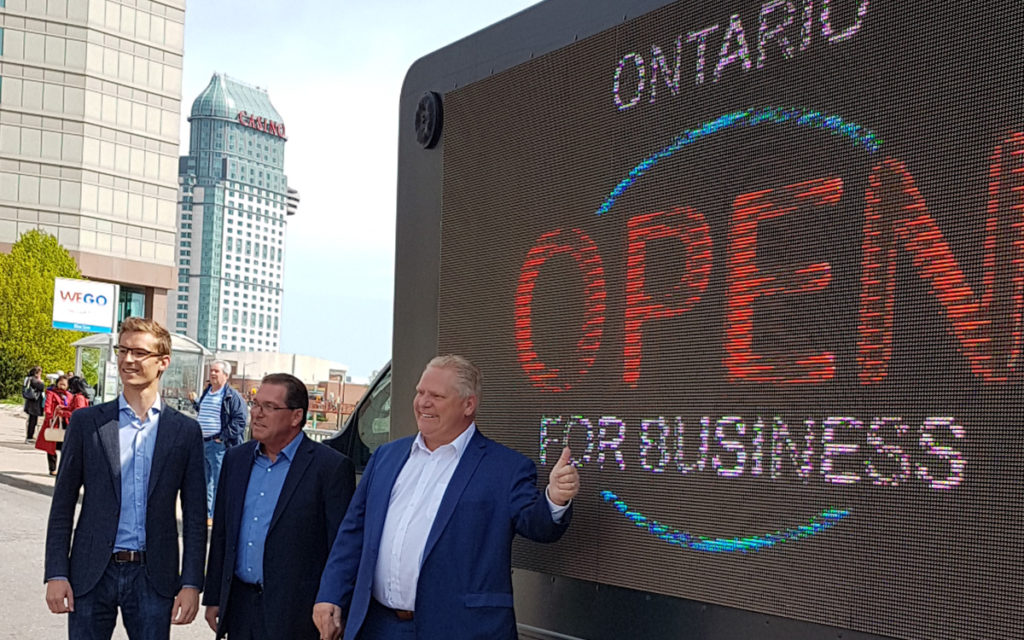 From left:  Niagara West MPP Sam Oosterhoff and Niagara Falls PC candidate Chuck McShane join Ontario PC Party Leader Doug Ford in Niagara Falls yesterday.
Ontario PC Party Leader Doug Ford spent yesterday making stops across Niagara during his campaign tour. Ford started his day in Niagara Falls where he was joined by Niagara Falls candidate Chuck McShane and West Niagara's Sam Oosterhoff where the three held a photo-op next to an "Ontario is Open for Business" sign that overlooked the falls.
The setting shifted to a third floor terrace at the Marriott Hotel where the PC Leader took to the podium to discuss his plan to improve the Ontario economy and boost job creation.
Ford stated that Ontario was once the economic engine of Canada but has slipped dramatically as a result of the policies set out by the current Liberal government. Gesturing across the Niagara River behind him, Ford said, "Buffalo and Niagara, New York are bragging about the number of Ontario jobs leaving and going to them." According to Ford about 2,000 Ontario jobs have moved to southwestern New York.
Ford said his plan to help Ontario businesses grow would be to lower the corporate tax rate, stabilize hydro costs for businesses and eliminate the red tape. He pointed out that there are currently 380,000 regulations for Ontario companies. "I've always said, government doesn't create jobs, government creates the environment to create jobs," explained Ford.
Responding to the latest election chatter about the Liberals and NDP forming a coalition government Ford said that is definitely not the answer to a stronger Ontario economy.  "We don't need the NDP, with their radical special interest friends propping up the Liberals and their backroom deals," he said.
Local PC candidate Chuck McShane said it was good to have the party Leader in Niagara to discuss the economy. "It's a great backdrop to have Mr. Ford speak about how the PC party will kick-start this stagnant economy," said McShane."Niagara has been hit hard during the Liberal reign losing thousands of manufacturing jobs and jobs in the horse racing industry. Now there is a very real threat of the loss of over a thousand jobs in the casino and the tourism sector while the NDP and its local members just continue to prop up the Liberals and support their policies," added McShane.
Niagara West MPP Sam Oosterhoff said his Leader's comments are exciting for job creators in Niagara. "We need to reduce the barriers to doing business and the PC party is the only one that is going to do it," said Oosterhoff.
Ford's other stops on his Niagara tour included a stop at Smithville packaging company Stanpac, Scorecard Harry's in St. Catharines and then Welland Tubes before arriving back in Niagara Falls for an evening rally with over 300 supporters. Ford spoke for more than a half hour without looking at a single note. He told the large and boisterous crowd that, "We're going to get a shovel in the ground on the new Niagara hospital." He also talked about making Ontario open for business again by reducing taxes and red tape; fixing the hydro mess; engaging front-line teachers to rewrite some curriculum and in-particular raise math performance among students; engaging doctors and nurses to improve health care with emphasis on lowering wait times; and repeated his promise that with auditors' assistance he could find 4 cents on every dollar and eventually balance the budget without laying off a single employee – "other then hydro's six million dollar man and Kathleen Wynne herself".
Niagara, with the exception of the west part of the Region is traditionally NDP or Liberal but many say that this election could be the one that sees several of those ridings turn blue.