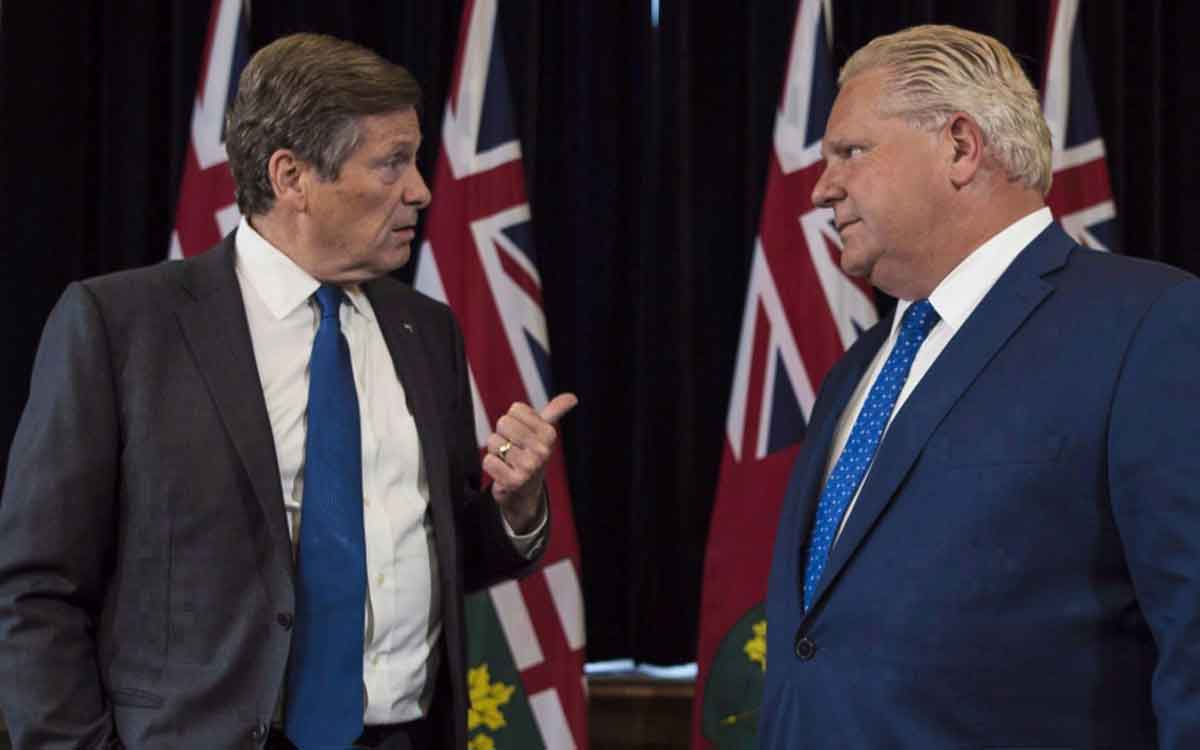 Toronto mayor John Tory with Ontario premier Doug Ford.
It is no secret that there is no love lost between Premier Doug Ford and Toronto Mayor John Tory.  Their first serious bout in the ring took place in 2014 when Doug Ford replaced his brother Rob in the race for Mayor of Toronto when Rob's health challenges prevented him from continuing his campaign.   John Tory  won that round, garnering just over 40 per cent of the popular vote as compared to Doug Ford's  34 per cent.  However, likely unbeknownst to both men at the time, the real war had not yet begun.
With Doug Ford's last-minute – and unexpected – victory in the Ontario Progressive Conservative leadership in early 2018 and his subsequent election as Premier a few months later, the battle lines were drawn for the next Ford-Tory conflict.  It took the form of Ford's unilateral move to cut the size of Toronto Council almost in half in September 2018.  After some legal wrangling, this was indeed accomplished despite massive opposition from Mayor Tory and most Council members.  In the intervening months, there have been ongoing disputes between the province and the city over transit issues, environmental matters, and which government bears the responsibility for spending in various areas, among other things.  The latest skirmish is over public health spending, with Ford cutting funds for city services that he claims the city can fund on its own by reallocating spending priorities, while the city cries poor.
One of the strange aspects of this ongoing feud is that Tory and Ford actually should have a great deal in common.  They are both conservatives and claim to want to reduce the size of government and enhance its efficiencies.  On issues such as the size of Toronto Council, John Tory has been on the record for some time in support of a smaller council.  The abrupt way in which Ford imposed this change was surely problematic and more consultation should have taken place prior to announcing the measure, but the ultimate objective of downsizing Toronto council should have been a shared goal.  In the recent dust-up over public health spending, once again Ford made a unilateral decision without bringing Tory or his colleagues into the discussions.   Tory's reaction that this should have been done with more consultation and before Toronto's budget was finalized is defensible to a point. However, it is also true that Tory could have consulted with the Ford government on various issues prior to finalizing his budget.  As well, in the private sector unanticipated external shocks happen all the time and require adjusting priorities, and government should be no different.  There remains considerable waste at City Hall despite Tory's claims to have tightened the purse strings, and the disputed monies involved are not so significant that some spending realignment on the part of Toronto is unrealistic.  This is especially true in light of the Ford government's plans to "upload" certain city costs to the province, although details on exactly how that would work are vague at present.
The real losers in this ongoing battle are the citizens and taxpayers of Ontario and Toronto, many of whom are one and the same.  Both levels of government are picking the same pockets and need to get their act together and consider the interests of the electorate that they are supposedly in office to serve.  This will require a move away from the bully pulpit that Ford may well have all the legal right in the world to exercise, but which does not lead to a positive relationship between the two levels of government or the best outcomes for the province or the city. And John Tory needs to get back to his professed roots of seeking government savings and efficiencies instead of continually resorting to knee-jerk opposition to anything the province does that affects city business.  Neither man faces re-election anytime soon.  If they cannot do a better job of working constructively together for the benefit of Torontonians and other Ontarians, the next few years will be long, arduous and ugly indeed.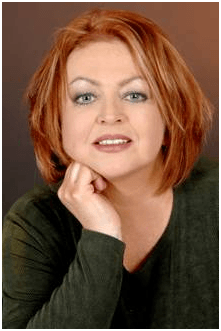 Catherine Swift is President of the Coalition of Concerned Manufacturers & Businesses of Canada (CCMBC). She was previously President of Working Canadians from 2015-2021 & President & CEO of the Canadian Federation of Independent Business (CFIB) from 1995-2014. She was Chief Economist of the CFIB from 1987-1995, Senior Economist with TD Bank from 1983-1987 & held several positions with the federal government from 1976-1983.
She has published numerous articles in journals, magazines & other media on issues such as free trade, finance, entrepreneurship & women business owners. Ms. Swift is a past President of the Empire Club of Canada, a former Director of the CD Howe Institute, the Canadian Youth Business Foundation, SOS Children's Villages, past President of the International Small Business Congress and current Director of the Fraser Institute. She was cited in 2003 & 2012 as one of the most powerful women in Canada by the Women's Executive Network & is a recipient of the Queen's Silver & Gold Jubilee medals.
She has an Honours BA and MA in Economics.