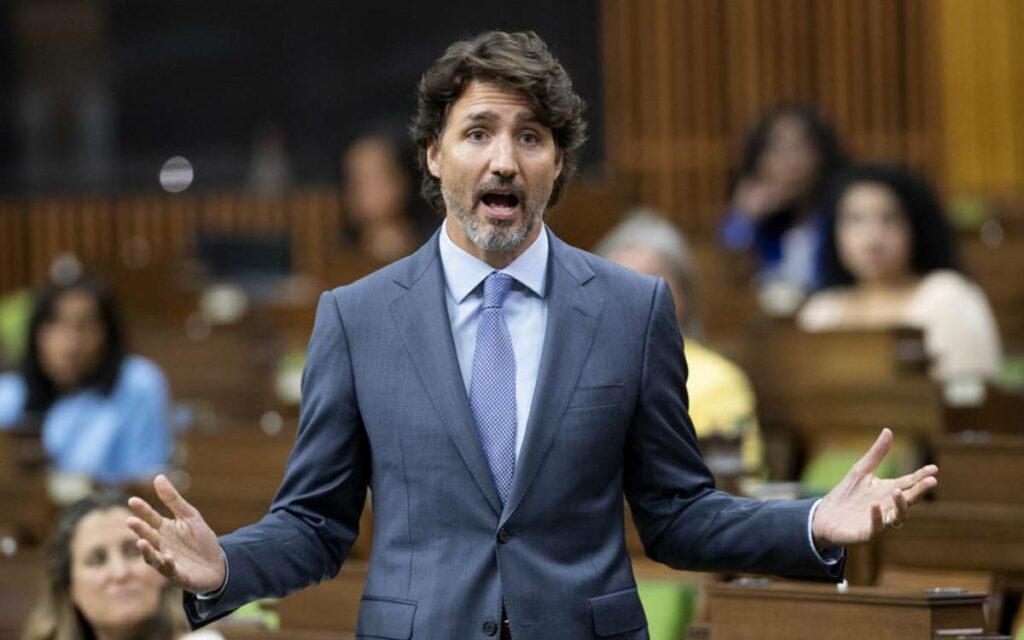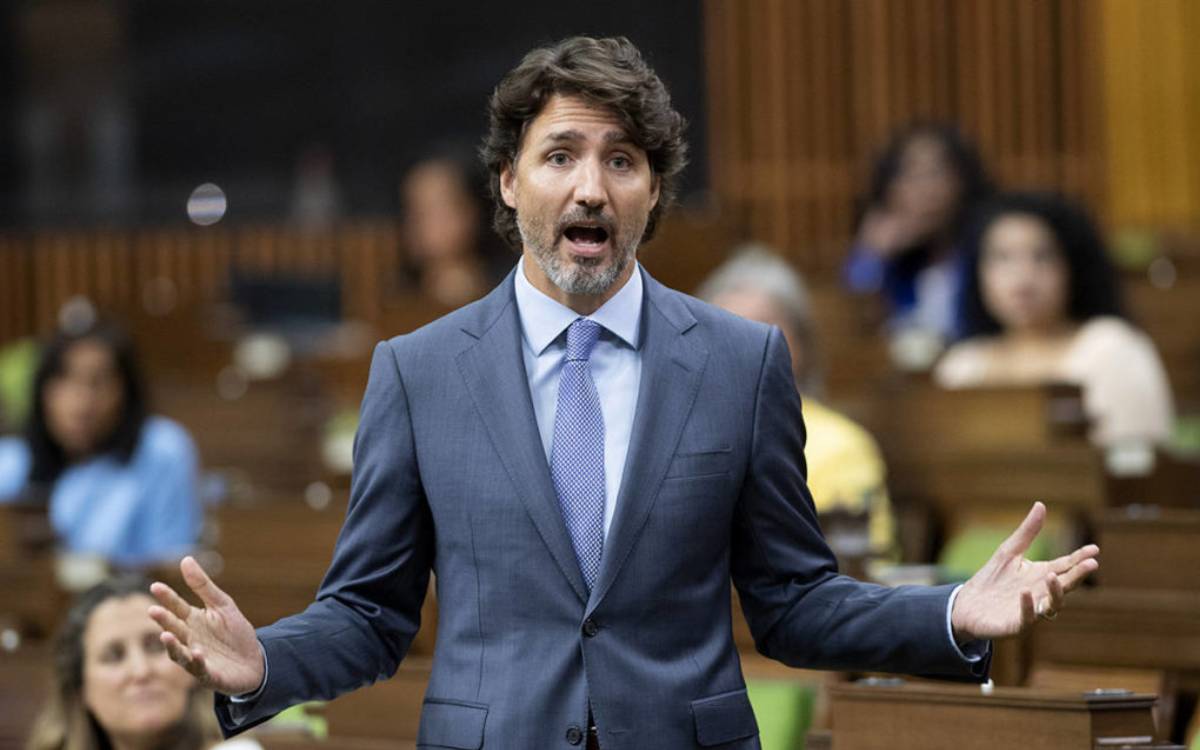 Prime Minister Justin Trudeau. Photo credit: The Canadian Press/Adrian Wyld
Diane Francis, opinion columnist for the Financial Post, pulled no punches this week when she stated the "pandemic failure is Trudeau's biggest scandal yet." Francis takes the Trudeau government to task for the country's shortage of vaccines. However, the mismanagement of the supply of vaccines is but one of the costly mistakes made by the federal government that has placed Canadians in such a difficult situation.
"The Trudeau government's incompetence is causing death and economic dysfunction," contends Francis. She points out that "Canada's provincial health-care systems are in crisis, the economy is locked down and the Liberal government's dose-delay edict is putting lives at risk."
In looking back to January 2021, Canadians have repeatedly heard from Prime Minister Justin Trudeau that we can expect millions of vaccine doses to arrive in the coming days. The script has PM Trudeau promising millions of doses – and usually Public Procurement Minister Anita Anand explaining a few days later why the shipments are delayed. Media trumpets Trudeau's announcement and often buries Minister Anand's pardon. This routine has been repeated so often it has become tiresome.
In her column, Francis quotes a health-care professional (who asked to remain anonymous) as saying, "I'm upset every time the media repeats the government's claims about the number of vaccines that are planned or expected to arrive at the start of any given week, rather than reporting at the end of a given week on how many vaccines had actually been received."
But the facts speak volumes. Francis compares Canada to the US: "as of April 24, in the United States, 67 doses have been administered for every 100 people – 41 per cent of the population have received one dose and 27 per cent have been fully vaccinated; Canada, on the other hand, has administered 32 doses for every 100 people – 29 per cent of the population have gotten one dose and a mere 2.7 per cent have been fully vaccinated because the Liberals have permitted four-month delays in giving second doses."
Because there were no vaccines, mid-April clinics throughout Toronto and the GTA had to close their doors. The hotspot of York Region closed its mass immunization clinic at Canada's Wonderland. Scarborough Health Network and Toronto's flagship University Health Network were limiting and cancelling appointments. Just this week, we heard from the Ontario Pharmacists Association that pharmacies will run out of doses within 7 to 10 days.
At the time of writing, Canada ranked 37th globally in "total vaccines per 100 people", with barely 2.8 percent of Canadians fully vaccinated. The other countries in a similar state are all located in the Third World. Francis underlines this failure: "This metric – the percentage of people who are fully vaccinated – is what counts, and Canada is the only country in the world that is officially denying people their vital second shots for four months."
Indeed, Canada's lack of vaccines have resulted in the country's vaccination programs resembling one big social experiment. Canada is the only developed nation to approve and implement a four month delay between vaccine shots – against the pharmaceutical companies' expert counsel. There is some medical evidence suggesting people with only a single vaccine dose will have an increased risk of getting the virus.
Our country's health officials are in slim company when approving certain vaccines for certain ages. This week we learned that, because of the uncertain supply of vaccines through the summer, the province of Quebec will be the first jurisdiction in the world to approve the mixing of vaccines. Quebecers will be offered no guarantee that they can receive a second dose of the same product. (Health Canada has yet to make a statement on this breaking news.)
Remarkably, the provinces seem to be taking the brunt of the criticism, despite the obvious source of the problem. Mainstream media, abetted by federal politicians and officials, seem to willfully ignore the reality that it is impossible to operate a vaccination program without a reliable supply of vaccines. Take for example the headlines federal Health Minister Patty Hadju made in making her backhanded comment about Ontario having vaccines in freezers. Few reporters factchecked this story to find Hadju was referring to shipments that had been delivered to the province less than 24 hours earlier. The headlines this week relate to federal Finance Minister Chrystia Freeland's political powerplay in refusing a solution proposed by the Ford government that would immediately make available paid sick days for Ontarians.
It is remarkable that national media does not responsibly report on the country's lack of vaccines and the challenges this presents for the provinces – and for all Canadians.
The vaccine supply is not the only harmful misstep the Trudeau government has taken in the past year. The federal government has the sole responsibility of protecting Canada's borders. It has sole responsibility for the country's airports. On two separate occasions the government failed to take timely action in cancelling flights from global hotspots. In early 2020, the Trudeau government failed to act on flights from China. This month, it again failed to promptly ban flights from India and Brazil when it had become apparent dangerous virus variants were originating in those countries. India, in one day this week, recorded 2,767 deaths and almost 350,000 new cases. World Health Organization experts warn of the deadly Indian 'double mutant' COVID-19 variant.
Who could not foresee that the coronavirus variant in Delhi would spread to the GTA with the hundreds of passengers arriving at Pearson airport? Parliamentarians continue to call on the PM to halt international flights until Canada can get infection rates under control. Again, the federal government's actions are directly impacting provinces with their health and safety measures. In the case of India, Ontarians are struggling under a prolonged lockdown because of the community spread of the variants in Toronto and the GTA.
There is still much to learn about how unprepared Canada was in responding to the coronavirus. In March 2021, Canada's Auditor General Karen Hogan published a report that began to probe the country's pandemic preparedness. The key takeaway from the AG's work was that Public Health Agency of Canada (PHAC) "underestimated" the potential impact of COVID-19 and was ill-prepared to respond.
With this report Canadians began to understand how the federal government ineptitude worsened our country's ability to manage this health care crisis. In 2018 and again in 2019, the Trudeau government made the critical decision to shut down the country's pandemic surveillance system within PHAC – the very system that provided Canadians with crucial intelligence before and during the 2003 SARS crisis and 2009 H1N1 outbreak.
This week Canadians learned that in December 2019 the PHAC dumped literally millions of high-grade N95 masks, surgical masks, and surgical gloves and gowns from our country's emergency stockpiles. This action along with the fact we shipped tonnes of medical supplies to China in early 2020, left our country's health care system short of needed supplies. NDP MP Matthew Green recently called this a national scandal, "24,000 people died. There was absolutely a duty of this government to distribute critical life-saving personal protective equipment to frontline health-care workers, and that failed to happen."
From an unreliable supply of vaccines, to porous airports, to shortsighted decisions that have proven to be grossly irresponsible, if the federal government's pandemic failure is not "the biggest" it is assuredly Justin Trudeau's most serious scandal.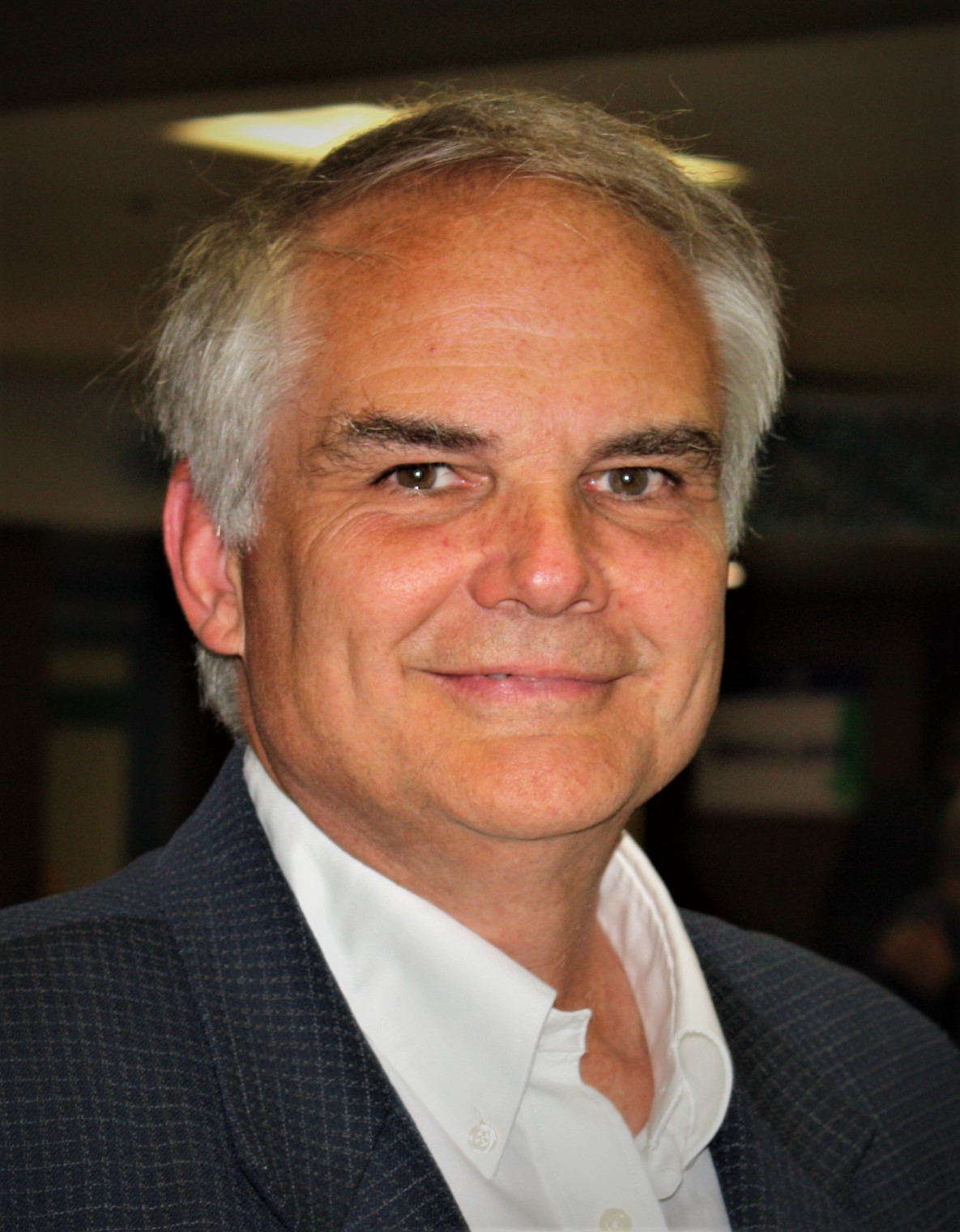 Chris George is an advocate, government relations advisor, and writer/copy editor. As president of a public relations firm established in 1994, Chris provides discreet counsel, tactical advice and management skills to CEOs/Presidents, Boards of Directors and senior executive teams in executing public and government relations campaigns and managing issues. Prior to this PR/GR career, Chris spent seven years on Parliament Hill on staffs of Cabinet Ministers and MPs. He has served in senior campaign positions for electoral and advocacy campaigns at every level of government. Today, Chris resides in Almonte, Ontario where he and his wife manage www.cgacommunications.com. Contact Chris at chrisg.george@gmail.com.