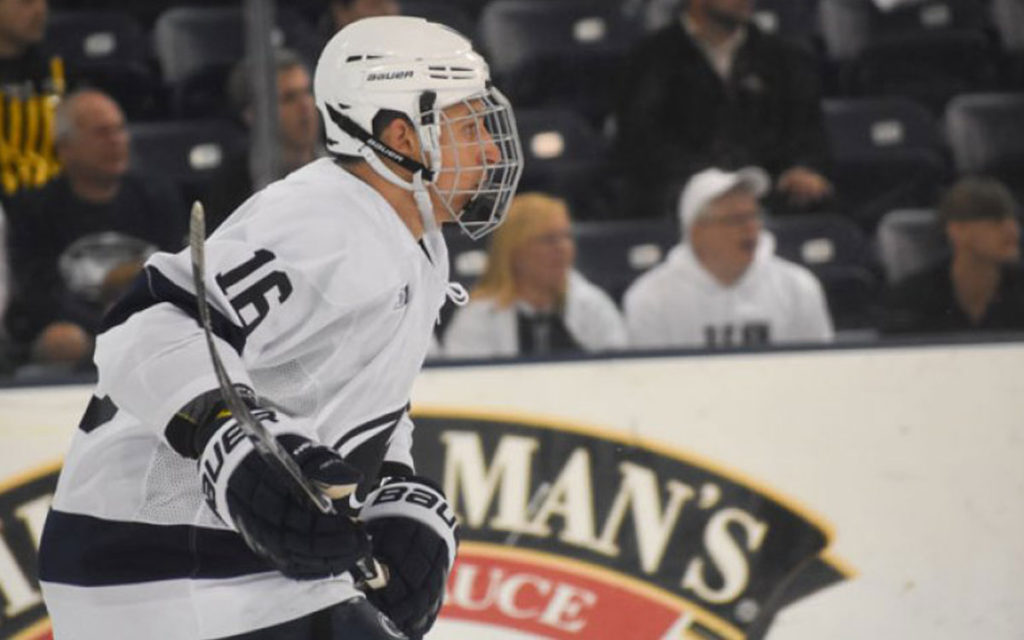 Former St. Catharines Falcon and Fort Erie Meteor Andrew Sturtz
Every young hockey player dreams of one day making the pros and signing an NHL contract.
For Buffalo N.Y. native and former St. Catharines Falcon and Fort Erie Meteor Andrew Sturtz that dream became a reality on March 28 when he signed with the Ottawa Senators.
"I had interest from multiple teams I had talked to about 10-15 teams throughout the year and at the end of the year there was four or five and Ottawa was the team that I went with," said Sturtz describing the process of deciding where to sign.
Sturtz didn't take the typical path to the NHL, he didn't play in the OHL and then get drafted as an 18-year-old. He took a longer path, going through Jr. B, Jr. A and college hockey before signing in the NHL as an undrafted free agent.
He played for the St. Catharines and Fort Erie Jr. B hockey teams before making the jump to Jr. A where he went on to a successful two years with the Carleton Place Canadians.
"I got traded from St. Catharines to Fort Erie and played half a year there, met some of my best friends to the day and they actually gave me the advice to go play Jr. A after my time was up In Fort Erie," said Sturtz. "My buddy got in touch with Carleton Place and I went up there and played two years and everything worked out and I ended up at Penn State."
After his Jr. A career ended Sturtz went to Penn State University and played NCAA hockey at one of the most prestigious schools in North America.
"When I went to Penn State it was the same thing I expected to go there and if I'm in the lineup a couple of nights and this is the last place I play hockey great, it's an unbelievable rink, it's an unbelievable atmosphere and I'm getting a Penn State education which in the United States is pretty much unrivaled."
The possibility of turning pro wasn't something that he was thinking about, in fact at one point he wasn't sure his career would continue after his time with the Fort Erie Meteors.
"It wasn't something I expected, when I was 18 I was playing in Fort Erie having fun with it, I was going into the summer thinking I was going to quit and just work for my dad full-time," said Sturtz.
"I went through a stint where I was missing games and practice to work for my dad and now a couple years later everything works out."
After finishing his first season at Penn State with 18 goals and 27 points in 37 games Sturtz began to think about the possibility of play professional hockey in the American Hockey League, not the NHL.
"After my first year I remember telling my coaching staff at the end of the year meeting, like what do you guys think I have to do play in the American Hockey League, and one of the hockey operations guys there Billy Donovan said well why don't you want to play in the NHL, and those words stuck with me."
Heading into his second year in the NCAA Sturtz began to focus on developing his game and getting better. He finished his second year with an impressive 22 goals and 37 points in 37 games played.
It was after his second season that the idea of playing in NHL came into focus for him. Sturtz began training harder and doing everything he could to try and earn an NHL contract.
"I moved away from home, I moved to Michigan for the summer I trained hard and then I came back and had a good year."
Saying his third year with Penn State was a bit of an understatement, he scored a career high 40 points in 37 games and his play during last season is what attracted NHL interest.
"When the email came across from my agent with the contract it was a big thing of relief because it wasn't something that I ever expected to happen. I was never a guy that thought I could play in the NHL, I knew I worked really hard and I knew I had some skills but I never knew I had a lot of the package."
Sturtz signed with the Ottawa Senators organization and appeared in six games for their American League affiliate the Belleville Senators. In those six games, he scored his first career professional goal.
Now he will have to focus his summer on training hard and preparing for his first NHL training camp next September with the Ottawa Senators.
"I know there's a lot of work still to be done, but I'm excited to be a part of it and especially with the Ottawa Senators."