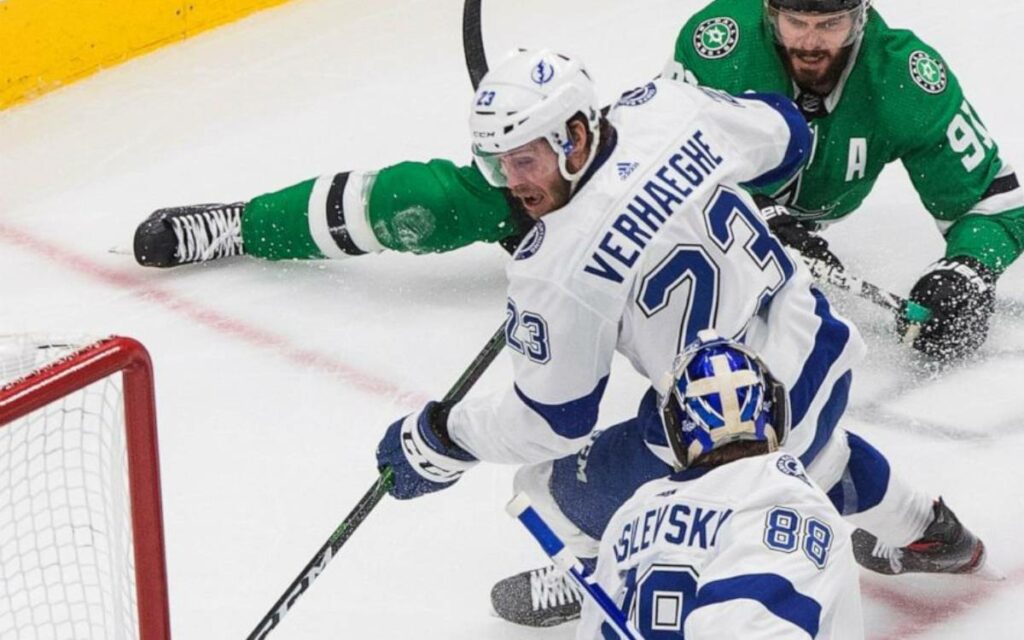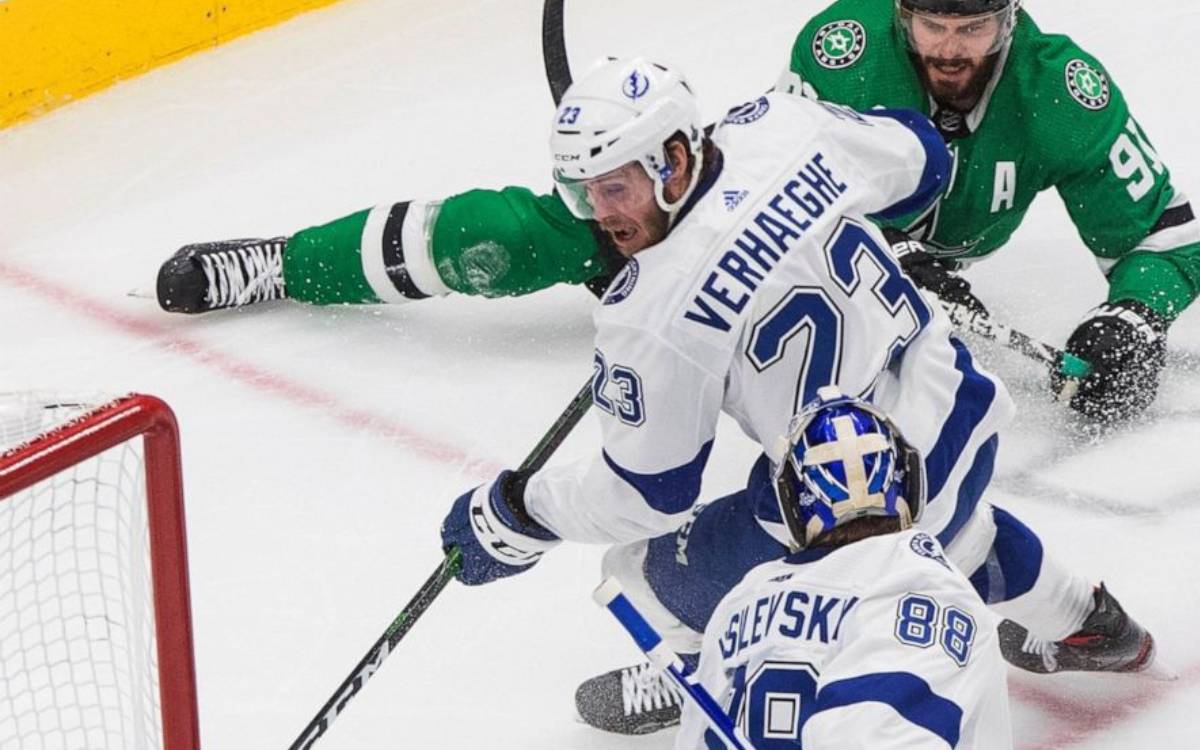 Former Niagara IceDog Carter Verhaeghe drives the net against the Dallas Stars in the 2020 NHL playoffs.
It's kind of fitting that on National Hockey League Draft day we feature a player that was drafted by the Toronto Maple Leafs, but didn't make his NHL debut until he landed with his third franchise.
Twenty-five year old Carter Verhaeghe finally got his shot in the show with the Tampa Bay Lightning this past season, and now he's a Stanley Cup champion.
The former Niagara IceDogs captain, after stops with the Leafs and Islanders organizations, finally found his stride with the Lightning.
"They just gave me a good opportunity to play, and they believed in me right from the start and gave me a shot," Verhaeghe said from his residence in Tampa Bay on the Niagara Sports Report on Newstalk 610 CKTB.
"As a player you just want a shot, and that's all you can really ask for. I'm really grateful they gave me a shot, and a chance to play."
Verhaeghe not only made his NHL debut this past season, he scored his first hat-trick, and now has his name engraved on the Stanley Cup.
Yet, it still hasn't sunk in for the Waterdown, Ontario native.
"I'm sure in a couple of years it will all kind of sink in for me," said Verhaeghe.
So what goes through one's mind when they get to lift Lord Stanley's Mug over their head? "I don't even know what I thought, I think I just blacked out to be honest. I was so excited. In that moment it kind of just felt surreal that I was lifting the cup. I wish I could live it over again."
Verhaeghe was drafted out of Niagara in the third round, 82nd overall, by the Maple Leafs in the 2013 NHL Entry Draft. The 6'1″ 180-pound forward would score 83 goals and 141 assists in four full seasons with the IceDogs.
"There's so many great memories with the IceDogs. We had great teams when I was there. My first year, just like the NHL, we went to the finals. All my years with the IceDogs were special, and different in their own fashion. I enjoyed my time there, and loved it there," Verhaeghe recalled.
Verhaeghe would play only two games with the Leafs organization, lacing up for their AHL (American Hockey League) affiliate the Toronto Marlies before being dealt to the New York Islanders in 2015, and then finally landing with the Lightning two years later.
He would play a total of 247 minor league games in both the AHL and ECHL before getting the call to the NHL.
So no matter who or where players get drafted later today and tomorrow it doesn't matter. It's all about hard work, perseverance and the opportunity to play that matters most.
No one has proven that more than Carter Verhaeghe.
"It's been a pretty crazy year for me. Playing in my first NHL game, hat-trick, and winning the Stanley Cup in my first year – some guys don't ever win a Stanley – I'm just really lucky to be in this situation right now."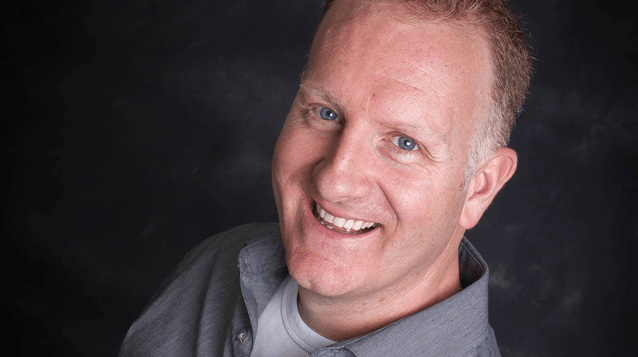 Rod Mawhood is a lifelong Niagara native who has had the pleasure of working in all three mediums – Radio, Print and TV – for over 20 years. His first announcing gig was with the then St. Catharines Stompers. Since then he's worked in radio and TV in Toronto, and currently is the announcer for the Niagara IceDogs and Niagara River Lions.
Rod also covers the Buffalo Bills for FOX Sports and the Buffalo Sabres for NBC Sports.