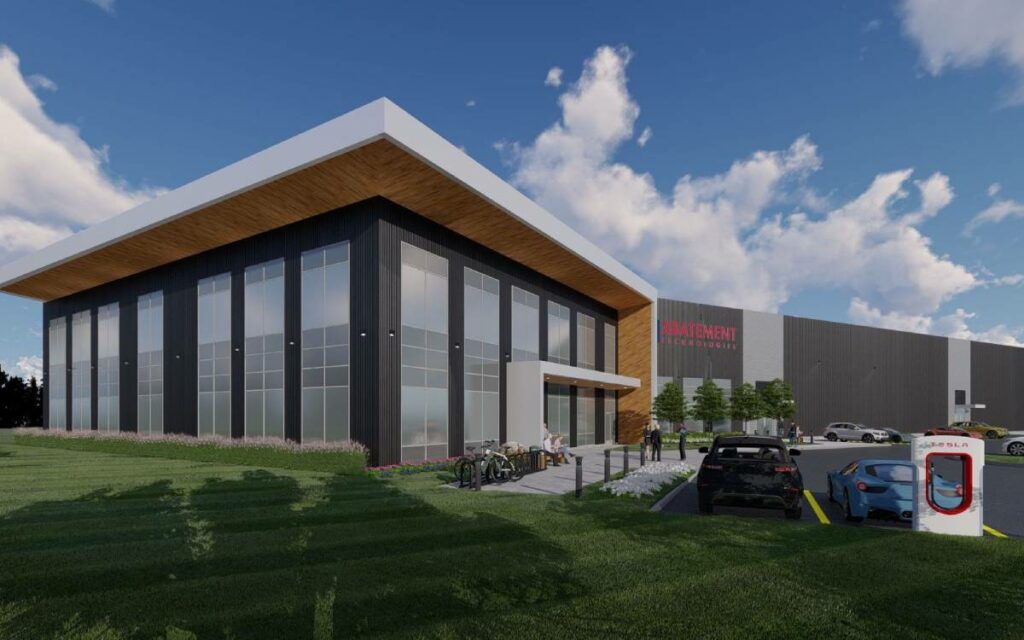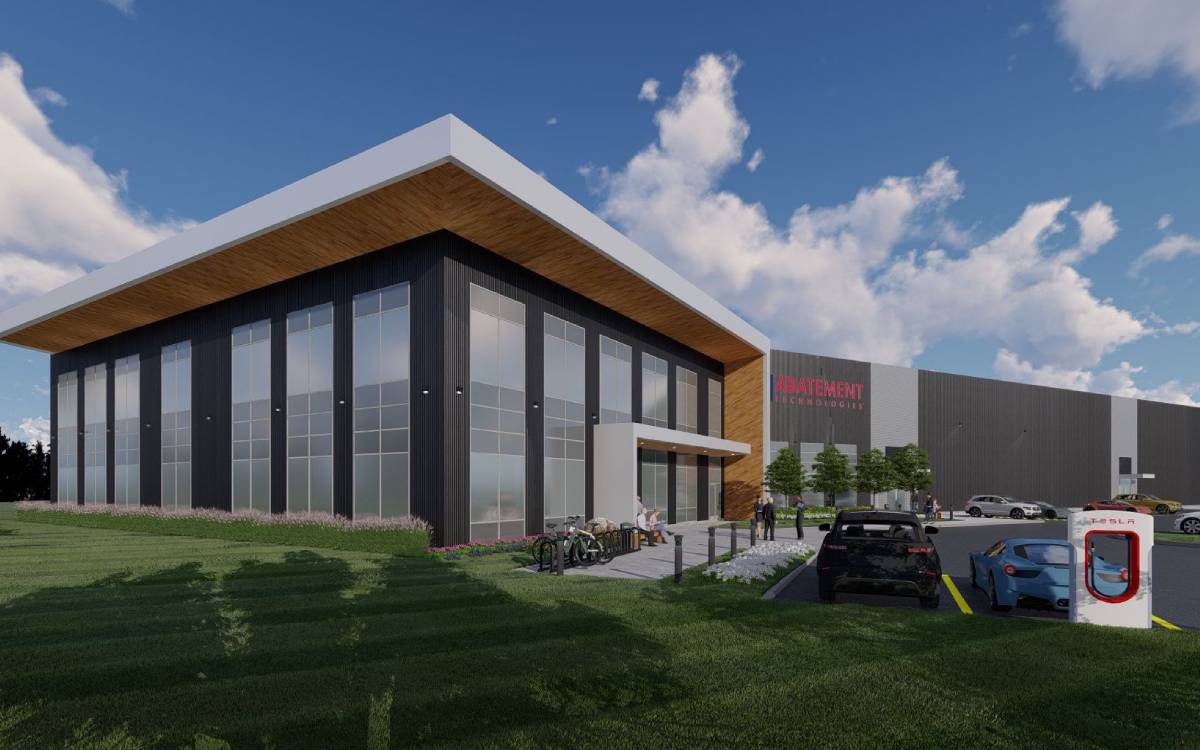 Concept illustration of Abatement Technologies' new Fort Erie manufacturing facility. The project broke ground last year. Photo credit: Abatement Technologies 
On Thursday, it was announced that Fort Erie's Abatement Technologies was awarded $2.5 million in provincial funding to help support the company respond to increased demand. 
Since the onset of the COVID-19 pandemic, Abatement has seen a spike in demand for its suite of premium HEPA products, including air filtration devices, air purification systems, and patient isolation technology. 
The funding from the province will supplement an $18 million internal investment and help the company purchase new equipment and expand its production capabilities at its new 100,000 sq. ft. state-of-the-art manufacturing facility, which broke ground on Commerce Pkwy. off the QEW in Fort Erie this past summer. 
"Through the Ontario Together Fund, our government is making strategic investments in domestic businesses with the ideas and solutions to help us through this pandemic," said Minister of Economic Development, Job Creation and Trade Vic Fedeli. 
"Demand for Abatement Technologies' products, including air purification systems for healthcare facilities and residential homes, has increased dramatically. With Ontario's support, the company will be able to significantly expand its production and continue to enhance our resilience to any challenge while strengthening our economy."
To date, the expansion project has created 21 jobs, and is expected to create another 40 jobs over the next three years.
The $2.5 million investment is part of the provincial government's Ontario Together Fund, which has contributed $50 million in 2021-22 to help support companies responding to new demands brought on by the pandemic. 
"The support we have received through the Ontario Together Fund during our response to the COVID-19 pandemic has played an integral part in our ability to scale and respond to the dire needs of Ontario hospitals, long-term care facilities, and many other sensitive sites," said Abatement's director of marketing and product innovation Justin Larsen.
"Our company is passionate about protecting people and our great team has been all in, doing everything we can to help. From pop-up testing sites to increased patient isolation capacity and making common areas safer, we feel our equipment is really making a difference. This expansion will allow us to continue to contribute to the fight against this pandemic and help prepare us for events like this in the future."
Just last week, it was announced that Thorold-based Norgen Biotek received $1 million from the province to help scale up production of its COVID-19 saliva-based testing kit. 
Including the two Niagara companies, the Ministry of Economic Development, Job Creation and Trade has supported 38 companies through the Ontario Together Fund. 
Abatement Technologies is a world leader in the design and manufacturing of various powerful abatement products. Since its founding in 1985, tens of thousands of environmental abatement and HVAC contractors, commercial building owners, facility managers and hospital infection control specialists have used and trusted the company's suite of products.