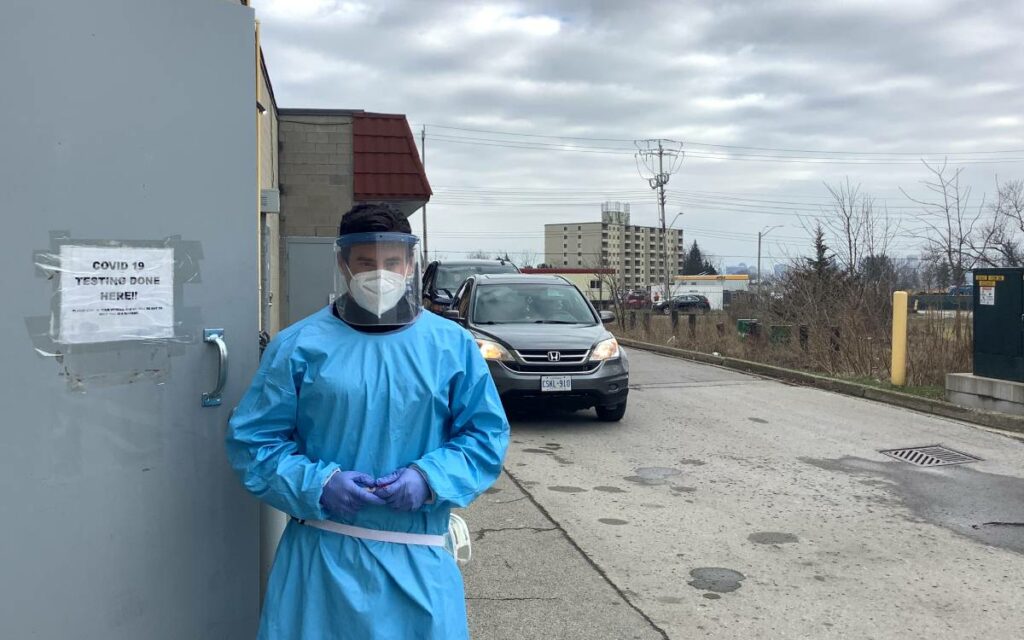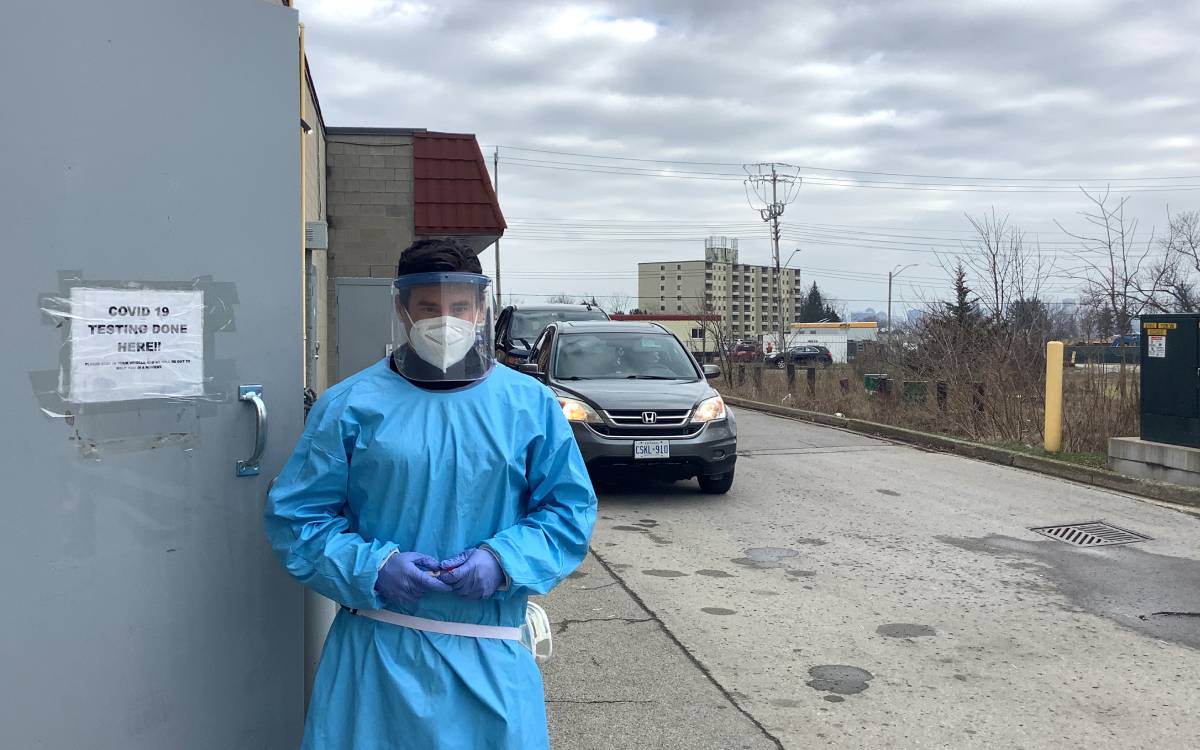 Dr. R.J. Kamatovic tends to a line-up of cars behind his Fort Erie medical clinic, Thursday, Dec. 30, 2021. One of the few doctors to offer regular PCR COVID-19 testing to the community throughout the pandemic, Dr. Kamatovic and his team meet patients at their cars Monday to Friday, rain, snow, or shine. Photo credit: The Niagara Independent/Nicholas Tibollo
This Monday, Jan. 3 marks the three-year anniversary of a Fort Erie medical clinic that has made great efforts to keep the local community safe throughout the pandemic. 
Behind his Garrison Rd. facility, Dr. R.J. Kamatovic has gone beyond his duty as a physician to provide daily COVID-19 testing to patients from across Niagara.
And while other doctors decided to go virtual for their clinical practice, Dr. Kamatovic had in mind patients that had certain physical conditions that could not be assessed virtually, so he made it a point to stay open for in-person visits, regardless of case increases or lockdowns. 
"It's the job, it's the responsibility when you take that oath. We are lucky that we have a great staff that was willing to come in, and a set up that allowed us to do it safely for everyone," Dr. Kamatovic told The Niagara Independent. "I'd like to think that any other doctor that had that opportunity would do it because it is just what you do, it's the job description."
At the beginning of the pandemic when protective personal equipment was scarce, the community came together to gather adequate resources for the clinic so it could continue to see patients in-person.  
"It was a big cooperative effort from the local people, not only Fort Erie but Niagara Falls and the surrounding areas. A lot of people just came together and gathered what they could, some of the other clinics as well," said Dr. Kamatovic.
Stepping into 2022, and another wave of the pandemic, there is still a lot of uncertainty around the virus and policies. But continuing to see patients in-person has provided the doctor and staff an opportunity to better answer some of the community's questions and concerns surrounding the virus. 
"The greatest service right now is the communication; it takes a lot longer to communicate and educate. I think one of the biggest things lacking in the COVID effort has been the communication," said Dr. Kamatovic.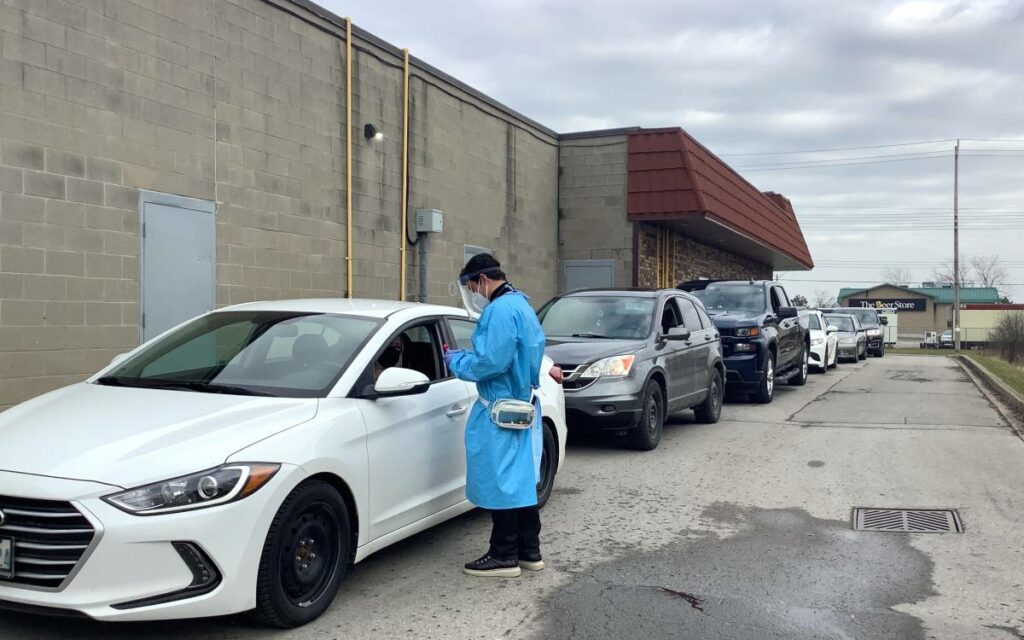 Over the last few weeks, battling COVID-19 has dominated the clinic's practice. The Omicron variant has made the clinic go from 20 test swabs per day to 60 or 70. COVID-19 testing is done Monday to Friday from 10 a.m. until 3 p.m. 
Alex Digenis, a local car dealership owner in the region, praised Dr. Kamatovic and expressed his gratitude for the services the doctor provides, keeping his own staff and the wide community safe.
"He is probably the guy responsible for keeping us open, because our ability to deliver [our] service is directly impacted by who is at work," said Digenis. 
Digenis runs Subaru of Niagara and Henley Honda in St. Catharines and throughout the pandemic has urged symptomatic or potentially exposed staff to make the trip to Fort Erie to get tested with Dr. Kamatovic. 
"The time I personally went to get a COVID test, it was raining and it was cold, [Dr. Kamatovic] was outside in a plastic suit with a shield on and a mask, swabbing people in the rain and in the cold," said Digenis. 
"He and his team made a dedicated decision to remain open through waves one, two, three, [and now] four – and I totally respect and appreciate that."
To book a COVID-19 test at Dr. Kamatovic's clinic contact niagaramedicalwellness@gmail.com or call 905-871-1777.