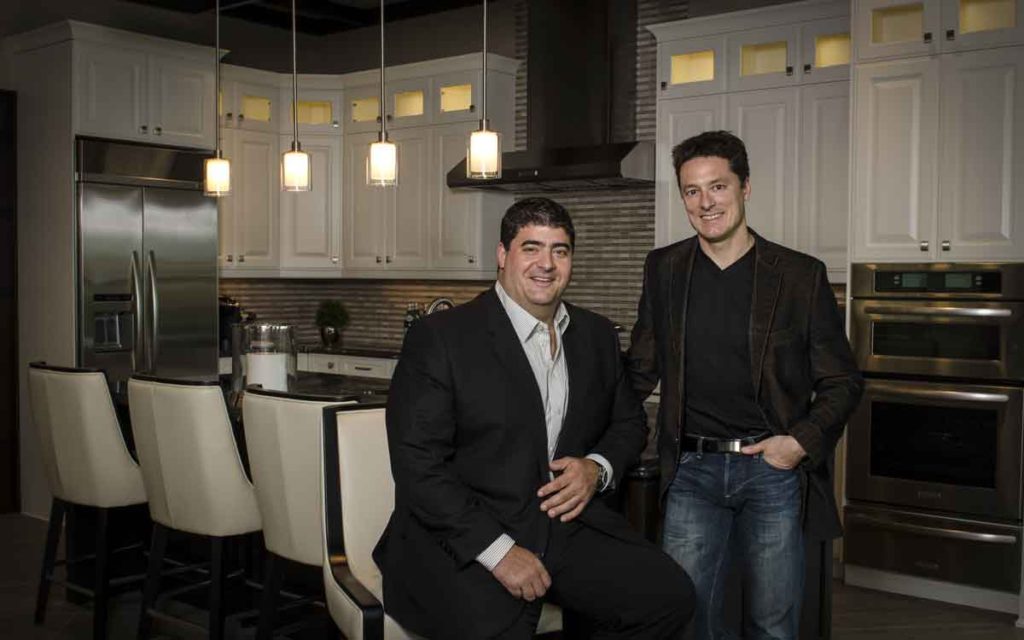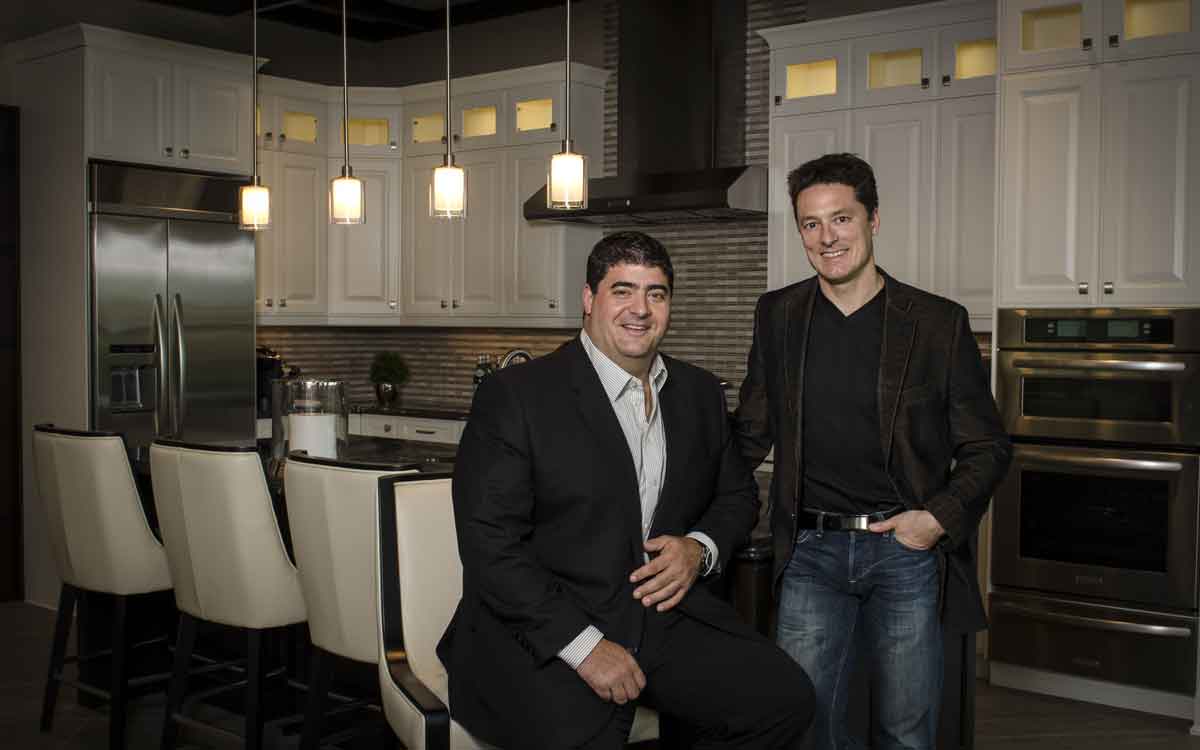 From left: Mountainview Homes President Mark Basciano with Operations Manager Mike Memme.
Mark Basciano has seen a lot of changes in the construction industry over the past 40 years. But there's been one constant in his life. 
He's seen the Mountainview Group – the family-owned building company – grow from a modest homebuilder into a multi-faceted firm producing everything from condominiums and low-rise family homes to commercial spaces, retirement and nursing homes to tenant improvements, and hospitality projects and renovations.
"We're proud to be celebrating our fourth decade in business," says the president of the Mountainview Group. "But we're still guided by the same philosophies we always have. We strive to make a difference in our community and deliver superior customer service."
The Mountainview success story began in earnest four decades ago. Nick Basciano and brothers-in-law Lou and Frank Memme were looking to start up their own homebuilding firm. The result was "Mountainview Homes" which officially opened its doors in the fall of 1979.
Not surprisingly, Mountainview Homes started from humble beginnings, operating out of a small unit at the back of Richmond Street Plaza in Thorold. The firm would go on to build its first few homes in Niagara Falls, Thorold and St. Catharines.
Mark was just a young boy when he first began helping out around the family business.
"My cousin Michael and I used to work on the weekends and during the summer holidays," he recalls fondly. "We had to sweep all the curbs and roads in front of the model homes by hand. We'd be out there with a broom, shovel and wheel barrel to make sure they were clean for open houses. We would joke and call it the Italian Backhoe!"
Throughout the 1980s, Mountainview would continue to grow, building hundreds of homes and becoming one of the largest homebuilders in the Niagara area.
According to Mark, he and the Mountainview team have continued to practice the same values his family started with 40 years ago. The results have been award-winning designs, quality workmanship and customer service you can rely on.
New Avenues
Today, Mountainview has over 70 full and part-time employees and stretched its development all the way from Niagara into other communities throughout southern Ontario.
Here in Niagara, Mountainview currently operates several low-rise communities including developments in Niagara Falls (Lyon's Creek, Thundering Waters, Woodside), Ridgeway (Dominion Woods), Fonthill (Saffron Estates), Thorold (Confederation Heights West Community, Timberwood), and Welland (Harvest Estates, Sparrow Meadows).
Over the past 24 months, Mountainview has been addressing a new emerging market – high-rise condo developments. Mountainview is in the final stages of completing a 45-unit, mid-rise condo development on Lakeport Road in St. Catharines called Elements. This project will see people move in starting in May. Mountainview has also launched an exciting new condo development known as One Twenty – a four storey, 50-unit condo project in Fonthill's newest community.
Mountainview is equally excited about its non-residential ventures as well as its full-service construction and property management company.
Mountainview is currently involved in several multi-million-dollar commercial initiatives. They include the construction and project management of The Beaches – an exclusive 13-suite condo project in Port Dalhousie on the shores of Lake Ontario. Mountainview is also developing and constructing a new project for Great Wolf Lodge in Niagara Falls.
A Leader In Philanthropy
Over the years, the Mountainview family has been firmly committed to their community. Their generosity and leadership in this area has helped them build a solid reputation as a leader in philanthropy in Niagara.
"We're more than just a construction company," Mark says. "We use our success as a vehicle to make positive changes in our community with our time, money and resources."
Last fall for instance, Mountainview stepped up to be the lead donor for the Pathstone Foundation's Natural Playground and Healing Garden – a 10,000 square foot outdoor space which will serve Pathstone's clients and their families. Just two years ago, Mountainview made a major gift to the Hotel Dieu Shaver Health and Rehabilitation Centre – the largest private gift in the hospital's history.
"At the end of the day, we want to build a better Niagara and make a real difference in people's lives," Mark says. "That means having a strong commitment to giving back to the communities we serve."
Through the years, Mountainview has also been recognized countless times for its commitment to excellence in the homebuilding industry.
In 2018, Mountainview received the Outstanding Corporation Award from the Association of Fundraising Professionals – for demonstrating an exceptional level of leadership, financial support and community involvement. For the past three years running, Mountainview has also been a finalist of Tarion's Homeowners' Choice Awards in the Large Volume Category for its commitment to outstanding customer service.
"Our talented people are all the very best in their fields," Mark says. "I can't say enough about them and their dedication to our customers. They're the reason we've been leaders in the industry for many years."
Mark says the Mountainview team takes great pride in reaching such an impressive milestone. At the end of the day, however, he says their 40-year success comes right down to their people, partners and of course, their customers.
"We will continue to be driven to excellence in our industry, projects and communities," Mark says. "But we would not have any success and not be where we are today without the support of our most valued customers."