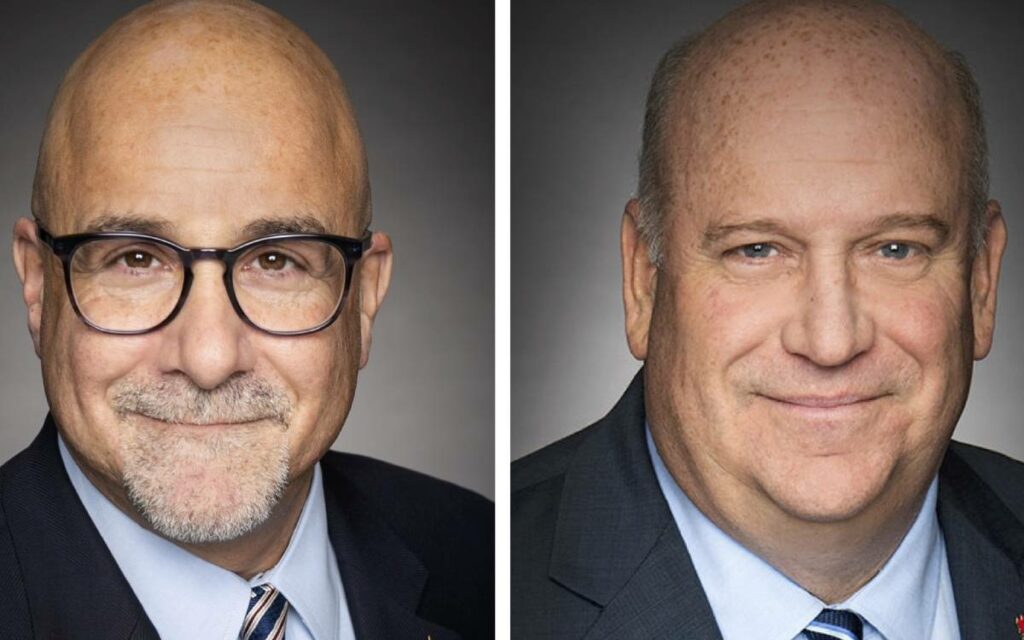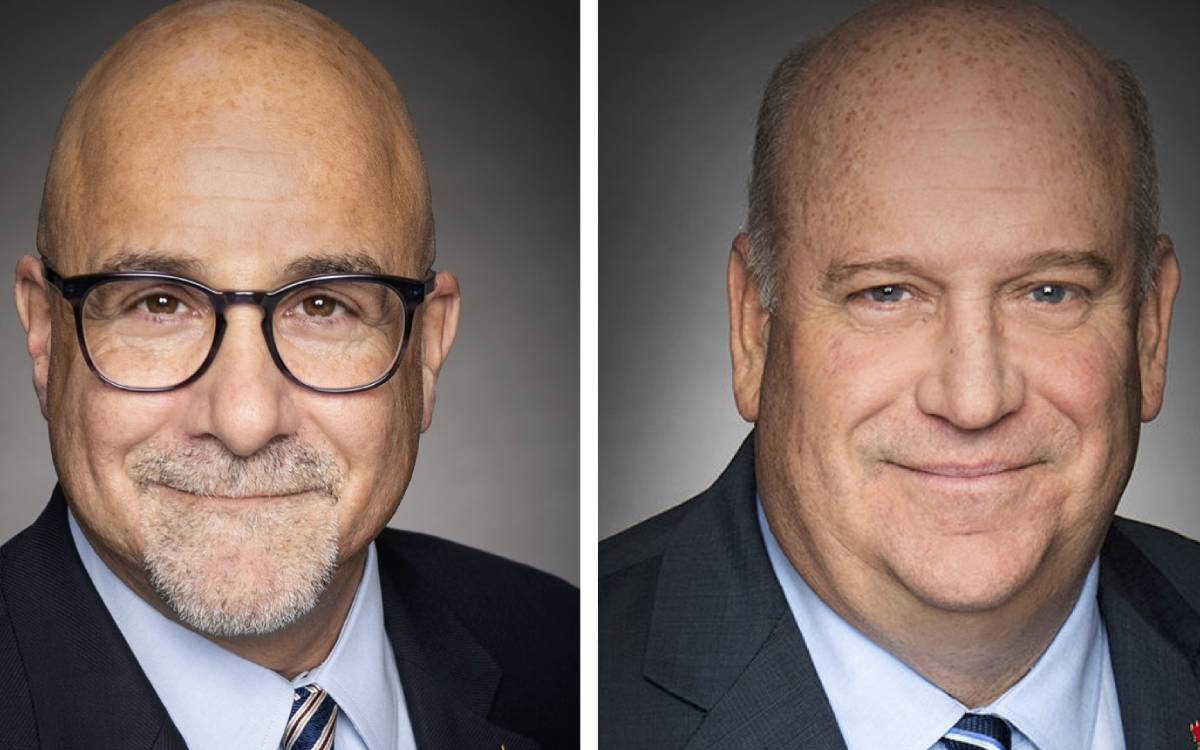 Returning Conservative MPs from Niagara Falls and Niagara West Tony Baldinelli (left) and Dean Allison (right). Both incumbents, alongside returning Liberal MPs Chris Bittle and Vance Badawey, were successful in their bids for re-election Monday night.
In an election deemed largely unnecessary by a majority of the population, Niagara returned all four incumbent candidates back to Ottawa Monday night.  
Conservative candidates Tony Baldinelli and Dean Allison of Niagara Falls and Niagara West held on to their ridings by margins of 5 and 16 percentage points, respectively. 
While Allison's race in Niagara West was effectively decided before the writ dropped, a number of outlets – from iPolitics, to the National Post, to True North Centre – had Niagara Falls pegged as a "riding to watch" this campaign, with Liberal challenger Andrea Kaiser "coming after the seat hard." 
Justin Trudeau even used the waning hours of his campaign to rally the troops in Niagara Falls on Sunday, just hours before the polls opened. 
But, in the end, Baldinelli was not to be denied. The Conservative candidate pulled in 38 per cent of the total vote, versus 33 per cent for Kaiser, 18 per cent for NDP candidate Brian Barker, and a respectable 9 per cent for PPC newcomer Peter Taras.
"To Andrea, to Brian, to [Green Party candidate] Melanie [Holm], and to Peter: I thank all of them for putting forward their platform, their ideas, and their commitment to wanting to make a difference," Baldinelli told The Niagara Independent after his victory. 
"Ultimately, I thank them for running. It's never easy. We all know how tiring it can be, how nerve-wracking it can be, and the demands it places not only on yourself, but your family." 
Nationally, Monday night's election results ended up as almost a carbon copy of 2019, with the Liberals securing another minority mandate and nearly an identical seat count across the board. 
"The results tonight mirror the results from 2019," Baldinelli lamented. "We've spent $610 million to get a mirror image of what happened two years ago because the prime minister thought he could get a majority government. But Canadians realized it was a simple power grab and they slapped back at him."
Due to pandemic measures and rising inflation, the 2021 election is expected to be Canada's most expensive election in history. As Baldinelli indicated, it is estimated taxpayers will be on the hook for at least $610 million, a $108 million increase from 2019. 
"Think about what that money could have done here in Niagara. We've got a new Niagara South Hospital coming, wouldn't infrastructure dollars towards that project been a fabulous idea? We've got a $400 million wastewater sewage treatment plant that needs to get built, wouldn't infrastructure dollars there have been well-spent?" 
On the other side of the Niagara Peninsula, long-time Conservative incumbent Dean Allison was the first of Niagara's four eventual winners to be declared victorious Monday night. His seventh consecutive victory since first coming to power in 2004, Allison took home 46 per cent of the vote in Niagara West, a full 16 points better than his nearest competitor in Liberal candidate Ian Bingham. 
"When people in the riding put their trust in you, it's always an honour," Allison said after his win. "I never take that for granted. I realize if they put their trust in you election after election, they trust in you to raise their concerns in Ottawa."
In a hotly contested horserace in Niagara Centre, Liberal incumbent Vance Badawey outlasted Conservative challenger Graham Speck to secure a third consecutive electoral victory.
Badawey and Speck jostled for the lead much of the night. At one point, only a few hundred votes separated the pair with over 70 per cent of the polls reporting. But Badawey managed to hold on and at the end of the night bested Speck 35 to 31 per cent.
Niagara Centre NDP candidate Melissa McGlashan also put up a good fight, winning 24 per cent of the vote. While, PPC candidate Michael Kimmons took home 8 per cent of the total tally. 
In Niagara's fourth and final race in St. Catharines – for many, another "riding to watch" this campaign – Liberal incumbent Chris Bittle won for the third time since 2015. Bittle beat promising Conservative candidate Krystina Waler by just over 2,700 votes in a repeat match-up from 2019. 
Though Bittle secured 37 per cent of the vote, enough to win, it represents the latest data point in a downward trend. Bittle won 43 per cent of the vote in 2015, and then 40 per cent in 2019.
St. Catharines NDP candidate Trecia McLennon finished the contest with 21 per cent of the vote; PPC representative Rebecca Hahn garnered 7 per cent. 
Elsewhere outside of the region proper, but still on the Niagara Peninsula, first-time candidate Dan Muys kept Flamborough-Glanbrook blue for the Conservative Party. The riding was considered up-for-grabs by some following the retirement of long-time incumbent David Sweet. 
Muys managed to secure 40 per cent of the vote, besting Liberal challenger Vito Sgro by 5 points. 
"Thank you Flamborough-Glanbrook for the trust and confidence you have placed in me," Muys said on Facebook Tuesday morning. "I am deeply honoured to be elected to serve and represent the communities where I grew up and where [my wife] Tracy and I live."
Recent Conservative Party leadership candidate Leslyn Lewis also kept Haldimand-Norfolk blue, filling the void left by long-time Conservative MP and former cabinet minister Diane Finley, who retired earlier this year. 
And finally, in a race that's yet to be called in Hamilton Mountain, former Welland MP Malcolm Allen – who parachuted into the riding for the 2021 race – is about 1,000 votes behind Liberal candidate and CHCH journalist Lisa Hepfner. Allen last ran in Niagara Centre in 2019, finishing third.
All results are currently unofficial and mail-in votes are still trickling in. Exact figures may change slightly.