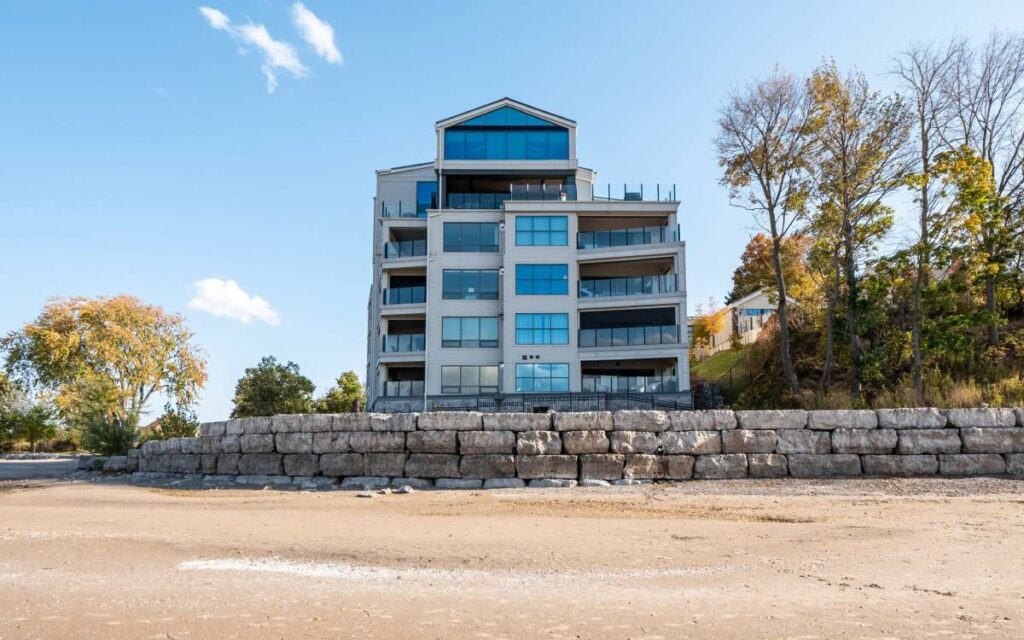 Winners will be announced during Home Building Week next month. Mountainview Building Group earned two nominations for the Penthouse Suite at its Port Dalhousie "The Beaches" development (pictured). Photo credit: Quartek Group

Earlier this month, the Canadian Home Builders' Association (CHBA) released its list of finalists for the 2023 National Awards for Housing Excellence.
According to a media release from the CHBA, this year's competition featured nearly 800 entries from across the country in 48 different categories designed to encompass the variety of homes built and renovated in Canada, with representation from all sizes, specialities, and price points, for both rental and ownership. 
Almost 150 industry experts reviewed entries, judging submissions by images, floor and site plans, and project descriptions. 
"This program isn't just about luxury homes, though there are stunning projects among these finalists – it's about capturing the full spectrum of homes and communities that Canadians live in, and all of the planning, creativity, and skill that goes into them," said CHBA CEO Kevin Lee.
Four home builders from Niagara made the finalists list. 
DeSantis Homes picked up three nominations, all for its celebrated "Century Condos" project in downtown Grimsby – which won the 2022 Ontario Home Builders' Association (OHBA) Project of the Year Award. 
The development is nominated for Best Brochure/Kit, Best Virtual Tour Experience and Best New Community. 
Welland-based Lucchetta Homes picked up a nomination for Best Detached Production Home Under 1,800 square feet for "The Newburg at Riverside at Hunters Pointe".
Mountainview Building Group, headquartered in Thorold, earned two nominations under the Best New Home Spaces category. The local builder is nominated for Best Bathroom and Best Bedroom/Suite, both for its "The Beaches, Penthouse Suite" project. 
Lastly, St. Catharines' Rinaldi Homes is nominated for Best Detached Production Home Over 2,800 square feet for its "Modern Elegance at Merritt Meadows" development. 
Rinaldi was the only builder from Niagara to secure a win in last year's competition, winning in the Detached Production Home 1,800 to 2,100 square feet category. 
"Some of the country's best home builders are located right here in Niagara, and this year's list of finalists for the CHBA excellence awards is only further proof of that fact," said Chuck McShane, CEO of the Niagara Home Builders' Association. 
"No less than four of our organization's members were nominated across a wide variety of categories this year, demonstrating the impressive breadth of Niagara's homegrown industry talent. Regardless of price point or project scope, our local home builders are second-to-none."
"My sincere congratulations to DeSantis Homes, Lucchetta Homes, Mountainview Building Group, and Rinaldi Homes on their well-deserved nominations."
In all, 48 awards for excellence in housing will be presented at this year's ceremony. Categories include:
New Home Awards (16 in total)

New Home Spaces Awards (4 awards)

Net Zero Home Awards (2 awards) 

Home Renovation Awards (12 in total)

Community Development Awards (2 awards)

Marketing Awards (12 in total)
In addition to the above, three major awards will also be presented. The Design Excellence Award, Renovation Excellence Award, and Marketing Excellence Award will each be presented to the home builder or renovator who has achieved the best overall standing in the respective new home, renovation, and marketing categories. 
The awards take place on February 16 in Banff, Alberta during CHBA's Home Building Week.