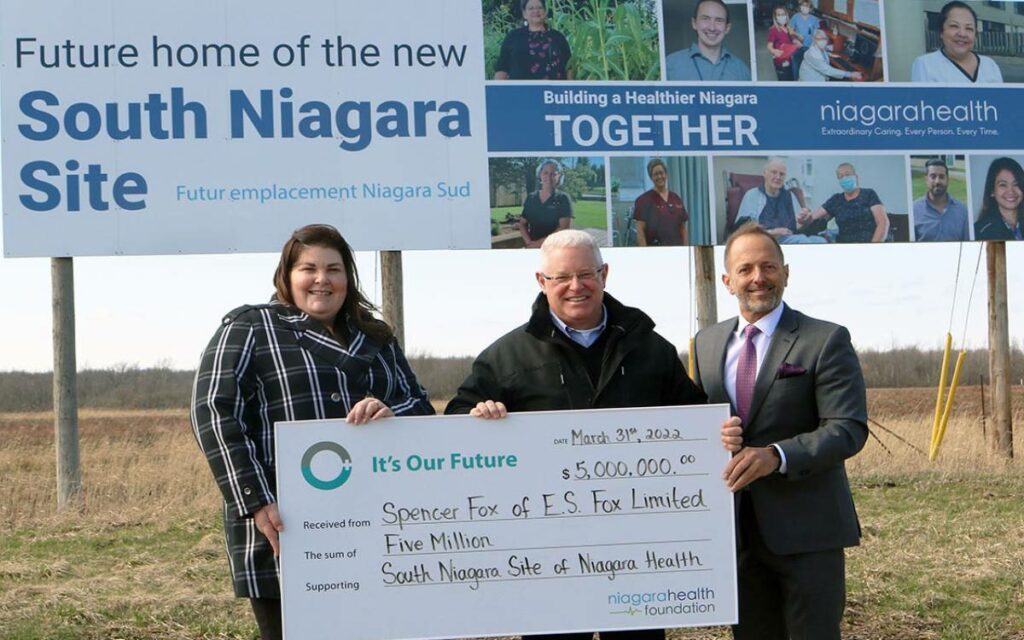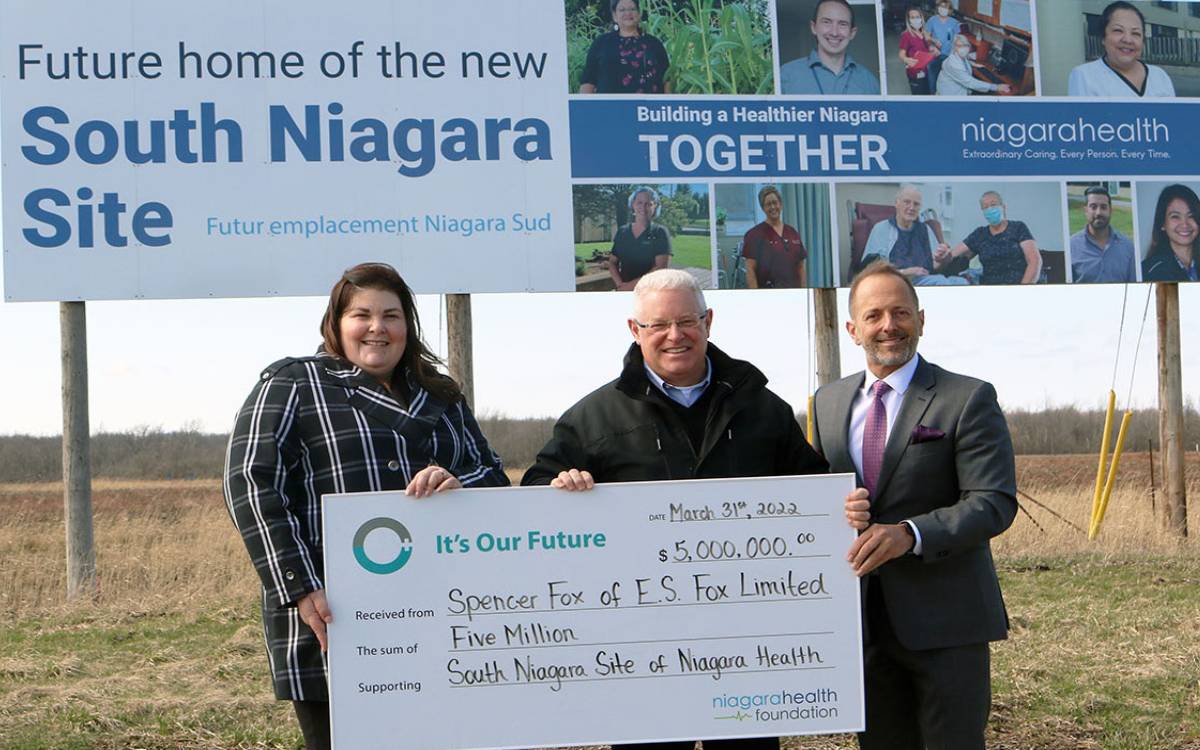 The new Niagara Falls hospital will break ground later this year. Pictured are Niagara Health Foundation president and CEO Andrea Scott, E.S. Fox Ltd. president Spencer Fox, and Mayor of Niagara Falls Jim Diodati. Photo credit: Niagara Health Foundation
Large-scale community projects require large-scale community support, and that's precisely what the ongoing fundraising effort to help build the new South Niagara Hospital recently got from local philanthropist and businessman Spencer Fox.
Fox, president of E.S. Fox Limited – a multi-trade industrial, commercial, institutional, and nuclear constructor and fabricator headquartered in Niagara Falls – pledged $5 million earlier this week to the Niagara Health Foundation's 'It's Our Future' fundraising campaign. 
Launched late last year, the campaign is working toward raising $40 million of the $212 million total needed from the local community to build the over-$1 billion healthcare facility at the corners of Montrose and Biggar roads in Niagara Falls.    
"The generosity of Spencer Fox, The Fox Family and E.S. Fox Ltd. continues to show our community that the future of healthcare in Niagara will be bright," said Niagara Health Foundation president and CEO Andrea Scott.
"The Fox Family has been a long-time supporter of local healthcare in Niagara. As one of our Founding Donors, we hope that their personal story inspires the community to learn more about the It's Our Future campaign and the South Niagara Site of Niagara Health."
At the age of 15, Spencer's son Ben suffered a stroke due to a carotid artery dissection: a separation of the layers of the artery wall supplying oxygen to the head and brain, impacting his left side. 
Ben's struggle, and triumphant recovery, are what inspired Fox to make his generous pledge.
"This is a classic example of doing good with the good fortune you've been given," Mayor of Niagara Falls Jim Diodati told The Niagara Independent in an interview.
"Spencer (Fox) is grateful for the care his son received after his stroke, and now he's choosing to give back in a way that we all benefit. It's amazing."
According to Diodati, who co-chairs the 'It's Our Future' campaign alongside Harry Oakes, said he had to coax the "humble", "media shy" Fox into publicizing his family's generosity. 
"We dragged him into the spotlight," teased Diodati. "But he gets it. By allowing us to take his picture, talk about the great things he's done, it can inspire others to do the same. We're going to need the whole community to make this (fundraising effort) happen!" 
In honour of Fox's $5 million contribution, the hospital's stroke centre will be named The Fox Family Centre of Excellence for Stroke.
To date, the 'It's Our Future' campaign has raised just over half of its $40 million fundraising goal. 
The rest of the $212 million in local funding will come from municipal sources and Niagara Health itself. The Niagara Region has already committed $44.5 million to the project. The City of Niagara Falls and Town of Fort Erie are both expected to finalize their commitments in the coming months, with the former projected to contribute around $30 million.
At the end of October 2021, Infrastructure Ontario and Niagara Health officially invited three previously shortlisted teams to respond to a request for proposal (RFP) to design, build, finance, and maintain the new South Niagara Hospital.
The successful bidder will be announced this fall, with official ground-breaking set to take place shortly thereafter. 
The approximately 1.2 million square foot, 11-storey complex will feature 469 beds, eight operating suites, and be Canada's first WELL-certified healthcare facility. Recognized worldwide and throughout the architectural community, WELL certification ensures buildings are designed to best promote the health and well-being of all occupants, be it staff, patients, or visitors. 
The site will specialize in stroke care, older adult care, and aging and wellness. 
Project completion is slated for fall 2026. Total cost is expected to exceed $1 billion.