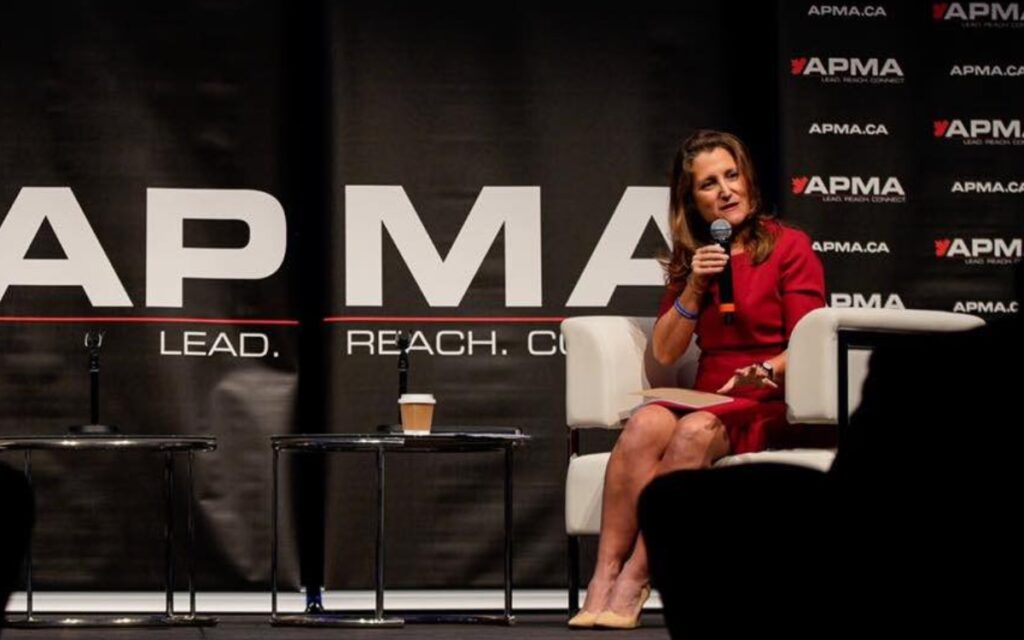 For the first time in a long time, it at least feels like the Liberal government is getting honest with Canadians about the current state of affairs. Photo credit: Facebook/Chrystia Freeland
As we head into the winter season, one message has become increasingly clear across much of the western world. Brace for impact because a recession is coming.
Here at home, the Royal Bank of Canada predicted last week that Canada would be plunged into a mild recession in early 2023. And now Canada's Finance Minister is echoing this sentiment and preparing Canadians for the inevitable reality of a weakening economy. 
In a speech in Windsor, Ontario this week, Minister Chrystia Freeland said, "there will be people whose mortgage payments will rise. Businesses will no longer be booming in the same way it has been since we left our homes after the COVID lockdown and went back out into the world. Our unemployment rate will no longer be record low."
As reported by the Toronto Star, Freeland also signalled to her ministerial counterparts that they need to find cuts as part of considerations for Budget 2023, to reflect the same reality Canadians are facing as they look at their own household budget.
For a government that likes to run from their problems until they reach a dead-end, the candid admission by Freeland about a looming economic crisis and budget cuts likely means that things are going to get a lot worse before they get better.
But for the first time in a long time, it at least feels like the Liberal government is getting honest with Canadians about the current state of affairs we find ourselves in. This is both a refreshing and needed shift in tone and attitude.
Is this political fodder, or a genuine reckoning by the Liberal government that they have strayed too far from the centre when it comes to their reckless spending year over year, and complete disregard for balancing the federal budget? And is the move to cut federal spending at the department level a move single-handedly driven by Freeland, or is this something the Prime Minister himself has endorsed?
The answer probably lies somewhere in the middle.
It's likely not a coincidence that new Liberal talking points are coming down the pipe at a time when polling by Nanos has Pierre Poilievre pegged as the most trusted leader when it comes to fighting inflation, with an eight-point lead over Justin Trudeau.
Poilievre has used his first few weeks as the new Leader of the Conservative Party to singularly focus on the tax and spend agenda of his opponents. Taken with the economic news of late, Canadians are starting to look for alternatives to the current government status quo as the cost-of-living continues to skyrocket, and more households struggle to make ends meet.
And for the Liberals, responding to their opponents with tired messaging about daycare and dental and rental programs was never something that could be sustained over the long-term, especially when Canadians don't see these benefits directly reflected on their grocery or home heating bills.
Whether Freeland read the tea leaves and went off-script or is angling for a job in the private sector is irrelevant at this point. What matters is that finally a member of the Liberal government is willing to take some ownership of the economy and admit that this is not the time for out-of-control spending.
Josie Sabatino is a Senior Consultant at Summa Strategies, focused on providing strategic insight and helping clients meet their objectives in an ever changing and complex political and regulatory environment. Prior to joining Summa, Josie spent nearly a decade in political communications and most recently served as the Director of Communications to the Hon. Erin O'Toole, former Leader of the Official Opposition.