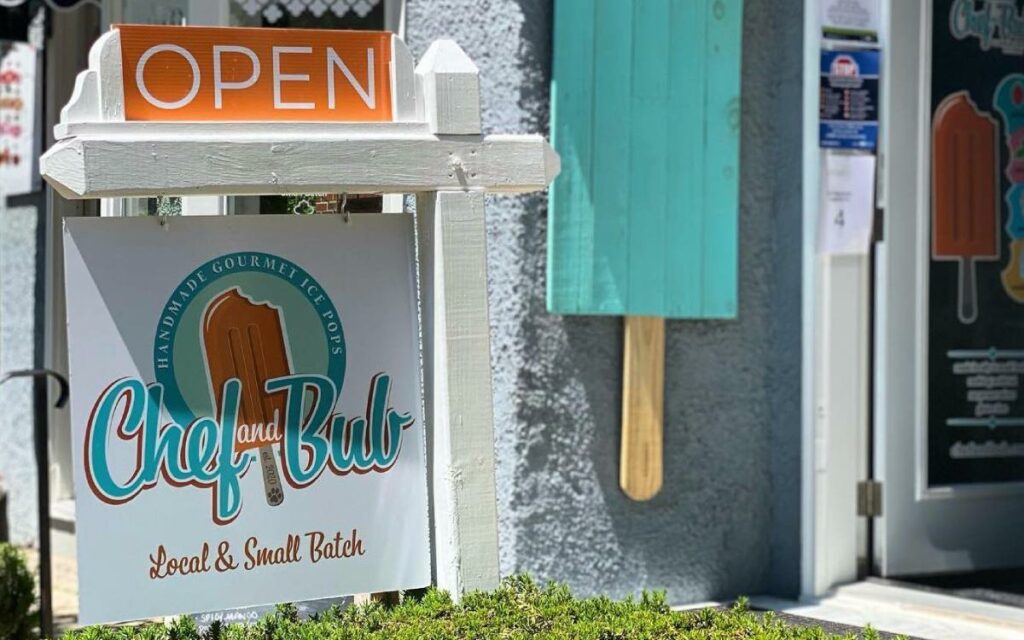 Celebrate the hot weather and Niagara's small business community by visiting one of the locations below. Pictured is Chef and Bub in Niagara-on-the-Lake. The small-batch popsicle maker has another location in Thorold. Photo credit: Facebook/Chef and Bub
Summer is in full swing, and with the hot weather it's always nice to indulge in a cold refreshing treat. Niagara has plenty to offer by way of local frozen confections. 
Gelato
Italian Ice Cream in Niagara Falls has been in business since 1978 using their family gelato recipe. There are typically 24 flavour options available which range from strawberry to tiramisu. The gelato is made with a milk or water base — which is a great option for those with dietary restrictions. Besides gelato, their menu also includes other Italian staples like panini, coffee, and other desserts. The storefront location is on Victoria Ave. in Niagara Falls, with in person seating on the patio or inside the dining area.  
Maplewood Gelato and Sweets is located in Crystal Beach, just in reach of the waterfront park. This spring was the official opening of the gelato shop which is a family run business offering daily house-made gelato and candy. Some gelato flavour options include cotton candy, cookie dough, blueberry cheesecake, and the local classic loganberry swirl.
Nina Gelateria and Pastry Shop in Niagara-on-the-Lake is a European inspired restaurant combining German, French, Italian and Swiss dessert and cuisine. The shop is family owned and operated by a Swiss born and trained pastry chef and gelato maker. There are typically 28 flavour options available in the spring and summer made with all-natural ingredients both local and imported from Italy. The menu extends beyond gelato, including crepes, pizza and panini, macarons, coffee and tea, as well as other pastries.
Ice Cream 
The Dairy Queen in Port Colborne is not just a place to get ice cream but is historically significant for being one of the last remaining Dairy Queen's in North America that has not been renovated from the original design of the franchise. The building and signage remains the same as it was when it opened in 1954 with renovations done in the 2000s to restore and maintain the structure. Enjoy your chocolate dipped soft serve alongside a bit of retro history. 
Popsicles 
Chef and Bub has been serving up small-batch specialty flavours of popsicles since 2021. The unique recipes and fresh ingredients are the pride of this small business. They offer both dairy and vegan options with rotating popsicle flavours like pina colada, peaches and cream, chocolate fudge, and blueberry and goat cheese. The popsicle shop has two locations—one in Thorold and the other in Niagara-on-the-Lake. 
Frozen Yogurt 
Candy Safari in Port Colborne is not just a candy store, it also offers a range of Kwartha Lakes Ice Cream, and individually made frozen yogurt servings with your choice of fruit blended to perfection. Guests can enjoy their treats with a view of the scenic Welland Canal on West Street where the shop is located.
Celebrate the summer and the small businesses of the region by partaking in some delicious cold desserts!