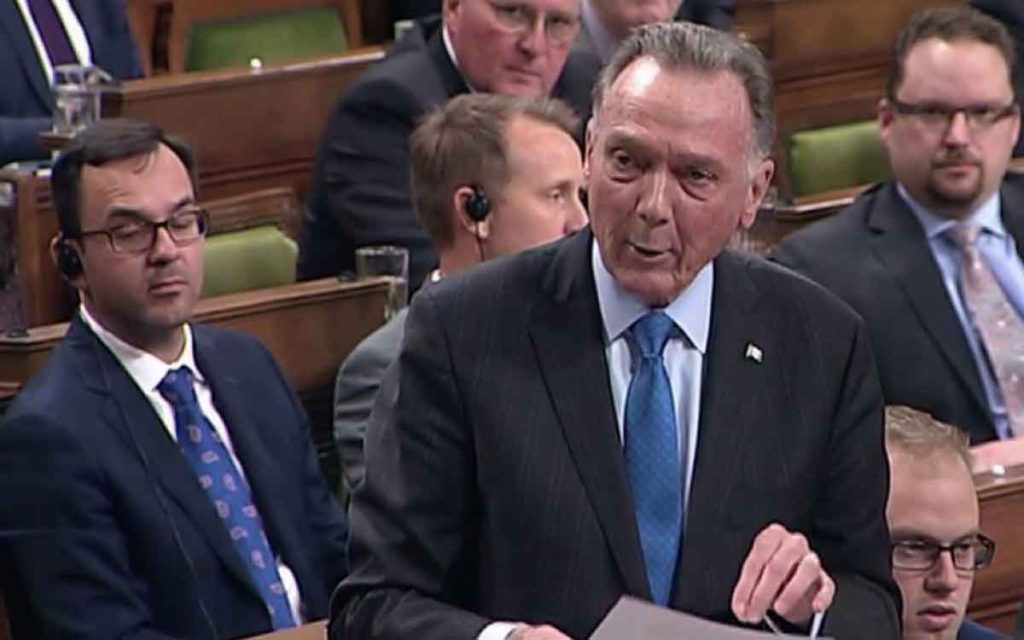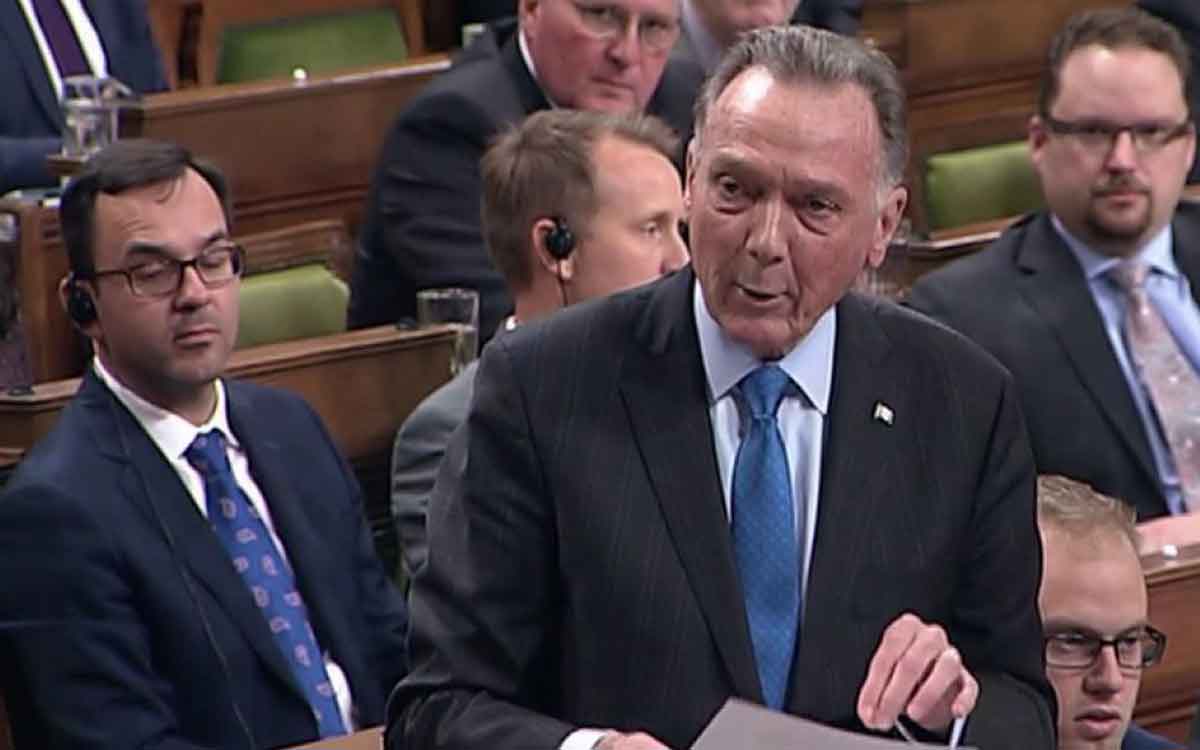 Conservative MP (and former news anchor) Peter Kent rails against the Liberals recently announced $600 million bailout of some of Canada's newspapers. Photo: Global News
What will "freedom of the press" mean in his country if two media-related initiatives recently announced by the Trudeau government be implemented? Originally introduced in the federal budget, this week the government has provided details of how they will fund the news rooms of our major newspapers. Also this week, the Trudeau government provided further ideas on how and what they intend to censor in social media in the run up to the election.
The federal budget set forth a fund of $600 million to be paid to selected Canadian newspapers. From Finance Minister Bill Morneau's first mention of this bailout it has been criticized as potentially undermining the freedom of the press and, possibly as Andrew Coyne has forewarned, it will "irrevocably politicize the press."  Conservative MP and former newsman Peter Kent flatly stated the government should not be "getting involved in this sort of direct subsidy to what is supposed to be an independent estate." Kent says, "From top to bottom it smells. It's simply unacceptable."
What is most problematic is how the funding will be awarded. Details have been shared that the government will be comprising (what they have called) an "A-list" of newspapers and websites judged to be "reliable." It is only those A-list news organizations that are eligible for the promised $600 million.
This week the Trudeau government released its special advisory panel that will be selecting the A-list of reliable media. Of the eight organizations, two are unions and six are industry groups; four are English and four Francophone; and there are no independent media representation. And much is being reported on the blatantly partisan union group Unifor, who has collectively styled themselves as "Andrew Scheer's worst nightmare."
As National Post political columnist Chris Shelly puts it: Liberal's media bailout puts foxes in charge of the chickens. He writes: "If the heritage minister had explicitly set out to bolster the notion that Canadian media are bought and paid for by the Liberals, he could have done no better… Now the Liberals literally want to cut media organizations cheques, and people claiming to act in journalists' and journalism's best interests are climbing all over each other not just to be first in line, but to decide who goes home empty-handed."
There's more. Prime Minister Trudeau has also recently announced that his government is introducing a new digital charter to begin censoring social media in order to combat hate speech, misinformation and online electoral interference. The PM stated: "We look forward to working alongside internet companies, but indeed, if they do not choose to act, we will be forced to continue to act in ways that protect Canadians…" Though there are no details known as of yet, Trudeau has warned of "meaningful financial consequences" for social media giants that do not comply with the government initiative.
So, to follow-up on the PMs announcement, this week Innovation Minister Navdeep Bains unveiled a ten-point digital charter. This charter includes principles about eliminating hate speech, political misinformation and electoral interference – with no technical details or definitions. How does one define these terms? They mean different things to different people. If the government intends on censoring social media, precise definitions for these terms and an acceptable process for policing Canadians' social media accounts are first required.
In a Sun Media Editorial entitled "No partisan politician should be able to police the internet" the news organization stated: "Trudeau has a major conflict of interest in this case. The truth is that no politician should be put in charge of setting the terms of how to regulate social media. The public use social media to engage in all sorts of colourful commentary on political matters, some of it deeply critical of Trudeau. Is that what he intends to ban?"
Indeed, there have been too many disturbing stories coming from Ottawa about the Prime Minister's inner circles and their relationships with the country's media. The PM's chief of staff Katie Telford talked of securing positive "op eds from friendly editors" when the PMO wanted to strike back against Jody Wilson-Raybould. Public Safety Minister Ralph Goodale suggested the government might monitor and censor Canadians' Twitter and Facebook feeds to remove content the government deems problematic or toxic. Then there is also CBC and Radio Canada, the country's public broadcasters that are producing more online print news and social media content.
With the latest Trudeau Government initiatives, the lines between our government leaders and our national press corps are becoming increasingly blurred. With this happening so quickly, only months from a federal election, there should be cause for concern. It was the renowned American news reporter and anchor Walter Cronkite who observed, "Freedom of the press is not just important to democracy, it is democracy."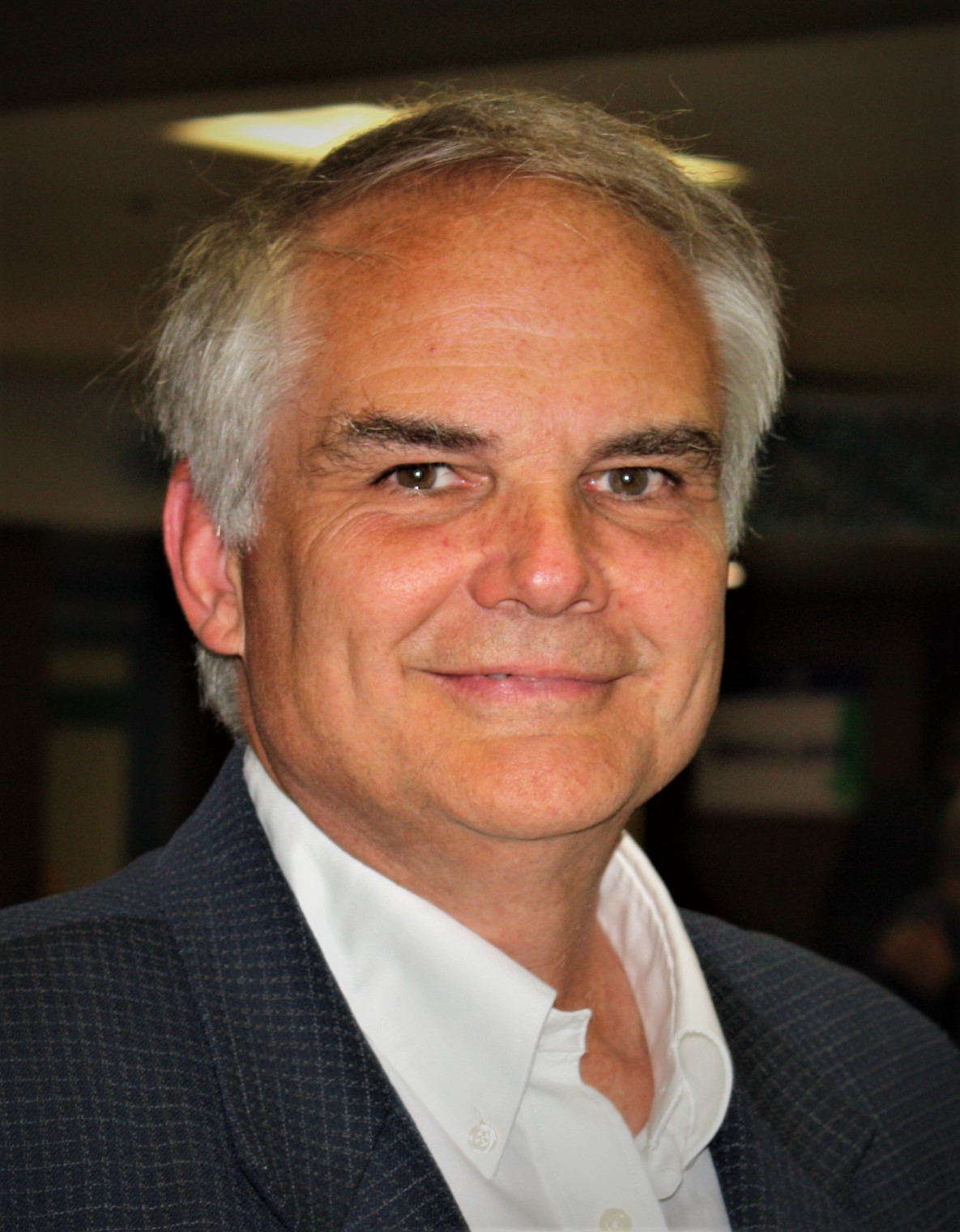 Chris George is an advocate, government relations advisor, and writer/copy editor. As president of a public relations firm established in 1994, Chris provides discreet counsel, tactical advice and management skills to CEOs/Presidents, Boards of Directors and senior executive teams in executing public and government relations campaigns and managing issues. Prior to this PR/GR career, Chris spent seven years on Parliament Hill on staffs of Cabinet Ministers and MPs. He has served in senior campaign positions for electoral and advocacy campaigns at every level of government. Today, Chris resides in Almonte, Ontario where he and his wife manage www.cgacommunications.com. Contact Chris at chrisg.george@gmail.com.