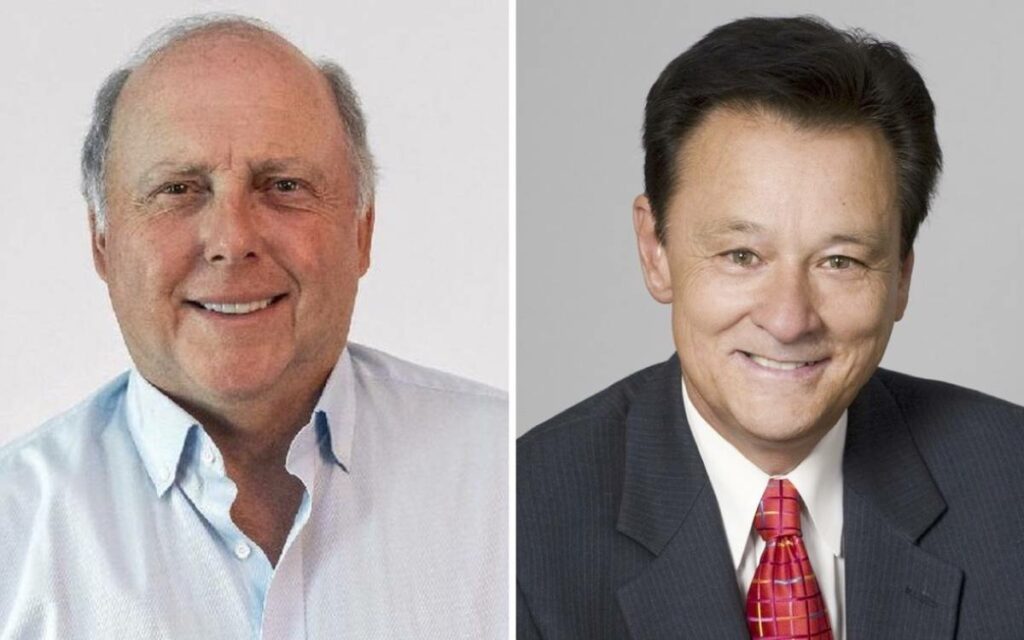 Fresh-off a competitive second place showing in June's provincial election as the Ontario PC candidate for Niagara Falls, Bob Gale (pictured, left) is one of the early and obvious front-runners in the 2022 race. Other notable candidates running for one of the city's three coveted Niagara Regional Council spots are former MPP Kim Craitor (right), incumbent Barbara Greenwood, Kevin Maves, Joyce Morocco, and Carolyn Ioannoni. 
Eight candidates make up this year's list of hopeful regional councillors in Niagara Falls, all of whom currently hold office, have held office, or have run for public office on multiple occasions in the past. 
The race's two incumbents are Bob Gale and Barbara Greenwood.
Gale is a two-term regional councillor, having been elected with the first and third largest portion of the vote share in 2014 and 2018, respectively. 
Over eight years in municipal office Gale has actively worked to eliminate government waste wherever possible, while trying to save money for the taxpayer, a tendency he developed long before politics. 
Prior to running for office, as a Niagara Parks commissioner Gale saved taxpayers an estimated $300 million when he ensured the Maid of the Mist lease was fairly put out for tender instead of the former operator's contract getting renewed with a sweetheart deal behind closed doors.
Gale ran for the PCs in June's provincial election, gaining nearly 40 per cent of the vote, finishing second to Wayne Gates. 
Gale's council colleague, Barbara Greenwood, is the race's only other incumbent, as Peter Nicholson decided not to seek a second term as regional councillor. 
Greenwood previously served two terms on Niagara Regional Council from 2006 to 2014. In 2018, she won the second largest portion of the vote share, bested only by Nicholson. 
Another big name and possible front-runner in the 2022 contest for regional councillor is Kim Craitor. 
Craitor is the former three-time Ontario Liberal MPP for Niagara Falls, having been elected in 2003, 2007, and 2011, before suddenly resigning in 2013. 
In 2016, then-premier Kathleen Wynne revealed she asked Craitor to step down following several "sufficiently serious" accusations of sexual harassment backed up by evidence provided via a third-party investigation. 
"When the results of the independent investigation were received," Wynne said, "I determined that action needed to be taken and Kim Craitor was asked to resign."
Craitor maintained the allegations were "unfounded and unsubstantiated".
Despite his denial, when the soon-to-be 76-year-old Craitor ran for mayor in the last municipal election, one of his accusers, Michelle Tavano, formally registered as a third-party advertiser with the express purpose of reminding "the public of who the real Kim Craitor is." 
Craitor ended up losing the 2018 mayoral race to incumbent Jim Diodati by 23 points. 
Joyce Morocco, who succeeded Craitor as the Ontario Liberal candidate for the 2014 by-election (necessitated by the former MPP's sudden resignation), is yet another well-known public figure vying to represent Niagara Falls at the Region next term. 
Morocco, who finished third in the above-mentioned by-election and ran as the federal Liberal nominee in the 2008 election, finishing second to Rob Nicholson, was first elected to Niagara Falls local council in 2010 and again in 2014. 
She was nearly voted in for a third consecutive term in 2018, placing 9 of 34 candidates, missing out on the eighth and final council spot by less than 500 votes. 
Topping Morocco for that final seat on local council in 2018 was Carolyn Ioannoni. 
A 23-year local council veteran, Ioannoni reportedly decided to run for Niagara's upper-tier government this fall after realizing many of the most important issues to her over the years have been regional issues. 
Something of a maverick member, Ioannoni has frequently been at odds with Mayor Jim Diodati, councillors, and senior staff throughout her time in office. For example, she recently referred to Diodati as a "disgusting excuse for a mayor and a person", comments for which she was investigated and docked 90 days' pay. 
Few councillors across Niagara, in fact, have been subject to as many integrity commissioner investigations as Ioannoni in recent years.
At the federal level, Ioannoni ran as the NDP candidate in Niagara Falls in 2015, finishing third. 
Another political veteran who has held public office at the local level for nearly as long as Ioannoni is Kevin Maves, cousin of former two-time Ontario PC MPP and Niagara Falls regional councillor Bart Maves and nephew of the late Bart (Wayne) Maves, who served two terms on city council. 
Maves was first elected as trustee for the District School Board of Niagara (DSBN) in 2000 and has been re-elected every election cycle since. Over the decades, Maves has spent nearly half his time as a trustee as either chair or vice-chair of the board. He currently serves as chair of the board's finance committee. 
In the most recent municipal election, Maves topped a field of seven competitors, earning a quarter of all votes cast.  
Rounding out the eight regional council hopefuls are Tony Caruso and Karen Fraser. 
Caruso runs his own paralegal business in Niagara Falls and previously ran for local council in 2014 and Catholic school board trustee in 2018. 
Fraser is a local Green Party stalwart, serving on the party's local riding executive and as a campaign manager for various candidates across numerous elections. She ran as the Ontario Green Party nominee in the 2018 provincial election. 
Fraser previously served on, and chaired, Niagara Falls' cultural committee for many years and was inducted into the city's Arts and Culture Wall of Fame in 2019. 
Barring the election of a regional chair from the municipality, Niagara Falls has four spots on the region's upper-tier 32-member council, one of which is reserved for the city's mayor.
The municipal election takes place October 24, 2022.