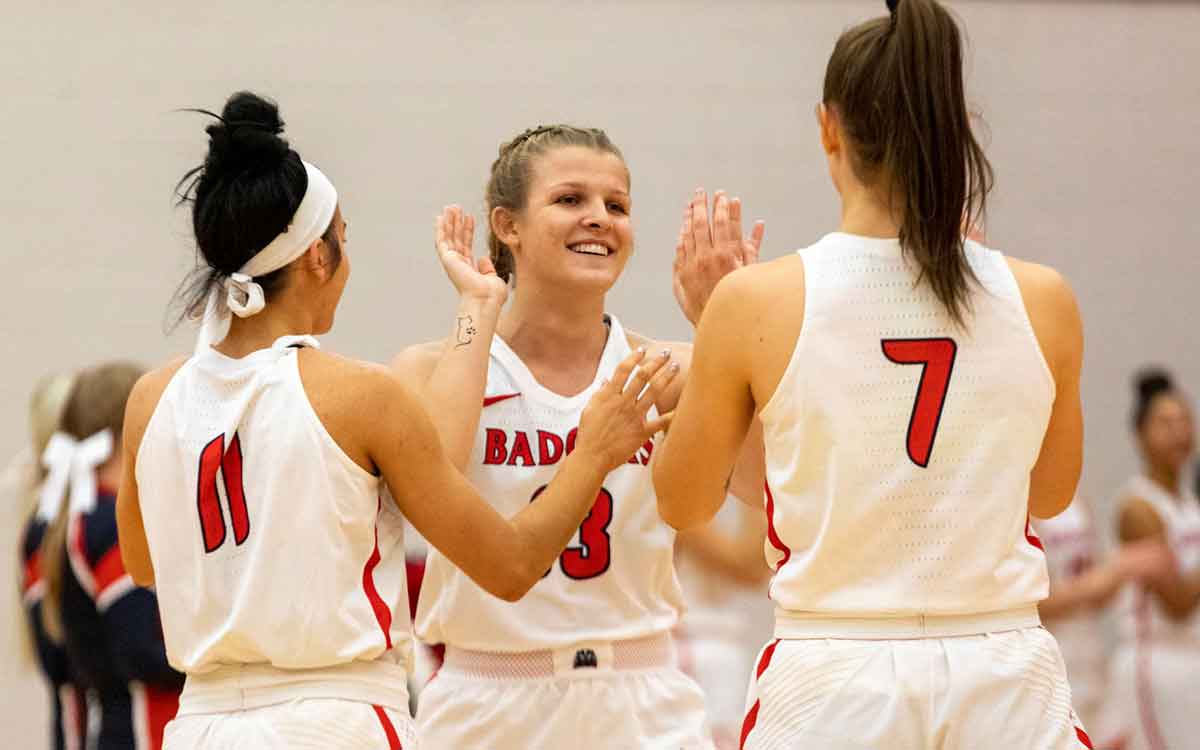 Third-year guard Kristin Gallant (centre) is changing the way she plays the game of basketball, and she's helped the Badgers reach the national rankings for the first time since 2015. Supplied photo.
When the Brock Badgers women's basketball team return from the holiday break to start the 2020 portion of their season, their first home game of the new year will be the latest edition of the Paint the Meridian Red game back at the Meridian Centre on Saturday, Jan. 11.
The team has come a long way in the past two years. Brock's women's basketball team headed into the holiday break riding a six-game winning streak. Their 9-1 record has them ranked first in the OUA Central division and No. 9 in the nation.
Third-year guard Kristin Gallant wondered what role she would play as the Brock women's basketball team was overhauled in the offseason with a wave of recruits and a new offensive scheme.
Then head coach Mike Rao approached Gallant with an idea.
"Mike told me you're going to be a totally different player come next season," said Gallant, who spent the summer in the Brock Sports Performance weight room. "Rao is in the process of making me more of an all-round player, he's changing my shooting form and improving my ball handling so that I can begin to be one of the key playmakers on our team."
Gallant was also encouraged to improve her shot, so that defenders would have to respect her field goal attempts instead of just guarding her as a driver.
"Her work ethic is second to none. She has a tremendous work ethic. Above everyone," said Rao. "What's really impressed me about Kristin is that she's learning to control her body with the ball, without the ball."
If anyone on the roster has the ability to remake what kind of player they are, it's Gallant, added Rao.
In her second season with the Badgers, Gallant played a bigger role than her freshman year.
She was a key piece in helping the women's basketball team bounce back from a forgettable campaign in 2017-18 when they team went 6-18.
She finished second on the team in scoring last season, and posted a game-high 15 points over Laurier in the first round of the OUA playoffs to help the Badgers capture their first playoff victory since 2012.
Gallant originally built her game around velocity.
"In my previous years for basketball I was typically one of the stronger players, so I was always told to use my speed and just go-go-go," she said. "That technique always got me far in high school, but when it came to university it wasn't always so successful."
When Rao was hired as head coach in 2018, he made an emphasis of getting Gallant to start thinking more in game-state situations.
Kristin is starting to come into her own. Now we're refining her game," said Rao. "Last year, she would take the ball and drive to the net. That's good when it's open, but when it's not then it's catastrophe."
During their final game of the first half, the revival of Gallant's game was on display in Hamilton where she shot 57 per cent versus the defending champion McMaster Marauders, but more importantly when she snagged a crucial offensive rebound to maintain possession and hold on for a 82-80 win.
That hard-nosed play to beat out two defenders for the rebound was trademark Gallant, according to her high school coach Cailin Miziolek.
Gallant attended Bishop Reding Secondary School while growing up in Milton. It's where she forged her determination to overcome odds.
"Kris pushes herself to be the best version of herself that she can be," said Miziolek. "She is tough as nails, she will put the team on her back, she doesn't shy away from responsibility, because she's a winner. As soon as the buzzer goes she returns to being her kind and humorous self."
An example of her never-give-up attitude came during her Grade 12 year.
Gallant suffered an ankle injury, but was set on qualifying for the Ontario Federation School Athletic Associations track and field championships in hurdles.
"Kristin would stay late after practice was done and come in on the weekends, pushing to improve," said Miziolek.
She went onto qualify and finished seventh in the province.
It's no secret that varsity athletes spend several hours a week training and practicing, but something that isn't talked about is how busy their lifestyle is.
"I have lived in St. Catharines every summer since I started at Brock, so that I could train with the team and my coach," said Gallant. "I workout every day, go on runs twice a week to compete with the girls in the gym, and shoot around in my free time all while working full time. Not everybody realizes how hard it is to actually be an athlete at this level."
Gallant, who studies Psychology, takes a full course in hopes of finishing her undergrad in four years. She continues to work a part-time job during the school year mixed in with hoops practice every day, BSP workouts and a slate of games every weekend.
"I am proud of to be able to accomplish all of this," said Gallant. "Our goal is always to leave everything out on the court no matter what we're going through, what game it is, or what the score is. That's the culture we want here."
Paint the Meridian Red will be held at the Meridian Centre on Saturday, Jan. 11 at 6 p.m. for the women's game and 8 p.m. for the men. Tickets can be purchased on Ticketmaster.ca