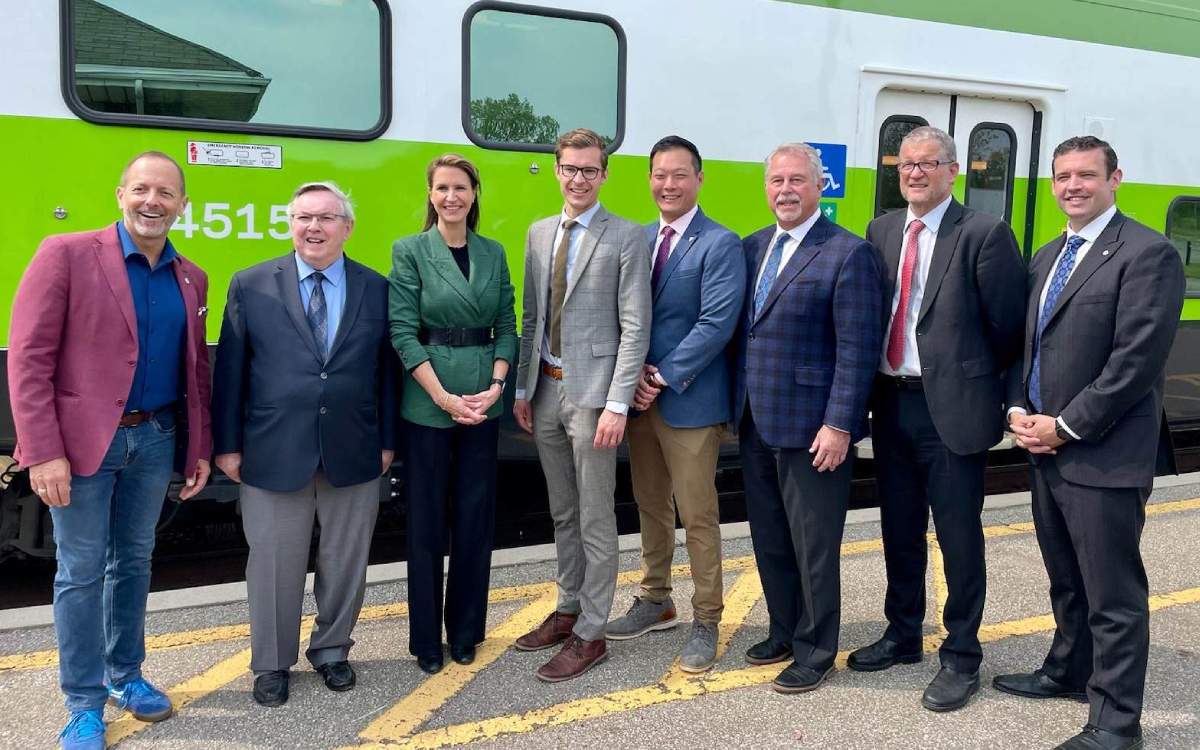 In St. Catharines on Friday, Premier Doug Ford, Minister of Transportation Caroline Mulroney, Associate Minister of Transportation Stan Cho, and other government officials announced that starting this weekend there will be three GO train roundtrips to and from Niagara every day of the week year-round. Photo credit: The Niagara Independent
Just in time for the Victoria Day long weekend, the Ontario government has made it easier to travel to and from Niagara by significantly increasing the number of GO train roundtrips between Toronto's Union Station and Niagara Falls.
In an announcement at the St. Catharines VIA station Friday morning, Premier Doug Ford said expanding GO service to Niagara will help promote local tourism and grow the province's economy. 
"Niagara is one of the most beautiful destinations in Ontario, drawing millions of visitors from around the world every year," said the Premier. "More service, more often at an affordable price is part of our commitment to build Ontario's economy while making our province the best place in the world to live, work, visit and play."
Starting this Saturday, May 20, weekend service to the region will increase by one daily roundtrip, while weekday service will increase by two daily roundtrips starting Tuesday. 
Up from nine per week, the new schedule of 21 weekly train services will see three roundtrips per day every day of the week, Monday to Sunday. 
Though the government hopes the expanded schedule will draw more tourists to the area during the busy summer season, the changes announced Friday are not seasonal. According to the province, the changes are here to stay year-round and represent just one step in a series of steps to bring more regular daily service to Niagara. 
"This is another exciting step in our government's plan to deliver more GO train trips, more often across the network," said Minister of Transportation Caroline Mulroney. "By improving more convenient transportation options between Niagara Region and the Downtown Toronto core, we're unlocking opportunities for jobs and economic growth across the Greater Golden Horseshoe." 
Seasonal weekend GO train service to Niagara was first introduced in 2009. Weekday service to and from Niagara Falls started in January 2019 under the Ford government, with seasonal weekend service extended year-round in August 2019, before the pandemic temporarily paused train service to the area. 
Premier Ford and Minister Mulroney announced the return of year-round weekend GO train service last August.
Mayor of Niagara Falls Jim Diodati, who was there last summer as well as present at Friday morning's announcement, called the initiative a "gamechanger". 
"Pleased to see that the Ontario government is stepping up for the people of Niagara Falls once again," said Mayor Diodati. "This additional GO train service will be a gamechanger for our local economy and the province."
Mayor of St. Catharines Mat Siscoe, also in attendance Friday, was similarly complimentary of the government's effort to increase service to the area. 
"These service enhancements are especially welcome news for the people of St. Catharines, who will once again have a direct stop at St. Catharines VIA station."
Since October 2022, improvement work on the north track at St. Catharines station has forced GO Transit to bypass the stop. 
"Under the Premier's and Minister Mulroney's leadership, we at the Ministry of Transportation have been laser-focused on delivering expanded services for the people of Niagara," said Associate Minister of Transportation Stan Cho, who was also on hand to help deliver the good news Friday. 
"By increasing GO train service to the region, our government has simultaneously opened up a lifeline for Niagara commuters travelling into the GTHA for work, business, and everything in between, and made it that much easier for tourists coming from Toronto to explore everything this amazing area has to offer."
The province said it is committed to incrementally increasing GO train service levels every year between Niagara and Toronto.
Per officials, the government is actively working with Metrolinx and CN, which owns the local rail corridor, to find ways to separate passenger rail from freight rail lines, thereby opening more opportunities for faster, more frequent train trips. 
With the expanded service announced Friday, eastbound trains will now depart Niagara Falls for Toronto weekdays at 6:32am, 1:10pm, and 9:10pm, and weekends at 12:05pm, 4:05pm, and 8:05pm.
Westbound trains will leave Union Station for Niagara weekdays at 9:52am, 5:12pm, and 9:52pm, and weekends at 9:03am, 1:03pm, and 5:03pm.
"Once again, Premier Ford and Minister Mulroney are demonstrating their commitment to getting Niagara what it deserves," said MPP for Niagara West Sam Oosterhoff. "Since day one, our government has been committed to expanding GO, and this is another great step towards fulfilling that promise."
In September 2022, the Niagara Region acquired the St. Catharines and Niagara Falls train stations from VIA Rail with the intention of upgrading both locations for future GO expansion. 
The Region has committed $40 million to redeveloping the stations. Local officials hope the redeveloped sites will eventually accommodate two-way, all-day GO train service between Niagara and the GTHA.