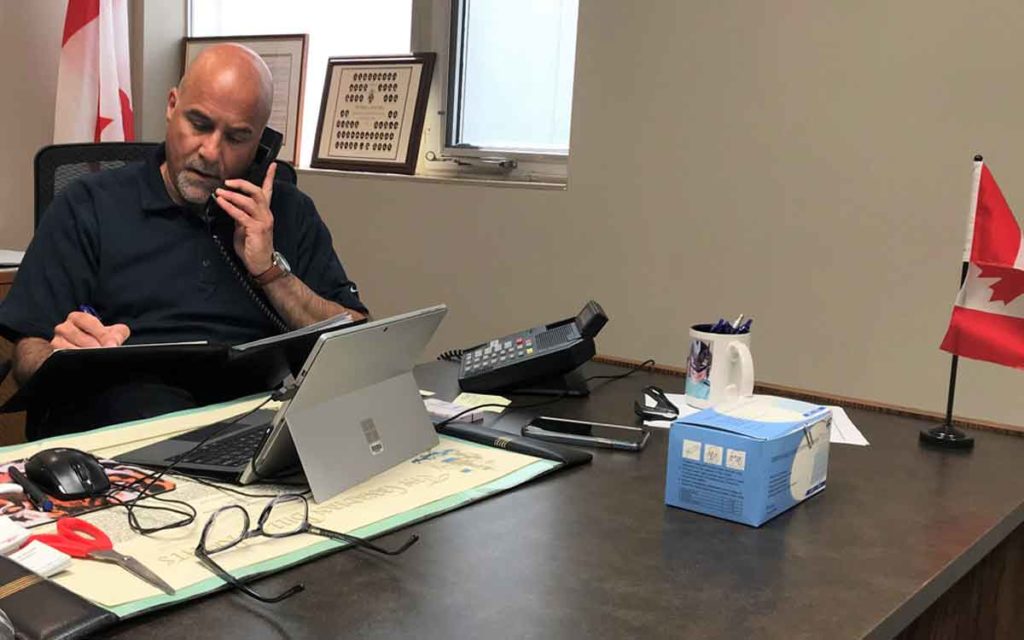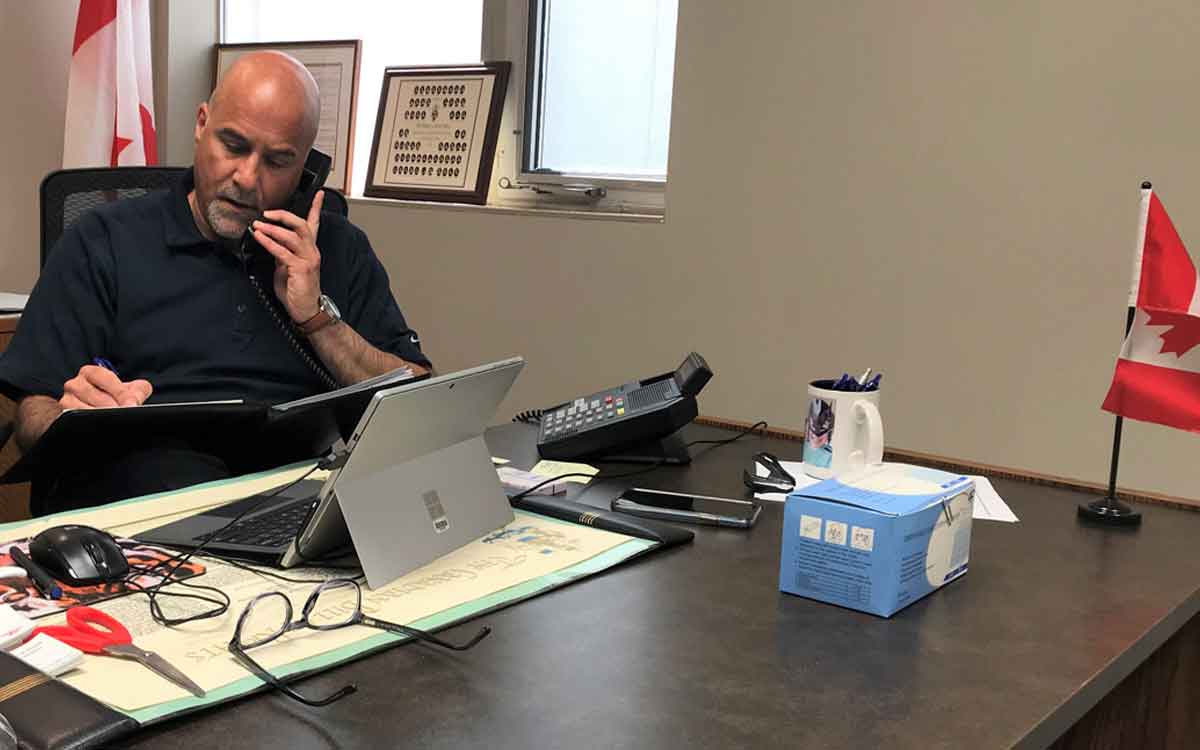 Niagara Falls MP Tony Baldinelli chats with a constituent at his office. Supplied photo.
While the federal Liberal government has rolled out a long list of funding subsidies for businesses and individuals negatively impacted by the COVID-19 pandemic, Niagara's MPs say they are still getting numerous calls on a daily basis from constituents struggling or confused by how to access funding or gravely concerned that their existing funding is about to run out and they aren't back to work yet.
Both Niagara Falls MP Tony Baldinelli and West Niagara MP Dean Allison say legislation could be improved and much of the confusion and hiccups could be avoided if MPs were in the House able to question and debate proposed legislation with the end goal to make them better. "The Prime Minister has done tours of factories but can't sit in the House so we can do our work?" questioned Baldinelli. He said the video version of question period just isn't the same and it's too easy for the government to dodge questions. "I had my questions about their plan for supporting tourism and when I asked them the Minister responsible was no longer on the call and so the Minister of Agriculture was answering questions about the government's plan for tourism," said a frustrated Baldinelli. "It's totally disappointing. It's unacceptable in fact."
Allison, who has for weeks been advocating for MPs to return to the House, is equally frustrated. He said because there is no healthy debate of issues in parliament, there is a constant knee-jerk reaction by the government when it comes to handling the COVID-19 crisis. "This is the reason why we need to get back to parliament so we can debate the bills and make them better." Allison added that when the Conservatives were in power many good ideas came forward from the Liberals that helped make certain pieces of legislation better. "When you have a government that says they are just going to govern without parliament then this is a perfect example of how it's flawed."
Both MPs say they have been receiving numerous calls on a daily basis with regard to the Canada Emergency Response (CERB) funding. The Liberals have said they will extend the CERB funding for those that still need it. Canadians were first able to apply back in early April for the CERB, and can claim the benefit for a maximum of 16 weeks between March 15 and October 3, meaning there will still be Canadians receiving funding for weeks to come, but others are soon going to run out. There are also Canadians who could be nearing the end of their benefit payments earlier if they were rolled onto the Employment Insurance program from the beginning. Allison said he's in favour of moving Canadians back to Employment Insurance but it has to be done right. "I think they have to get back to EI but you have to figure out how to best transition that."
The issue has become the potential gap from when the extended funds will start to flow to those that need it. Baldinelli's office said they have been flooded with calls from people concerned about not being able to make monthly payments. People also weren't aware that there was a blocked payment due to receiving $2,000 in advance and now there could be a month until the next payment arrives. "People thought they still had one month left of the benefit and then all of a sudden it just stopped and now they're panicking because they have to go a month without any kind of pay," said April Jeffs who works in Baldinelli's office.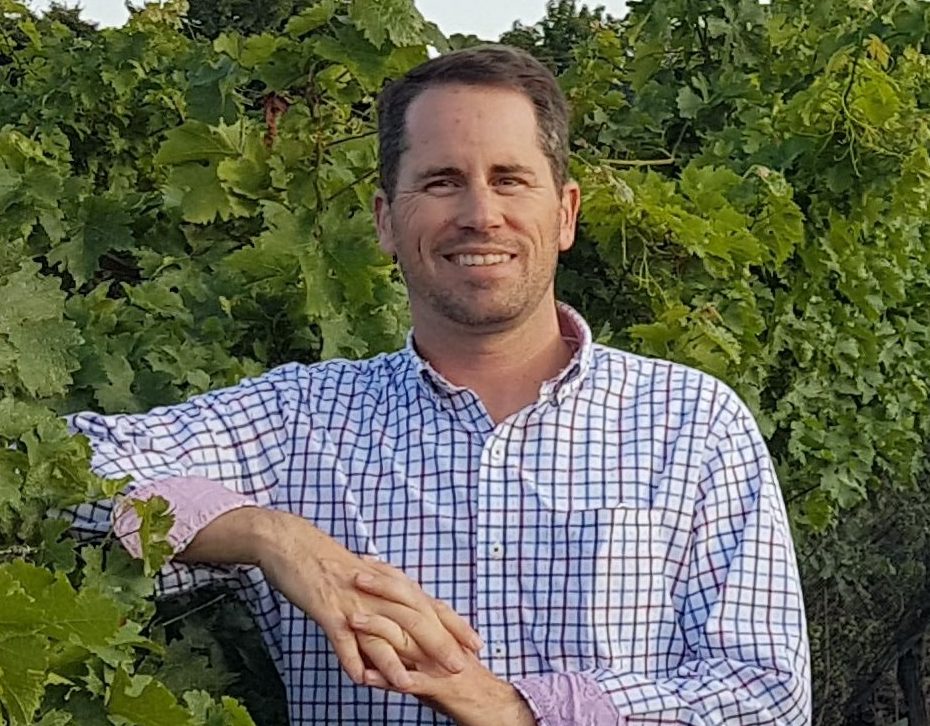 Kevin has spent over two decades as a public relations professional in a variety of sectors including professional sports, the arts, industry and healthcare.  After tiring of the daily commute to Toronto he returned to Niagara and launched The Niagara Independent, an online news source published twice weekly.
He is a graduate of Brock University, Niagara College and the Richard Ivey School of Business. He was named one of Niagara's 40 Under Forty in 2005.
Kevin is most proud of his twin daughters. He is also a triathlete and four-time Ironman finisher.