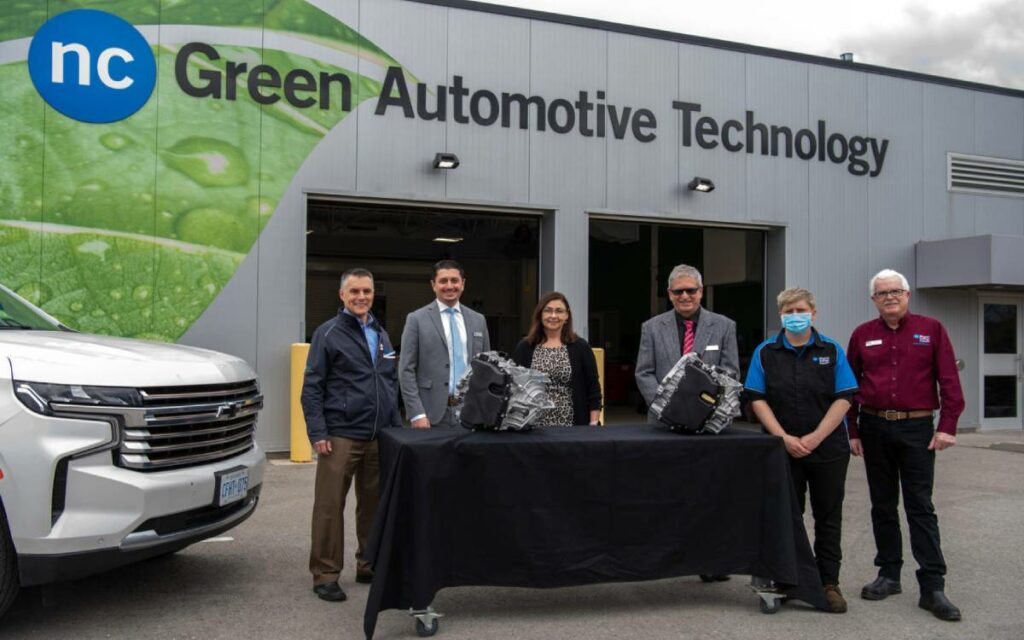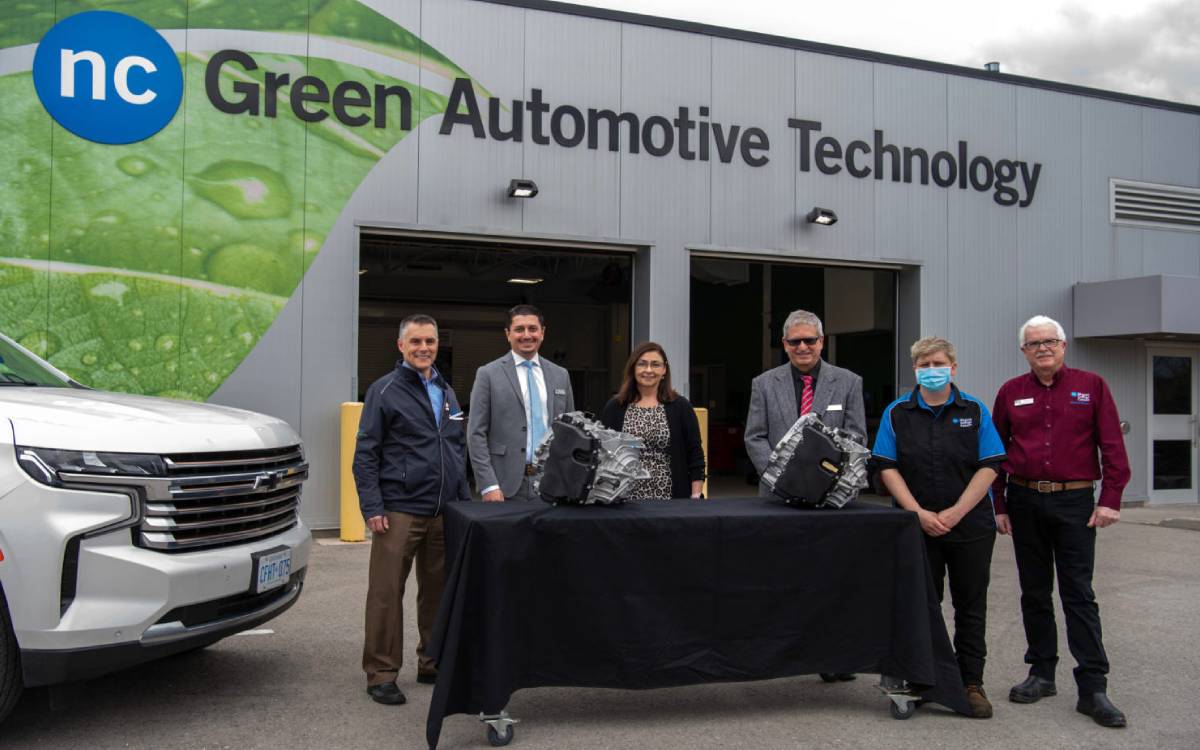 Pictured left to right: GM St. Catharines plant director Gary Athoe, dean of Media, Trades & Technology Vincent Shaikh, Niagara College Vice-President, Academic Fiona Allan, associate dean of School of Trades Jeff Murrell, Motive Power Technician student Ashley Davey and program coordinator Wayne Toth, April 6, 2022. Photo credit: Niagara College
At a time when the Ontario government is making a concerted effort to modernize and destigmatize careers in the skilled trades, the private sector continues to do its part to ensure the province has competent men and women to make tools, build homes, and service cars now and into the future. 
Last week, General Motors (GM) St. Catharines donated 12 new Chevrolet Equinox transmissions to Niagara College's School of Trades. 
The generous gift will allow students in the school's Motive Power Technician program to gain valuable hands-on training with the latest in automotive technology before they even step foot on the shop floor. 
"We have a longstanding relationship with Niagara College. Our mutual interests in education and training are unparalleled," said GM St. Catharines plant director Gary Athoe, who presented the transmissions to students at the Green Automotive Technology lab in Welland on April 6. 
"Many of our new team members are graduates of Niagara College and today's donation is just one more step in our ongoing support of the College's hands-on experiences."
GM has a long history of materially supporting Niagara College and its students. Over the decades, the company has donated several vehicles and parts to the Motive Power Technician program. In 2014, GM gifted over 50 3.6L engines and, most recently, gave a full Chevrolet Suburban and Chevrolet Silverado. 
And that's all in addition to over $500,000 in monetary support the company has donated toward equipment and learning resources, campus redevelopment, and scholarships and bursaries since 1995.
"The School of Trades at Niagara College is grateful to General Motors for this generous donation and to everyone at GM for their help to get these transmissions into the hands of students," said School of Trades associate dean Jeffrey Murrell. 
"We are always looking at new ways to innovate our curriculum to ensure our students receive the best career preparation, and GM continues to be a strong supporter of the next generation of automotive technicians."
According to program coordinator Wayne Toth, students will learn the ins-and-outs of the industry-standard 6T60 Equinox transmissions by taking apart, servicing, and rebuilding the machines, before testing their work on the school's upgraded dynamometer. 
"Students will disassemble these transmissions, then analyze, diagnose and repair them to prepare for their careers in the automotive industry," said Toth. 
"Automotive technology is changing at such a rapid pace, and we are grateful to be able to give our students access to the latest innovations in vehicles today to support their learning. This donation will continue to put our program at the forefront of all automotive programs."
"We are very thankful for our partnership with GM Canada and their ongoing support."
Niagara College's two-year Motive Power Technician co-op program prepares students for a variety of careers in the automotive sector, including dismantler, installer, automotive service technician, service writer, and technical salesperson.