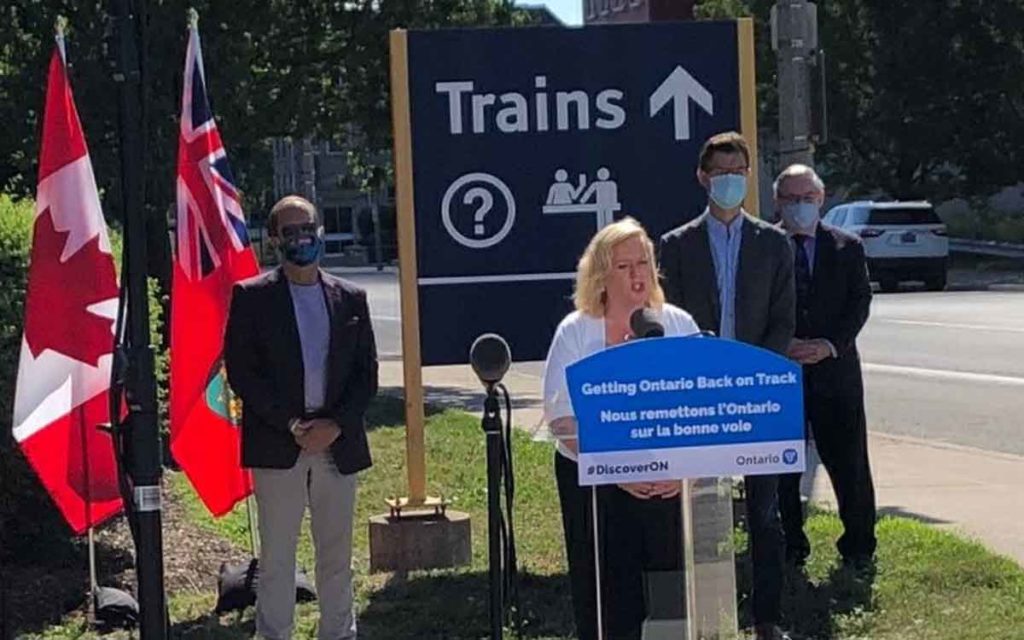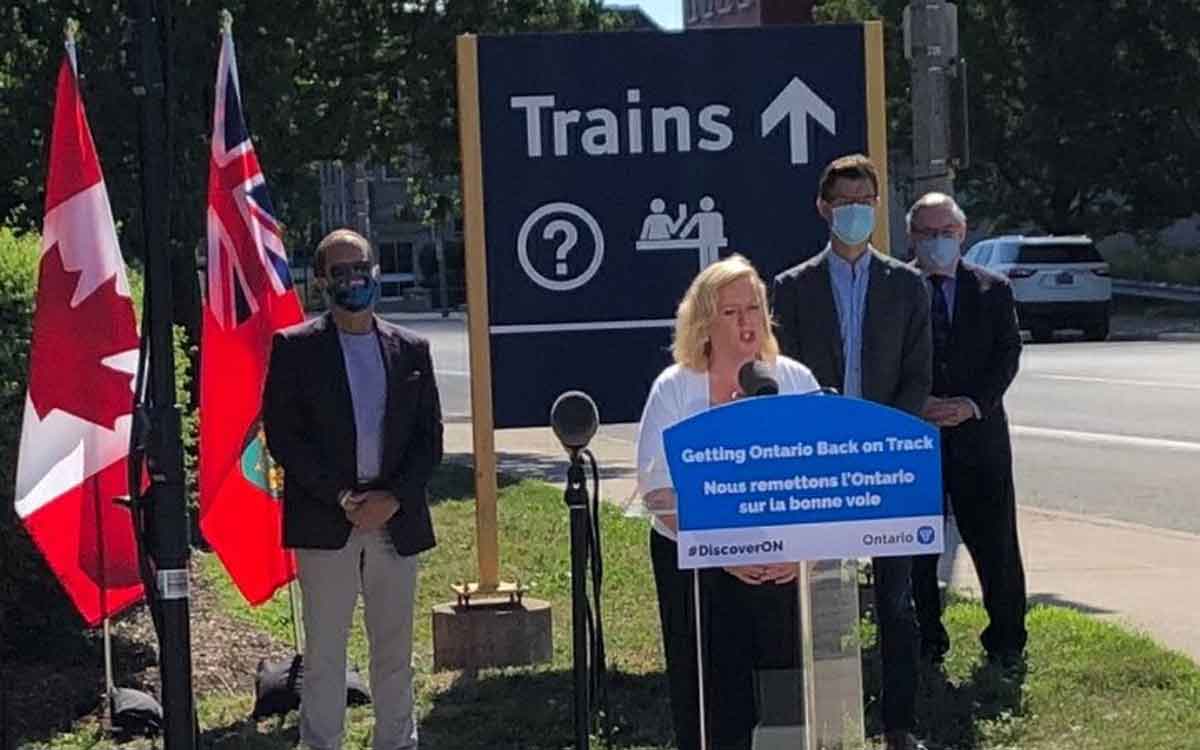 Lisa MacLeod, Minister of Heritage, Sport, Tourism and Culture Industries, is joined by (from left) Niagara Falls Mayor Jim Diodati, Sam Oosterhoff, MPP for Niagara West and Regional Chair Jim Bradley. Supplied photo.
Weekend GO train service to the Niagara region will begin to roll once again starting on August 1. New schedules with four trips to and from Niagara Falls and St. Catharines each Saturday, Sunday and holiday will provide more service than in previous years and enable day or overnight trips, either in Niagara or Toronto.
On hand to make the announcement in Niagara Falls earlier this week was Lisa MacLeod, Minister of Heritage, Sport, Tourism and Culture Industries. She was joined by Sam Oosterhoff, MPP for Niagara West. They made the announcement on behalf of Caroline Mulroney, Minister of Transportation.
Minister MacLeod called the announcement of GO train service to and from Niagara, "another step in Niagara Region's recovery." The tourism sector across Niagara but Niagara Falls in particular has been decimated by the COVID-19 pandemic.
"I am thrilled that weekend GO service is able to resume to Niagara. It will make it easier for people to safely visit one of the most attractive destinations in Ontario. With the world-famous falls, parks, wineries and unique local business and attractions, the Niagara Region truly demonstrates how Ontario offers the world in one province," said Minister MacLeod who's made several announcements in Niagara during her time as tourism minister.
GO Transit has a partnership with Niagara Parks Commission that connects WEGO bus service with the GO trains in Niagara Falls, bringing travellers to their final Niagara Falls destinations without having to find taxis or parking.
Niagara Falls regional councillor Peter Nicholson said he's pleased to see the GO train service resume again.  "With our economy starting to open up, it s a good time for people to come and safely experience the amazing attractions, stores, and restaurants that Niagara has to offer. This is an encouraging step forward for our tourism sector, and Niagara's overall economic recovery."
Janice Thomson, CEO of Niagara Falls Tourism feels that return of the weekend GO Train service is a positive indicator of business returning to Niagara Falls in a carefully measured and well-managed way. "Travellers coming to Niagara Falls will receive in-transit messaging regarding the need to wear masks and maintain social distancing, along with a welcome when they arrive," explained Thomson. "With WEGO transportation included in the train ticket, visitors are receiving excellent value and access to attractions that are open and practicing new protocols detailed on the safetoplay.ca website," Thomson added.
Thomson said that for a few years now, train service has been a dependable way for visitors from Toronto to make the trip to Niagara Falls – and likewise, for Niagara residents to visit Toronto. "We are pleased to see it return for the August Civic Weekend."
The government is encouraging people to travel regionally in order to rediscover what Ontario has to offer while contributing to the province's social and economic recovery.
"The expansion of GO service to and from Niagara comes just in time for the August long weekend," said MPP Oosterhoff. "With trips scheduled every four hours, it offers consistent and flexible options for your trip with no traffic delays, so Niagara residents can now visit family and friends in Toronto on the weekend or safely visit other destinations."
Niagara Falls' accommodations, attractions, restaurants, retail stores and experiences are implementing stringent measures designed to ensure cleanliness, physical distancing and reduced contact. Visitors to the region are encouraged to check the local restrictions for Niagara at niagarafallstourism.com and safetoplay.ca.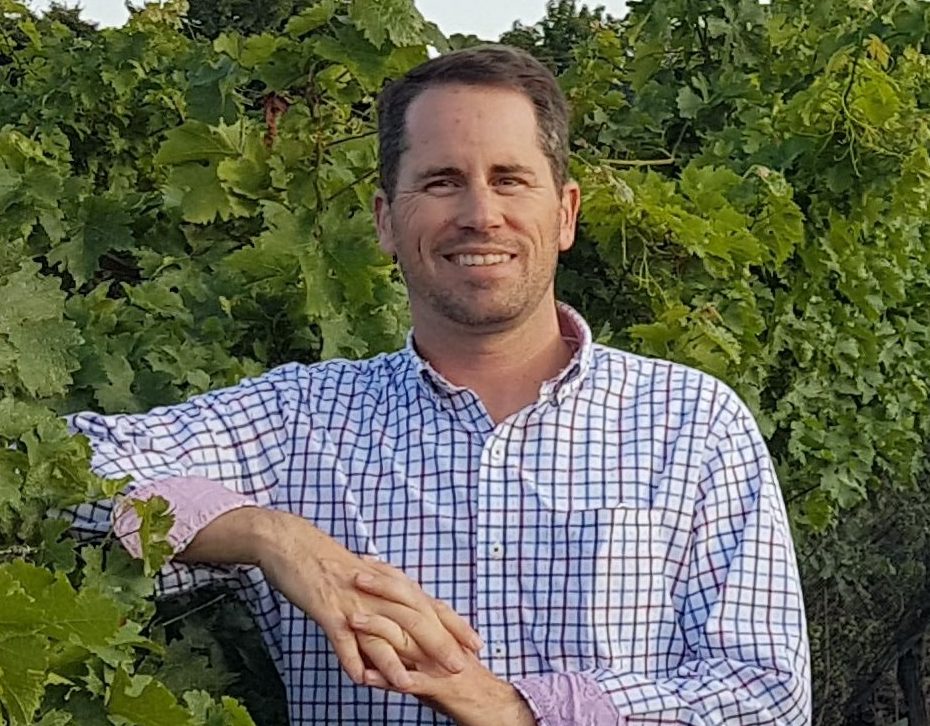 Kevin has spent over two decades as a public relations professional in a variety of sectors including professional sports, the arts, industry and healthcare.  After tiring of the daily commute to Toronto he returned to Niagara and launched The Niagara Independent, an online news source published twice weekly.
He is a graduate of Brock University, Niagara College and the Richard Ivey School of Business. He was named one of Niagara's 40 Under Forty in 2005.
Kevin is most proud of his twin daughters. He is also a triathlete and four-time Ironman finisher.