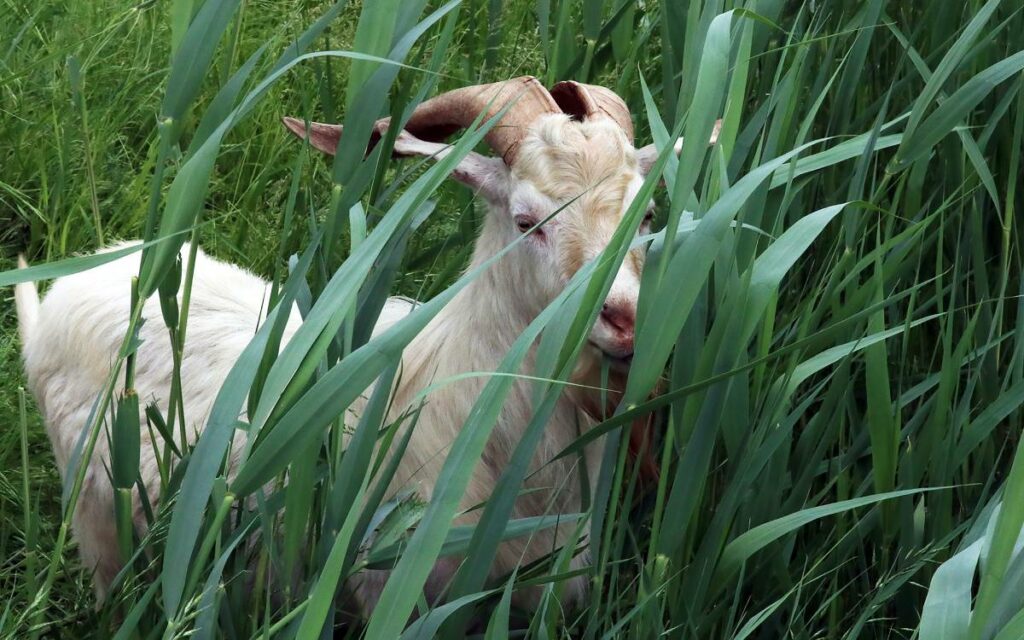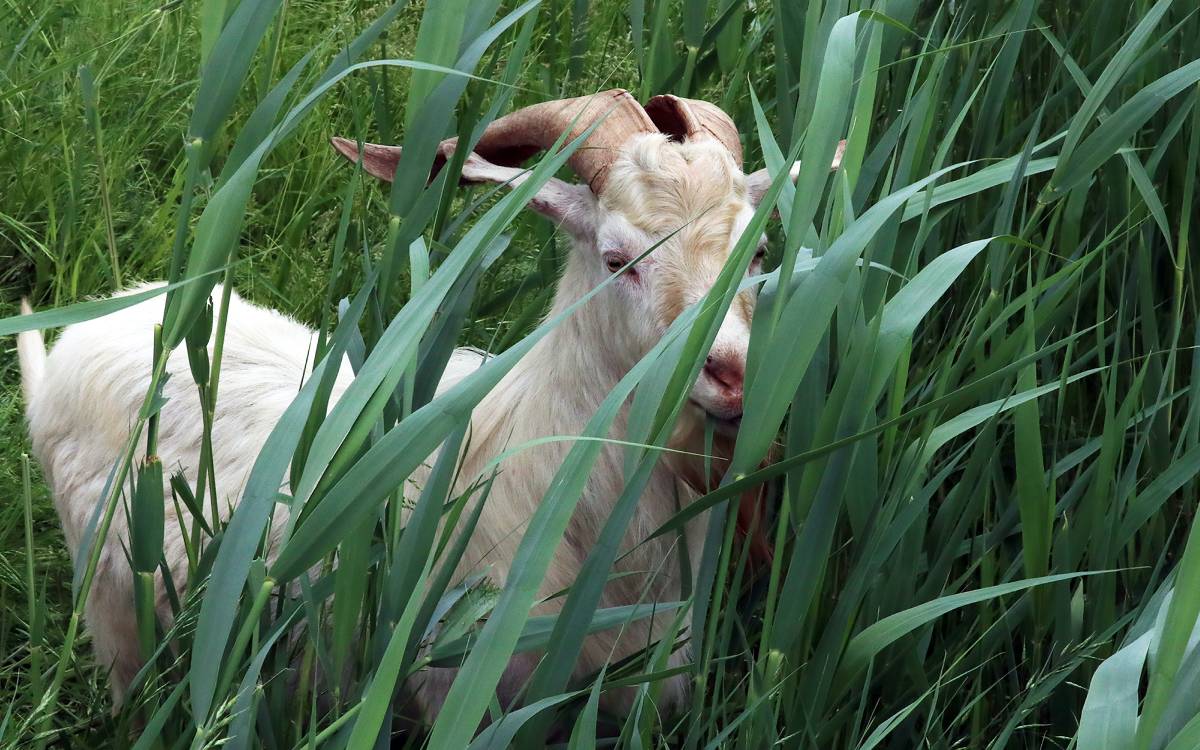 The animals were used to clear invasive species and overgrown vegetation in areas around Niagara's hydroelectric power sites. Photo credit: OPG
Bees, birds, turtles, and goats: Ontario Power Generation's Niagara Operations are abuzz with biodiversity, and once again earning international recognition for environmental excellence.
On Thursday, April 7, it was announced that OPG's Niagara hydroelectric station group – which includes the Sir Adam Beck and DeCew hydroelectric generating stations, as well as the Sir Adam Beck Pump – was awarded gold certification by the Wildlife Habitat Council (WHC). 
The WHC certifies conservation programs on corporate lands in 28 countries around the world and promotes environmental management through partnerships and education. 
All applications for certification are reviewed and scored on an individual basis by a third party against project-specific criteria, with a score falling into three categories: certified, certified silver, and certified gold.
OPG's Niagara Operations previously won gold in 2019.
"Overall, OPG's Niagara programs scored higher this year than it did in 2019," said Jacob Barbara, Site Environmental Advisor with OPG. 
"This indicates our programs have improved over the past three years and continue to provide meaningful, positive impacts to both the environment and our communities."
OPG's five Niagara sites earned top marks this year for a variety of ongoing biodiversity initiatives. These include a nesting box monitoring program for migratory birds, a bee box program that hosts hundreds of pollinating honeybees each summer in areas around the DeCew I and II generating stations, and a partnership with Niagara College to improve turtle nesting habitat monitoring and protection.
Recently, OPG also launched a goat-grazing pilot project at the Sir Adam Beck Pump and DeCew I and II sites to manage invasive plant species and clear overgrown vegetation.
At the Niagara Falls location, in just a few weeks about 30 goats cleared 140,000 square feet of fast-growing, invasive reeds.
In St. Catharines, the goats were effective in helping control overgrown vegetation to allow workers to access the penstocks for inspection.
The innovative, environmentally friendly method of vegetation removal allowed OPG to avoid the use of herbicides and potential contamination of the surrounding landscape. 
The Niagara Operations' latest gold certification is just one of many recognitions OPG has received from the WHC in recent years. In June 2021, OPG's Western Waste Management Facility, now known as Nuclear Sustainability Services, was awarded the WHC's Gold Program of the Year, the highest level of recognition achievable from the non-profit organization. The facility was certified gold in March 2021.
Other OPG sites to receive gold certification in the past include the Eastern Operations hydroelectric group, Lennox generating station, and the Darlington and Pickering stations.
Across the company, OPG is engaged in a number of programs with conservation authorities and environmental agencies that range from habitat restoration to planting native trees and shrubs, to managing ponds and wetlands. 
The Sir Adam Beck I, Sir Adam Beck II, and Sir Adam Beck Pump generating stations in Niagara Falls are considered the "crown jewels" of OPG's province-wide hydroelectric fleet. The three stations alone have a combined generating capacity of about 2,123 megawatts – enough to power more than one million homes each year.