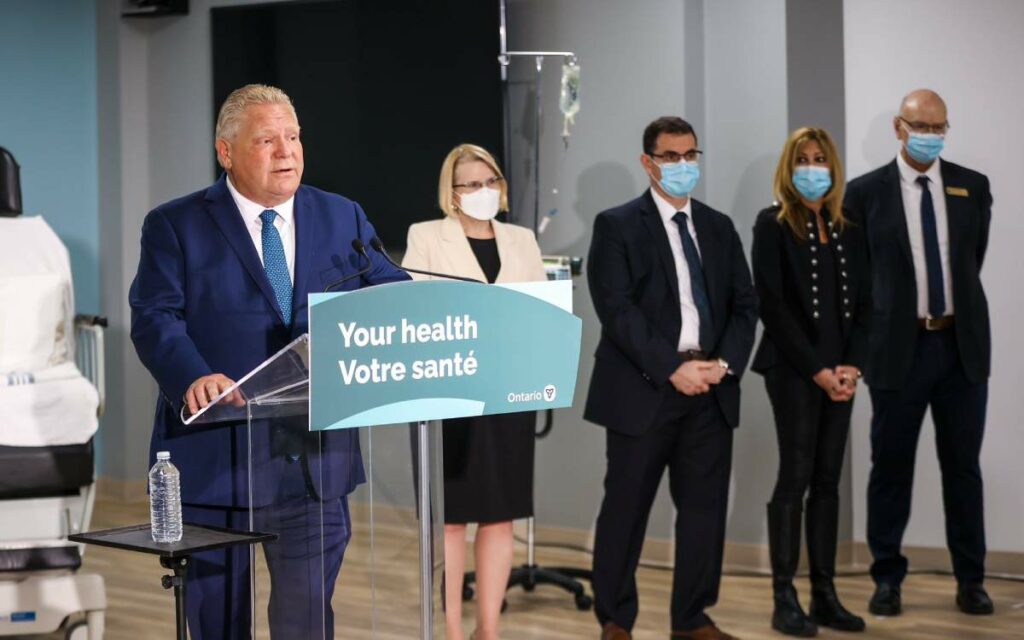 Over the next few years, the government will allow more procedures to occur in private community facilities. Local Opposition MPPs accused the premier of deliberately underfunding public healthcare in order to privatize Ontario's system. Photo credit: Twitter/Doug Ford
In an effort to eliminate surgical backlogs and reduce wait times, the provincial government announced on Monday that it would be significantly expanding the number and range of procedures done through community surgical and diagnostic centres. 
Though the surgeries will take place in private facilities, all procedures will continue to be publicly-funded. 
"When it comes to your health, the status quo is no longer acceptable," said Premier Doug Ford. "Our government is taking bold action to reduce wait times for surgeries, all while ensuring Ontarians use their OHIP card to get the care they need, never their credit card."
The province will roll out the new initiative in three phases. 
The first phase, which begins immediately, focuses on cataract surgeries. The second phase incorporates MRI, CT imaging, and colonoscopy and endoscopy procedures. While the last phase, starting in 2024, includes hip and knee surgery. 
The government is investing $300 million in 2022/23 as part of its "surgical recovery strategy."
"Timely and convenient access to surgery and diagnostic imaging is critical to keeping people healthy," said Deputy Premier and Minister of Health Sylvia Jones. "This plan will boost the availability of publicly funded health services in Ontario, ensuring that Ontarians currently waiting for specialized surgeries will have greater access to the world class care they need, where and when they need it."
Speaking in support of the government's plan, Niagara West MPP and Parliamentary Assistant to the Minister of Red Tape Reduction Sam Oosterhoff pointed to the successful outsourcing of surgeries in other areas around the country. 
"We see from other jurisdictions across Canada that providing outpatient surgeries and procedures at community surgical and diagnostic centres improves surgery wait times and patient experience," said Oosterhoff.
"This is good news for patients in Niagara". 
On the other side of the aisle, local Opposition MPPs cried foul, accusing the Ford government of purposefully withholding funds from the healthcare system in order to usher in privatization.
"Ford and the PCs have deliberately underfunded our health system by billions, while attacking nurses (and) front-line workers with Bill 124, to push forward their plan for privatization," said Niagara Falls MPP Wayne Gates. 
"This has been Doug Ford's plan all along," echoed Niagara Centre MPP Jeff Burch on Facebook. "He (Premier Ford) has clearly underfunded health care, demoralized health care workers with his wage-capping Bill 124 and is leaving Ontarians desperate for care." 
"No one," according to St. Catharines MPP Jennie Stevens, "gave the Premier a mandate for trading in pieces of public healthcare to private, for-profit operations – that's because he never campaigned on introducing American-style private healthcare in to Ontario."
At present, community surgical and diagnostic centres licensed under the Independent Health Facilities Act perform approximately 26,000 OHIP-insured surgeries and procedures annually.
There are currently an estimated 206,000 people in Ontario waiting for surgical procedures.