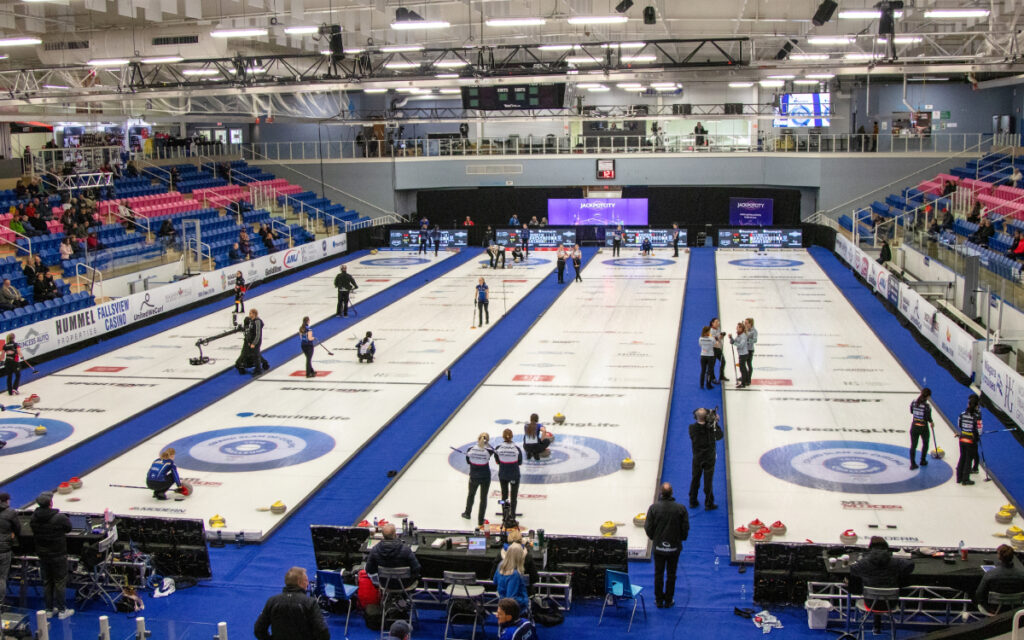 Niagara Falls event features curlers from across the globe. Photo credit: Bruno Campagiorni 
Driving through the parking lot of the Gale Centre in Niagara Falls says it all. 
License plates from Quebec, Manitoba, Alaska, Oregon – and that's just the curling fans that have driven to this week's Hearing Life Grand Slam of Curling.
Hundreds of others from around the world are either here to compete, coach or watch the world's best take to the ice at the transformed hockey rink. 
The set-up is fantastic as Sportsnet began coverage of the event across the country Thursday night. 
Sunday's finals are expected to be a sellout, and ticket sales have been brisk all week-long since the Grand Slam began Tuesday. 
"Strength in numbers in the stands, and from what I've heard the curlers are having a great time and enjoying what a great city we have here," said Spencer Maves, the Senior Director of the event. 
"To top it off, the curling's been great too."
Maves was also excited to say that the different curling teams have been chauffeured to Niagara Falls each night to see their respective countries' colours lit up on the Falls.
"They just love it, I would say Italy looked best," proclaimed a very proud, but busy, Maves. 
Nino Bourikas, Sportsnet's Manager of Account Services, is a Brock Sports Management graduate and longtime resident of the region while he was working with the Niagara IceDogs.
His job now is activation and sponsorship, including The Grand Slam of Curling. 
"It's a different world here, curling compared to hockey," Bourikas explained.
"We're trying to bring new and refreshing excitement to the sport, and that includes outside of the arena with Apres Curl activation where we encourage all the fans in between draws to go out there and check out all the music, food and drink, and have a good time. The party is not only inside the arena but outside as well.
Another thing we wanted to focus on was the curlers themselves – they're all athletes. You can see how strong they all are, and how exhausting the sport is."
The main rink at Gale Centre features four sheets, and has seen four draws per day starting at 8:00am and ending after the evening draw which begins at 7:30pm. 
"A ton of hours went into setup, it does look amazing, and I hope this event will return to the city in the future," said Niagara Falls Manager of Recreation and Customer Service Rob McDonald. 
Here's a look at what lies ahead over the final three days: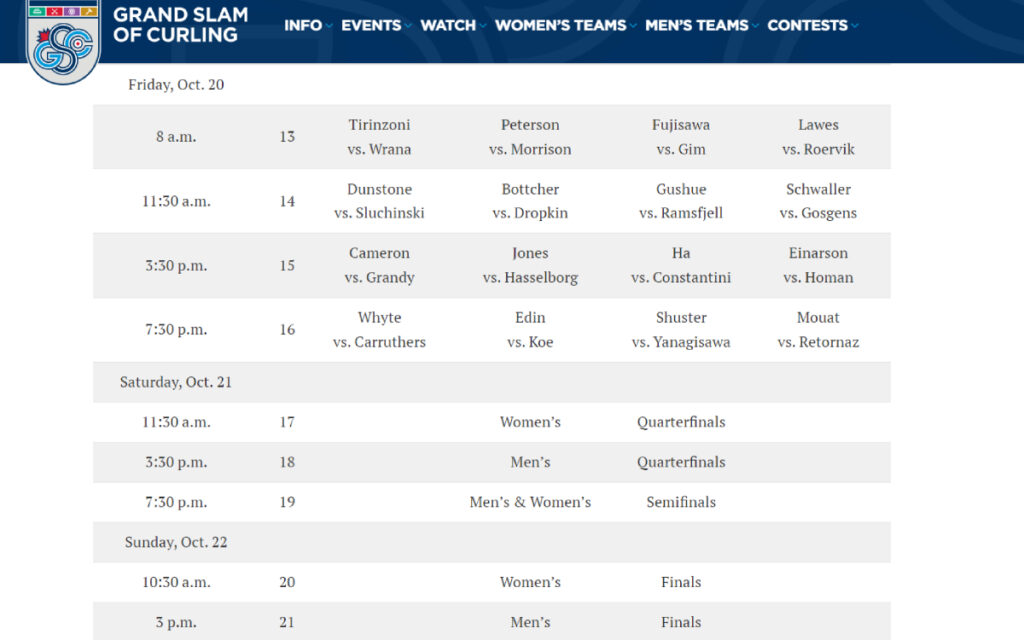 "Based on how many people we've had in the building, and how many walk-ins we've had, I think we're going to have a very full building come Friday night, Saturday night and all day Sunday," Maves added. 
Tickets are still available here https://thegrandslamofcurling.com/tickets/ and at the Gale Centre Box Office.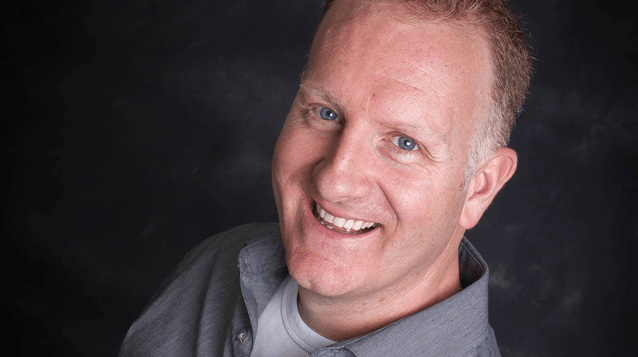 Rod Mawhood is a lifelong Niagara native who has had the pleasure of working in all three mediums – Radio, Print and TV – for over 20 years. His first announcing gig was with the then St. Catharines Stompers. Since then he's worked in radio and TV in Toronto, and currently is the announcer for the Niagara IceDogs and Niagara River Lions.
Rod also covers the Buffalo Bills for FOX Sports and the Buffalo Sabres for NBC Sports.