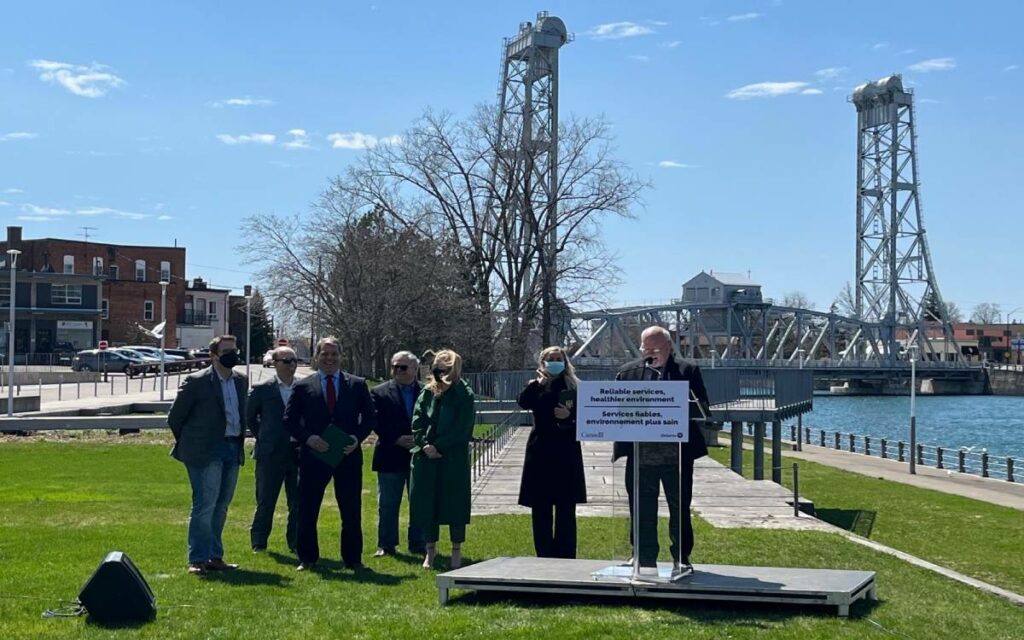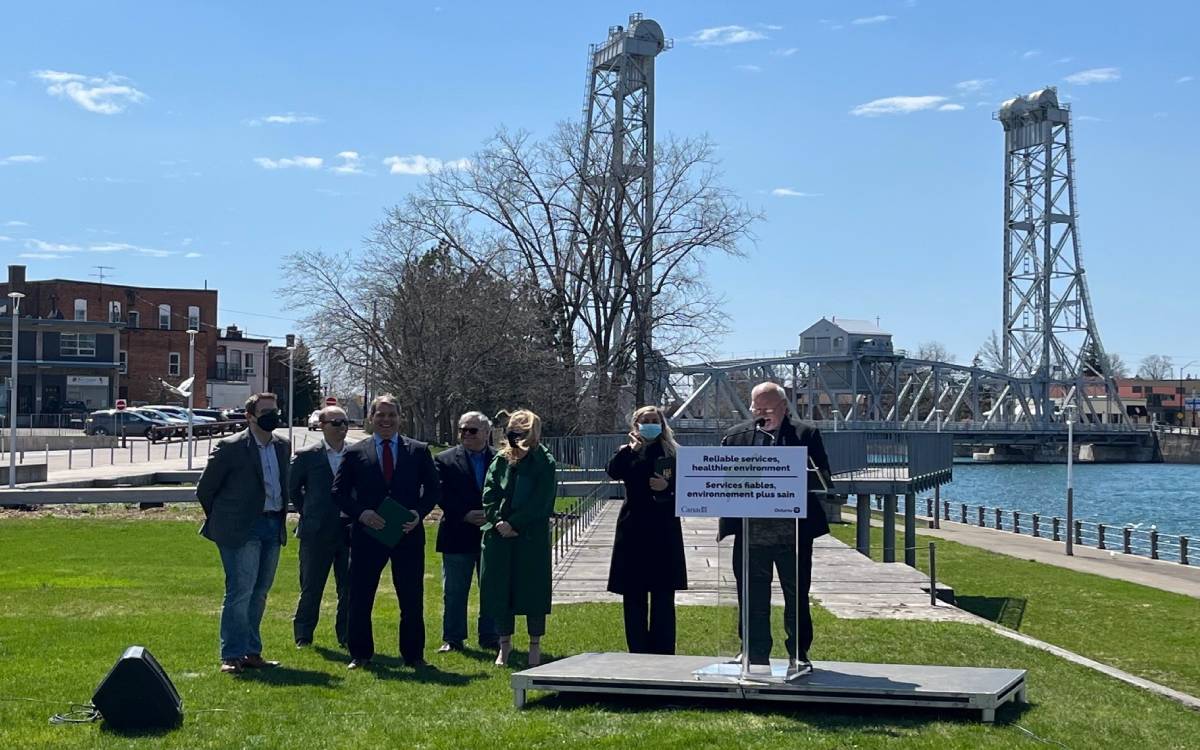 The six projects are part of a group of 144 community water infrastructure projects across Ontario to receive money from the provincial and federal governments. Officials (pictured) announced the funding in Welland on Thursday, Apr. 14. Photo credit: Twitter/City of Welland
Municipal, provincial, and federal government officials met along The Boardwalk in downtown Welland on Thursday to announce a joint investment of nearly $450 million for 144 community water infrastructure projects across the province of Ontario, including six projects in the Niagara Region.
"This multi-government partnership is an excellent example of how working together allows us to achieve so much more, so much sooner, and for so many people," said announcement emcee and Welland mayor Frank Campion. 
"It really is a tribute to all levels of government to be able to work together – and we're all working together for one reason, and that's for the people we represent."
In all, the Government of Canada is contributing $190.2 million toward the 144 projects, the Government of Ontario is providing $140.5 million, while recipient municipalities are investing more than $108.5 million. 
"Today's green infrastructure investments will bring long-lasting benefits to thousands of residents across Ontario," said Ontario Minister of Infrastructure Kinga Surma.
"These 144 projects will provide increased access to clean water, improve the reliability of our water systems, and protect health and safety. This investment is just one of the many ways our government is building a cleaner, more sustainable Ontario for today, and for generations to come."
Approximately $25 million from the joint investment will go into six community water infrastructure projects in Niagara. 
In Welland, $4.87 million will be used to install approximately 1,500 metres of watermain along Canal Bank Road, seven new hydrants, and additional valves and connections. 
In Port Colborne, just shy of $5 million in funding will support the replacement of roughly 2,035 metres of cast iron watermain with PVC, side street interconnections, and installation of fire hydrants and main line water valves. Affected roadway, curbs, gutters, sidewalks, and driveways will also be reinstated, as they will be in Welland as well. 
"Every community in Canada should have access to safe, clean drinking water," said Liberal MP for Niagara Centre Vance Badawey. "The investments in Dain City's water supply will help keep the community healthy and allow it to welcome more businesses and residents."
Approximately $11.6 million will go toward three projects in the Niagara West communities of Lincoln, Grimsby, and Pelham. 
Lincoln will see the replacement of 6,540 metres of watermain and the installation of eight new SMART hydrants. Grimsby will have 2,300 metres of watermain replaced along Main and Elm Street. While Pelham will have over 2,900 metres of cast iron watermain replaced and 19 new fire hydrants and 14 water valves installed. 
"The infrastructure investments announced today help protect our access to clean and safe drinking water for families right here in Niagara and across the province," said Ontario PC MPP for Niagara West Sam Oosterhoff. 
"I continue to advocate for federal investments in critical local infrastructure in Niagara West like the clean water projects announced in Grimsby, Lincoln and Pelham today," said Oosterhoff's federal counterpart, MP Dean Allison. 
"While most of this infrastructure is underground and unseen, these important upgrades our necessary for continued access to a clean and safe water supply."
The City of Niagara Falls also received over $3.2 million from the provincial and federal governments to replace over 2,500 metres of iron watermains in the Stanley Avenue Business Park, including the replacement of ductile iron watermains and related appurtenances.