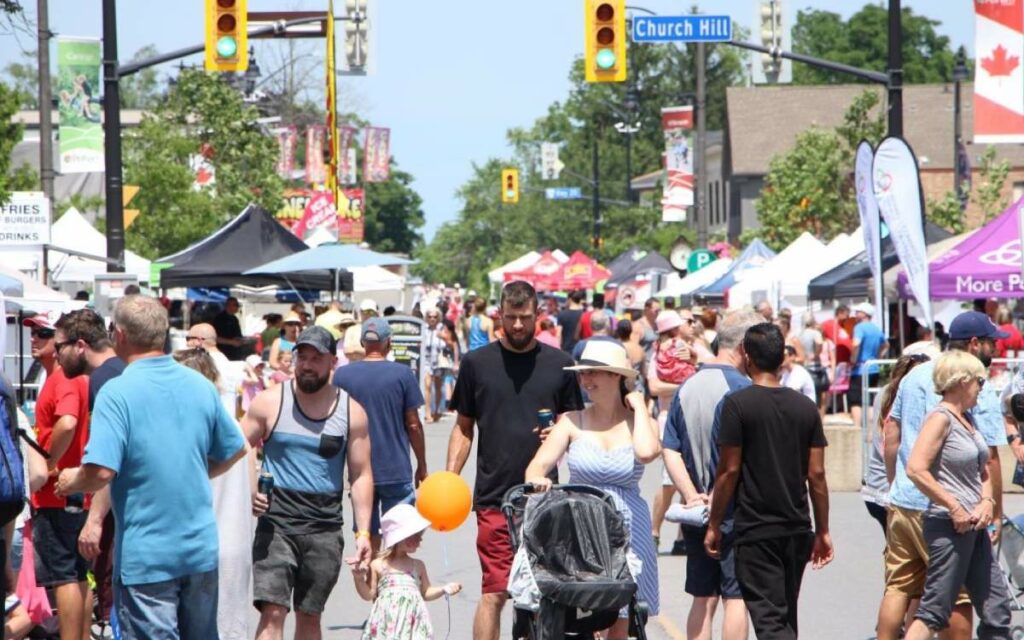 Pelham contributed two festivals to this year's list. Photo credit: Pelham Summerfest
Last week in Niagara Falls, Festivals and Events Ontario (FEO) held its annual conference celebrating the work of organizers and municipalities around the province that hosted a wide range of live entertainment and activities this past year.  
Held at the Marriott on the Falls and sponsored in part by Niagara Falls Tourism, the three-day celebration saw over two-dozen speakers deliver talks – including a session from Regional Councillor Joyce Morocco – and hundreds of organizers recognized for their efforts and ingenuity in 2022. 
As a region, Niagara took home a number of awards. 
No fewer than six local representatives made the Top 100 Festivals and Events in Ontario list, back after a two-year pandemic-induced hiatus. 
The six events honoured were Port Colborne Canal Days Marine Heritage Festival, Niagara Grape and Wine Festival, OPG Niagara Falls Winter Festival of Lights, Pelham Summerfest, Pelham Summer Chill Series, and TD Niagara Jazz Festival. 
"It is fantastic to see Pelham events recognized at this level, and it is always rewarding to have the efforts of the team, volunteers and businesses that work tirelessly to create these events recognized," said Director of Recreation Culture and Wellness at the Town of Pelham, Vickie vanRavenswaay. "Pelham Summerfest and Pelham Summer Chill each provide opportunities for the community to come together and celebrate, and we can't wait to see what this year will bring!" 
"We cannot be prouder of the hard work, time and energy Juliet (Executive Artistic Producer Juliet Dunn) has invested in keeping jazz music alive and thriving in Niagara," wrote TD Niagara Jazz Festival on Facebook. 
In addition to being named to the Top 100 list, the Niagara Falls Winter Festival of Lights also won a 2023 Achievement Award for Best Volunteer Program, with Emily Shields and Dhanvi Patel taking home the joint-distinction of Youth Volunteer of the Year. 
The 2023 municipalities of the year went to the Town of Amherstburg (population less than 50,000), Town of Newmarket (population between 50,000 and 150,000) and the City of Richmond Hill (population over 150,000).
The 2023 FEO Hall of Fame inductee was Joanne Robbins of the Port Elgin Pumpkinfest. 
The FEO was established in 1987 as an association devoted to the growth and stability of the festival and event industry in Ontario. It supports a "lively, engaged and dedicated festival and events industry by sharing knowledge, enabling networking and providing leadership on education, advocacy and promotion." 
The festivals and events industry in Ontario is estimated to generate in excess of $2.3 billion annually in contribution to regional GDP, create/sustain approximately 50,000 full-year-equivalent jobs, and foster approximately $1 billion dollars in taxes at all levels of government.