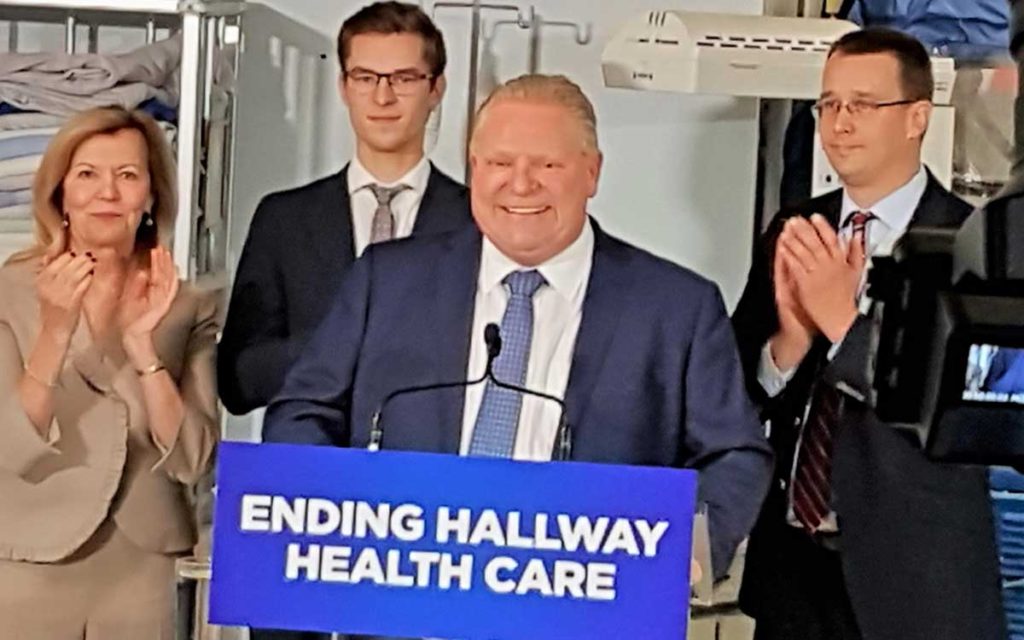 It seemed almost fitting that Premier Doug Ford announced his government would rebuild West Lincoln Memorial Hospital from the ground up while standing in the basement of the aging healthcare facility that is well past its best before date.
In a packed room in the bowels of the hospital, Premier Ford, along with Health Minister Christine Elliott, Minister of Infrastructure, Monte McNaughton and local MPP Sam Oosterhoff, announced the government will be moving immediately to start on major renovations and planning for a new hospital.
Those in attendance, including local mayors and hospital management, erupted in thunderous applause when the premier announced an immediate $500,000 grant to initiate the planning process for a new hospital and $8.5 million for immediate upgrades to basic infrastructure at WLMH – including modernizing outdated emergency generators, air handling units and elevators.
Oosterhoff was first to speak, saying that since his election two years ago he's advocated strongly for a new hospital. Clearly a local star with his constituents, the admiration for the young MPP was palpable.
Oosterhoff introduced Premier Ford, who immediately recognized the physicians, nurses and all front-line staff at the hospital, and said it is unacceptable that they are forced to work in a facility so dated. "They are the true champions and are under immense pressure. I've talked to lots of doctors and nurses at West Lincoln and I'm here today to tell you we are going to build you a new hospital," said a smiling premier.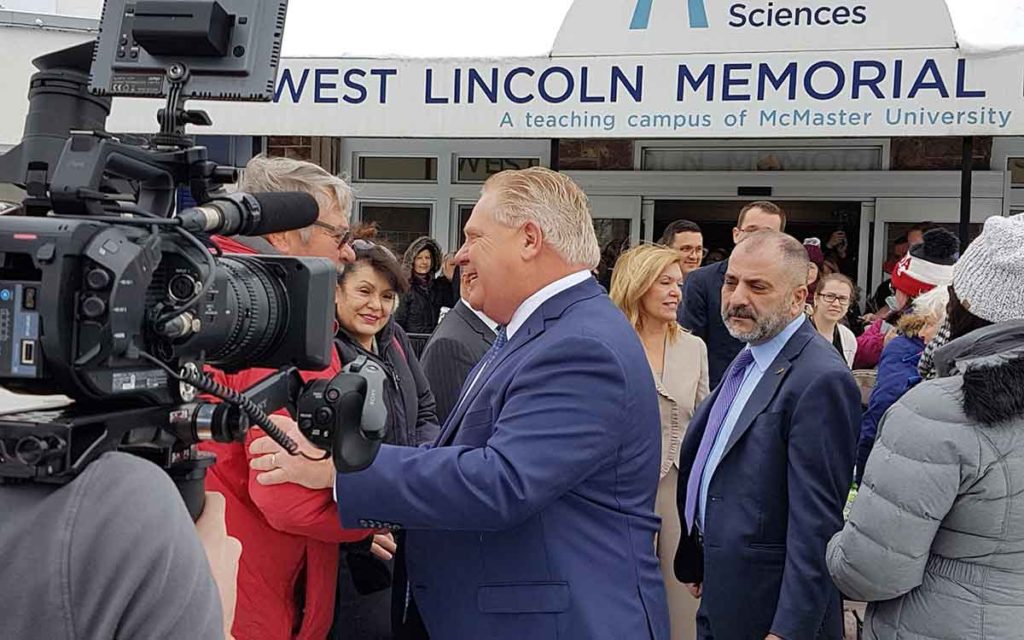 Ford said his government is listening to front-line staff to get their advice and input. "We are listening to the experts, the staff that are on the front lines every day. They know better about what they need then a bunch of politicians sitting at Queen's Park. Nobody knows the job better than the people who do it every day."
The premier also made a point to thank former PC MPP Tim Hudak who, like Oosterhoff, advocated tirelessly over the years for a new West Lincoln hospital despite being in opposition. The previous Liberal government promised west Niagara residents a new hospital several times over the last 15 years, only to cancel it twice; leaving residents extremely frustrated.
Health and Long-Term Care Minister, Christine Elliott said her mandate is to get the proper care for people when and where they need it. She reiterated her government's pledge to end hallway medicine in Ontario. She also said that the relocation of some services to Hamilton, which was to take place in January, is a non-starter. "The relocation of services from West Lincoln will not happen."
Minister McNaughton told the crowd that: "this is the right time and the right place for this investment." He also acknowledged Oosterhoff's tireless efforts calling him an "all-star".
"Christmas has come early for the people of this community," said a smiling Oosterhoff in an interview with The Niagara Independent. "This is the best gift I could hope for."
Mayor Sandra Easton of Lincoln said in a statement, "Today is a great day for Niagara West, demonstrating the efforts of one voice by our communities for health care. We thank the province for this commitment and look forward to working with Hamilton Health Sciences on the design phase using a systemic approach to our health care needs in Niagara West."
Hamilton Health Sciences CEO Rob MacIsaac told The Niagara Independent, "Our vision of the new hospital includes all the services that are here today." He said the money announced for planning will build on the foundational work that has already been done and that the public doesn't need to worry about the planning process starting over. "The Premier has put a 'hurry up' on the process," said MacIsaac. He said the trick in healthcare is balancing three pillars: what the community wants, what the hospital can deliver and what the province is willing to fund.
While residents have heard this script before (but have never seen the finished movie), with the premier, health minister and minister of infrastructure standing in the hospital making the announcement, the people of west Niagara can finally feel comfortable ordering their popcorn.
Updated: November 29, 2018, 5:56pm