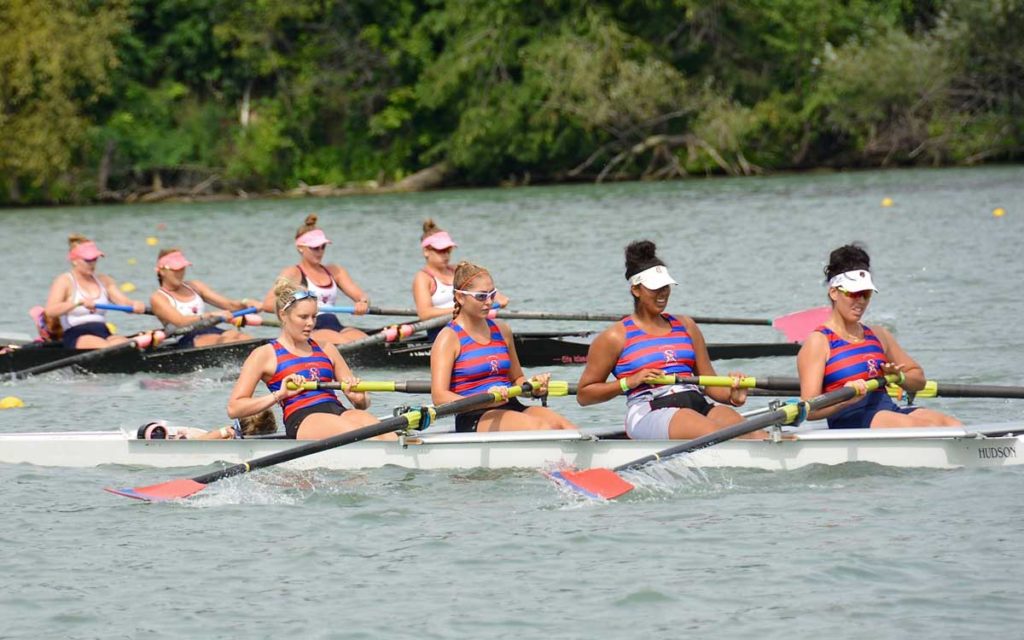 Crews compete at the 2018 Royal Canadian Henley Regatta in St. Catharines
As Peter Scott, Chairman of the Royal Canadian Henley Regatta describes it, there are basically two levels of action taking place at the annual event held in St. Catharines – what's happening on land and what's happening on the water.
In fact Scott's been so busy dealing with issues off the water that he hasn't had time to see a single race. He arrives at 4:45 a.m. and doesn't return home until close to 9 p.m. where he walks his dog then settles in to review the results of the day. He's quick to point out that there is an army of volunteers that make one of the top regattas in the world run as smooth as possible.
This year, there is a crop of new volunteers. "It will be a slow transition and there will be some growing pains but in the end it will be better and people are trying their best," said Scott.
The hardest part of his job as regatta Chair is telling a kid they can't row. "Sometimes we have new coaches and they don't do their homework and don't understand the rules around when you can switch crew members in and out of your boat," he explained. There are very specific cut off times for that. For example just before registration closes a coach can change up to 100 per cent of the rowers. After that it's 50 per cent of the crew and there comes a time when you can't make any substitutions. At an event like Henley there can be as many as 450 coaches and unfortunately not all of them are well versed in the rules and regulations. "Telling a kid they can't row is the most crushing thing I have to do. There are over 2,300 athletes but if I have to tell just one kid they can't compete, that's one too many," said Scott.
On the water things are moving along well. A bit of unsettled weather on Wednesday delayed competition briefly but the organizers had the race schedule back on track.  The crew from Niagara Falls won their first ever Henley medal in the Masters mixed quad competition.  It was a great moment for the new rowing club out of the Falls. Scott said the St. Catharines rowing club will no doubt have a strong showing when everything is said and done. "Just based on the quality of their coaches, the number of athletes they have competing, they'll get something."
One of the great things about the Henley Regatta is that there are no medals for coming in second or third. It's gold or nothing. As Scott says; "six boats row down the course in the final and five row back, one stays for gold."
As the competition heads into the semi-finals and finals over the next few days the grandstand at Henley will be packed and deafening loud with parents, friends, coaches and athletes. It's one of the best sporting events Niagara hosts on a regular basis and community residents are encouraged to come out and support it.
The Royal Canadian Henley Regatta wraps up Sunday. Events on the final day go from 10 a.m. to approximately 2:30 p.m.